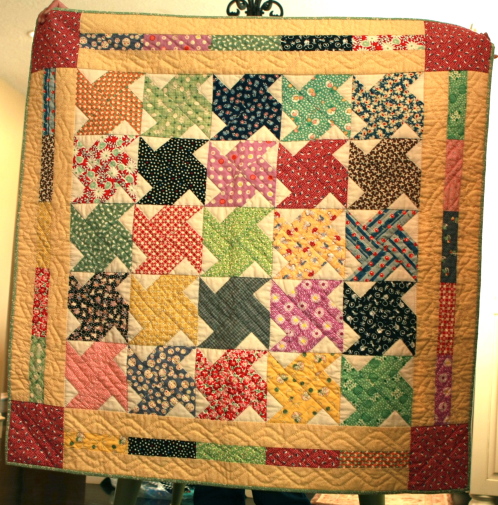 Yesterday evening I went to see my mom give a "mini" quilt trunk show at the home of a blogging friend of mine, Amber of A Little Bit Biased.
She was assigned to talk to her quilt group about color… which she didn't end up saying very much about except that you need to put what you love into your quilts…. and don't worry as much about the rules.
She only brought about 20 quilts or so, which is truly a fraction of my mom's total quilts she's made.
Here is a peek of a few of them.
This one above is called Aunt Essie's cupboard… all 30′s fabrics of course.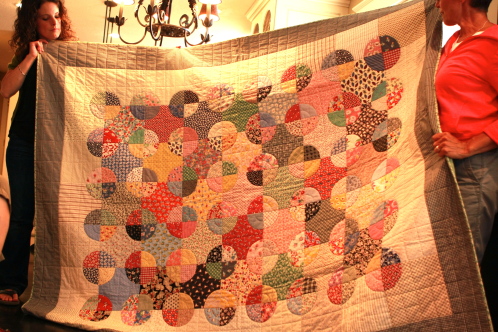 Oooh, my pictures are terrible!  I was more interested in what was going on to fiddle with my camera settings.  But this is a cool quilt graphically… also in 30′s… with lots of great polka dots.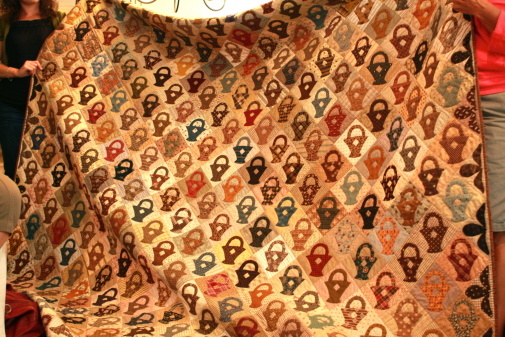 300 small Needle Turned Appliqued baskets make up this quilt.  As in three HUNDRED folks!  And like many of my mom's quilts, it's hand quilted.  Quite a labor of love.
But that's just the half of it.  This is the second of this quilt pattern my mom has made.  So really it was 600 baskets in all.
And the best part, she was actually sad when she stitched the last stitch.  She truly loves the journey.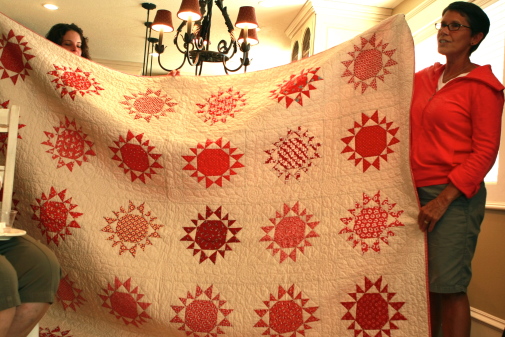 I LOVE this Sunny Day's pattern from Geoff's Mom Quilt Co.  My mom made this quilt this spring in homage to the red and white quilt collection displayed at the Folk Art Museum in New York City.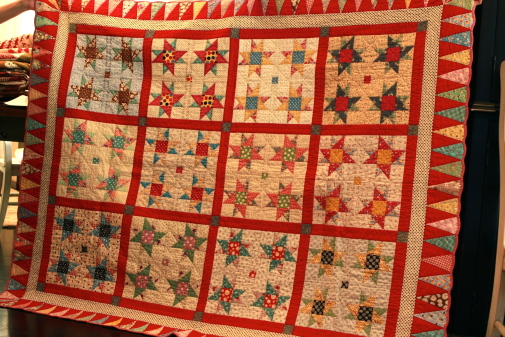 This quilt has been making it's cheerful appearance in my family room this spring.  It's another 30′s.  The real star of this quilt is the ice cream cone border. Can you see the scallops?  Oh how I love this quilt.
I'm around my mom and her quilts so much… but it was still wonderful to go and hear her talk about them and her creative process.

15 Responses to "Quilt Trunk Show"