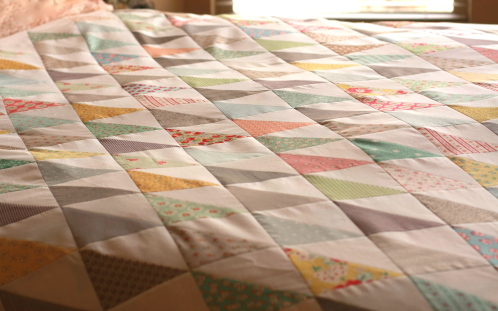 I decided that before I was allowed to work on any new projects, I needed to wrap up a few old projects.  I just finished piecing my half squares on point quilt.
Now for the big decision, do I want to hand quilt?   I'd love to, but the size has me a little worried – 66″ x 84″.  Will it take a year?  One thing is for sure, I am not fast at hand quilting.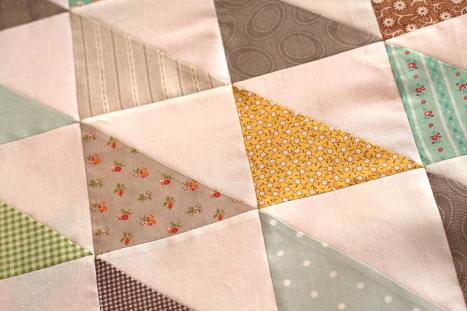 When I look at the quilt close up and I see so many fabrics that I love… that mustard fabric makes me swoon…  I think I might love to work on it for that long.  So it wouldn't be such a bad thing.
Since it will be on my family room sofa, I could take the easy route and tie it.  Oops.  Is that a swear word among good quilters?
Either way, I'm pretty sure I won't have this quilt machined.
The other project I've finally gotten around to finishing is a quilt that has gathered dust on my shelf even longer.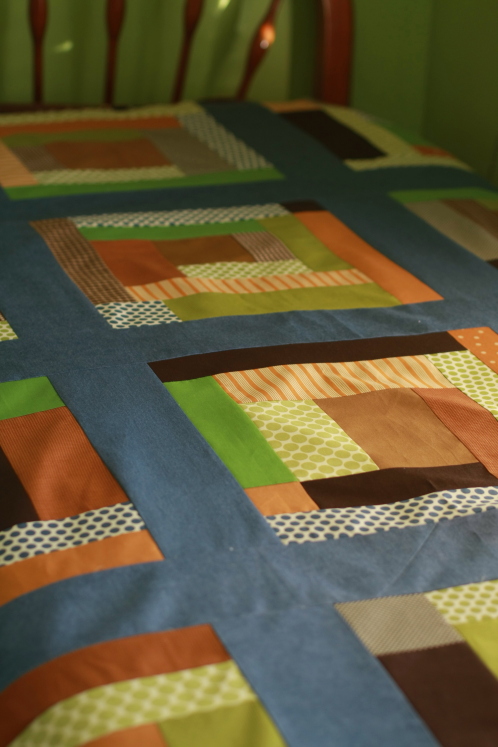 It's a BRIGHT and funky quilt for my son's bed.  I started the project a while back and it was going along well until I realized I hadn't bought enough fabric for the sashing/border.  I guess that's the pitfalls of making up a pattern as you go.  The missing fabric was a Michael Miller lightweight denim.  I looked high and low for the fabric and finally gave up and quit working on the quilt.
But in the spirit of Make it Do… and of finish what I start…  I decided to find a different fabric for the border.  It made me a little sick to to it, but now that it's all pieced and just needs the borders, I kind of like the way it looks when I lay it all out with the new fabric for the top and bottom borders.
The blocks are inspired by a quilt in the book The Quilts of Gee's Bend
and I love how unpredictable they are- kinda, sorta a bull's eye.  The more I think about it, using a different fabric is perfect for the spirit of a Gee's Bend quilt.
It's nice to finish up a few niggling projects.
Next up:  Maybe The Farmer's Wife
, since my friend Amber asked if I'd like to make it with a group of other local quilters, and I've got a new quilt I'm designing that I'm really excited about.

4 Responses to "Wrapping up"