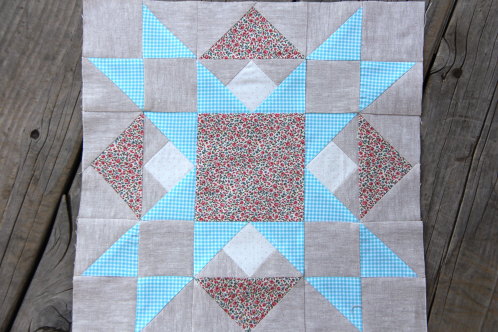 A few months back I made a fancy star block for my Bee – The Bee's Knees.  The block was for the wonderfully, talented Sherri of A Quilting Life.  Since then I've had some requests for a block tutorial.
This past week I've been driving my son and his friend to Salt Lake for a soccer camp.  Since the camp was near my mom's house, my mom and I have had a chance to hang out together while I wait to pick up the boys.
On one of the days, we made my star block again.  She promised to show me her favorite trick for making flying geese.  And I promised to show her the way I made flying geese with a square in the center.  (It's not often I can show my mom anything that has to do with quilting ; )!)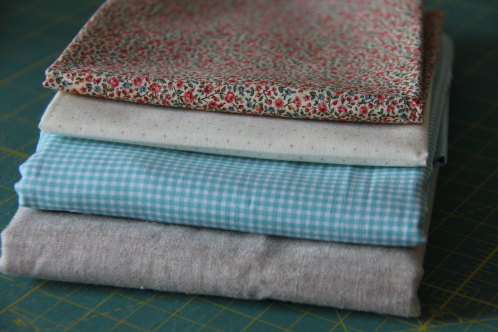 The fabric for the block was a wonderful small floral and white with pink polka dots from Lecein that my mom brought back from Market.  I also used a turquoise gingham from Michael Miller and lovely linen that I've been hoarding.
This block is made up of half square triangles for the corner units and flying geese for the rest.  The unfinished block measures 12-1/2 inches.
Cutting instructions:
Linen:       Cut 24 -  2-1/2 inch squares
Cut 4 -  3 inch squares  (for the half square triangles- they will be cut down)
Gingham: Cut 8 – 2-1/2 inch squares
Cut 4 – 3 inch squares  (for the half square triangles- they will be cut down)
Floral:       Cut 4 – 4-1/2 inch x 2-1/2 inch rectangles
Cut 1 – 4-1/2 inch square for the center (for my original block I cut this out of the linen, but the block was too plain Jane with the linen in the center, even for me.)
Polka dot: Cut 4 – 4-1/2 inch x 2-1/2 inch rectangles
- – - – - – - – - – - – - – - – - – - – - -
I'll start by sharing my mom's trick for sewing flying geese.  She uses this method, not only for sewing flying geese, but also for making snow balls, and even for the Make it Do Oh My Stars! Quilt pattern.  After she showed me, I went right home and taped my machine and tried the method.  It worked like a charm, and it seems to me to be more accurate than marking a diagonal line with a pencil, like I've done in the past.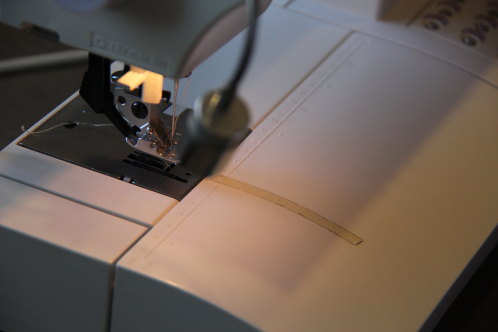 See that piece of masking tape on my mom's machine.  She's been using it as a guide for making lots and lots of flying geese, etc.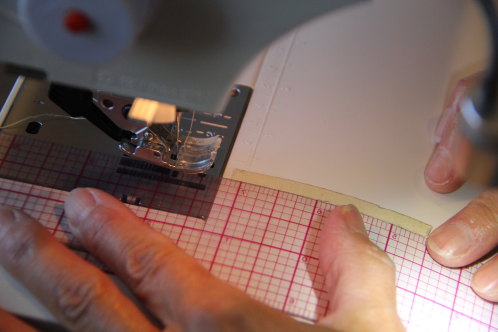 She adhered the tape by using a flexible ruler.  The ruler is placed very carefully straight down the center of your machine's center needle position.  I used my needle plate as a guide to make sure my ruler was straight, then adhered the tape.
(Do you recognize that skinny tape?  Older quilters used to use it to mark their scant 1/4 inch seams.  Taping everything before quilting?… UGH!)
Once the tape was in place, I tested it out on a block to make sure it was accurately placed.
It worked like a charm.
Here's how it works: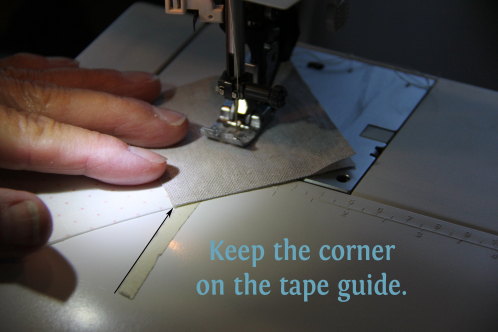 For a flying geese, layer your polka dot rectangle and your 2-1/2 inch square linen fabric right sides together.  Place the corner of your square centered under your needle and bring the needle position down.  Center the other corner of your square on the tape guide.
Stitch the along the diagonal, keeping the corner of the fabric centered on the tape guide.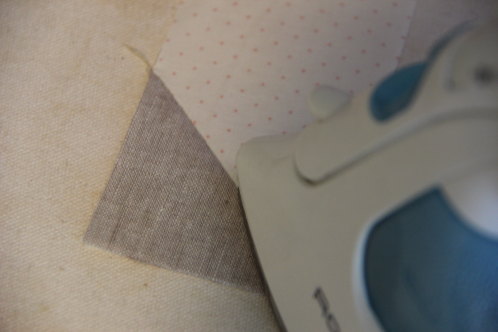 Press back the linen, corner to corner to check accuracy.  Press.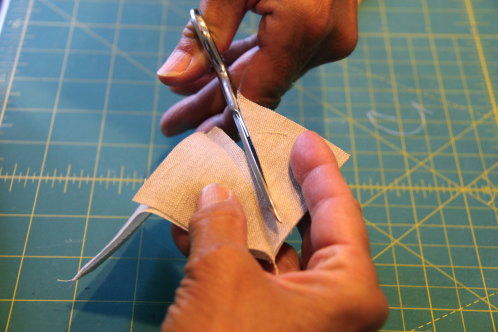 Trim away excess fabric at the back.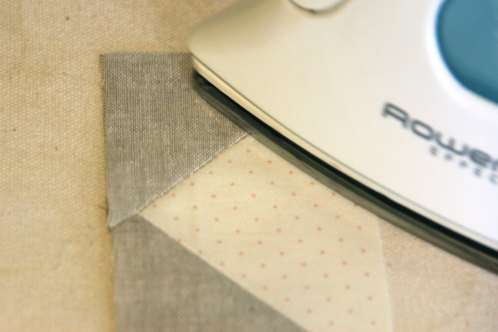 And repeat the whole process adding the other square.
This is step one of the flying geese unit with a square at the center.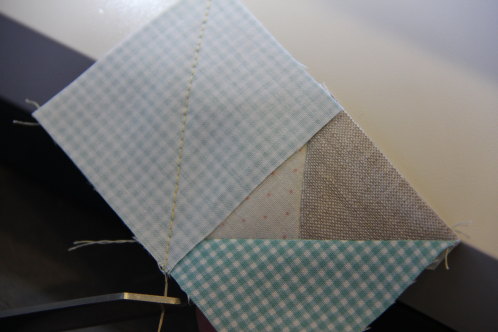 For step two, make another flying geese, this time going the reverse direction, adding the gingham to the other side.
Trim away the back fabric.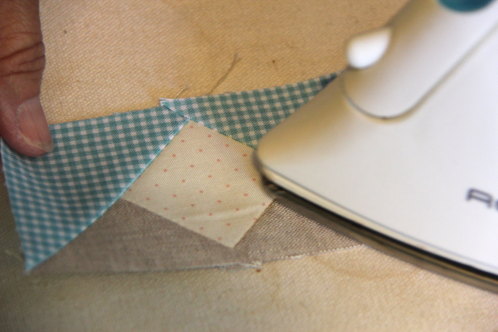 Yes, I realize this wastes some fabric making your units this way.  But it is oh so quick and easy.  I didn't have to scramble my brain trying to calculate triangles. Plus it's very accurate, which is a big bonus for a little waste.  (Paula M., if you're reading, I'm sure you could make a wonderful mini quilt with the waste. ; )  Waste not!)
Make 4 of these units in all.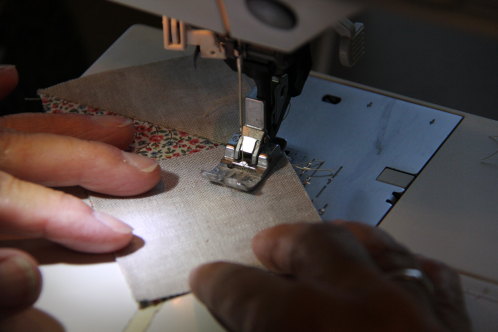 The rest of the block is simple.  Make the 4 flying geese units, using the floral rectangles and 2-1/2 inch linen squares.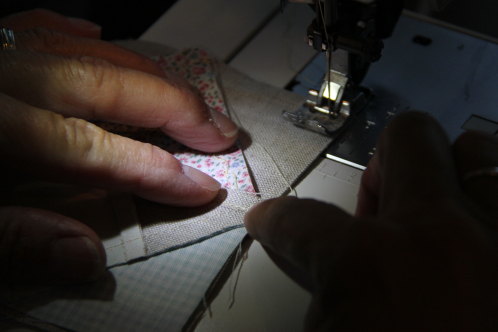 Piece together the square flying geese unit with the floral flying geese unit.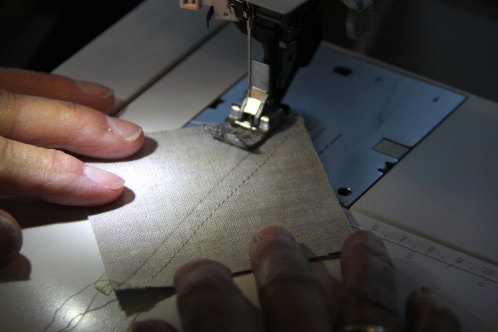 To make the corner half square triangle (HST) units, draw a line down the center of your 3 inch linen square.  Layer with the 3 inch gingham.  Stitch down both sides of your line with a scant 1/4 inch seam.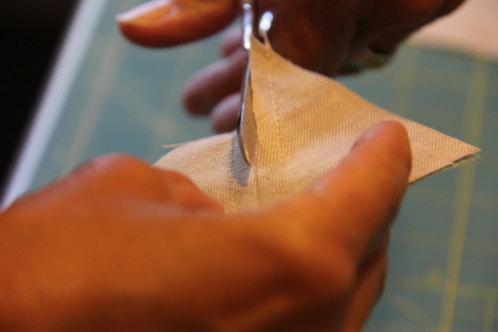 Cut the down the center line to make 2 HST units.
Press seam toward the gingham…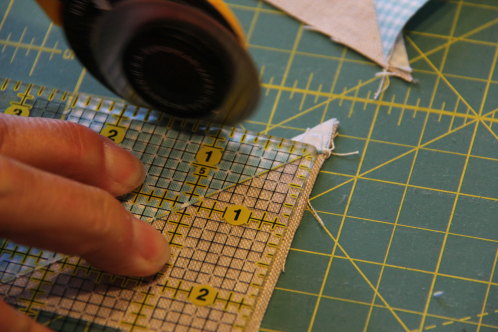 And trim to 2-1/2 inch square.  Making it over-sized and cutting it down really helps with accuracy.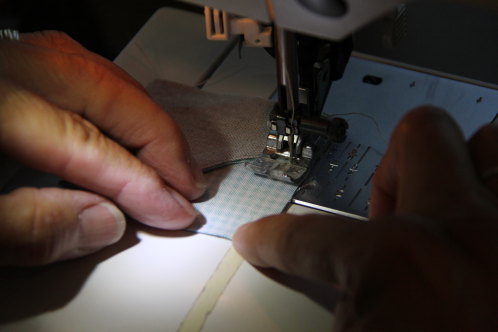 Lay out each of the 4 corner units.  Piece the HST with the 2-1/2 inch linen square.  Press seams toward the gingham.  Repeat for other side.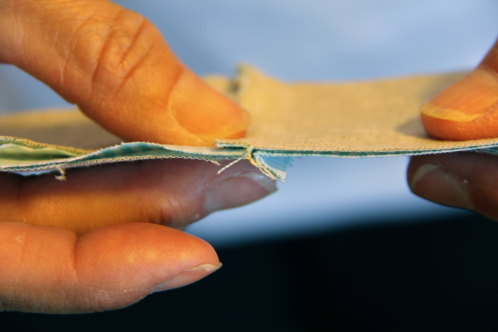 Butt the seams together and piece.
Repeat until you have 4 corner units in all.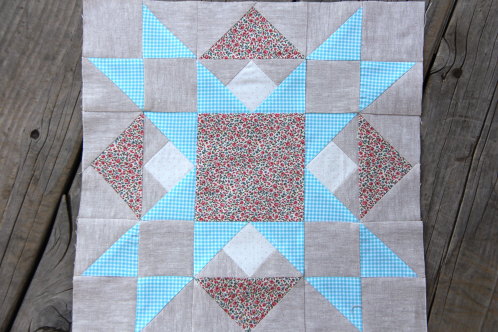 Lay out and piece your block together.
Whoah!  That was a big tutorial!  If you are confused about anything I've covered, don't be shy about letting me know.
I intended to make this block into a pillow… but I'm torn.  I might really like making it into a quilt.  If I can get my hands on more of the linen, I may just end up making the quilt.  Either way, I love this block.

3 Responses to "Star Bee Block"