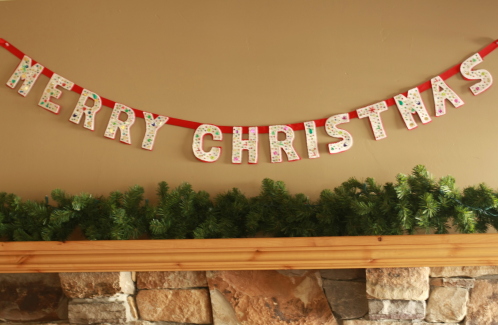 Yesterday I picked up this wonderful Merry Christmas garland from my mom.  It looks like something that might have been just made yesterday….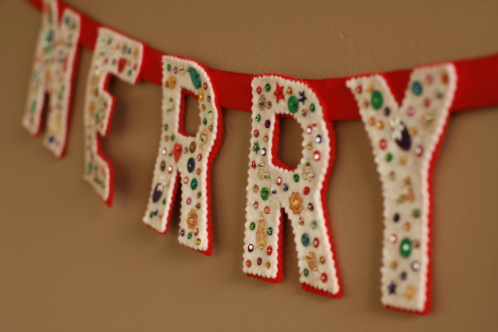 But it wasn't.  It was made in the early 1960′s by my grandmother and sister, my great aunt Lola, who made 10 or more of them for their sisters and sister-in-laws.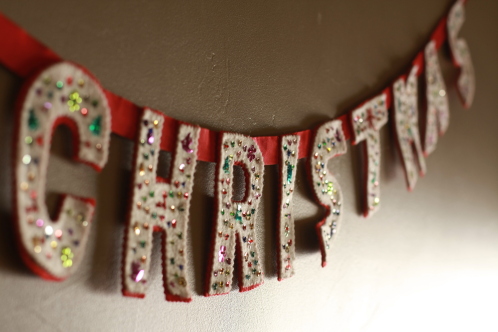 The lettering is stitched to a length of grosgrain ribbon.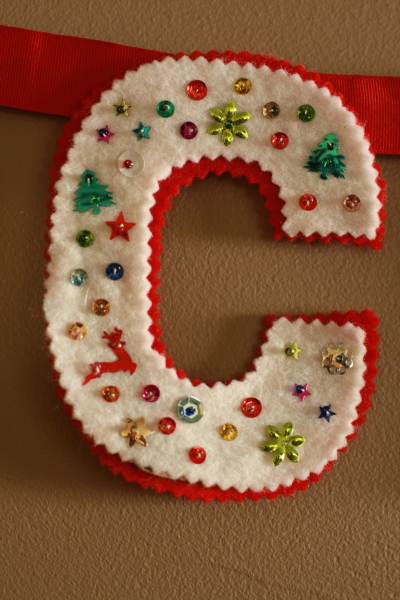 The sequins are awesome.  Where in the world do you get reindeer, star and Christmas tree sequins I ask you?  I love the combination of colors and shapes.  On this garland, each sequin is sewn into place with a tiny glass bead.
Aunt Lola's says that after sewing and sewing sequins they got T-I-R-E-D of sewing sequins…. so they started gluing them into place.  I guess that's what happens when you have so many sisters.  Some of the sisters received glued garlands.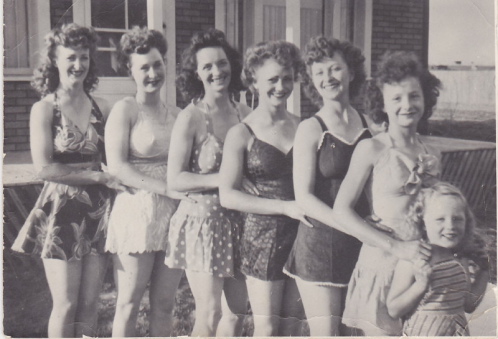 I just had to include this picture of my grandmother and her sisters.  Aren't they lovely?  For years they all made handmade gifts for each other each Christmas.  My grandmother is right in the center and Aunt Lola is the 1st on the left. Aunt Lola was a real live Rosie the Riveter in California during WWII… so she could sew sequins and build a bomber plane cockpit.
I will be making my own garland this weekend… since this one is on loan from my Uncle Tyler.  Thanks Ty!  I'll have it back to you safe and sound before you decorate for Christmas.
Now all I need to do is to find pinking shears.  They have been on my wish list forever!  I could love to buy scalloped shears… but I may have to settle for pinking since I have a bee in my bonnet to get this project done.

20 Responses to "Old New Merry Christmas Garland"