I just finished putting the binding on my newest quilt.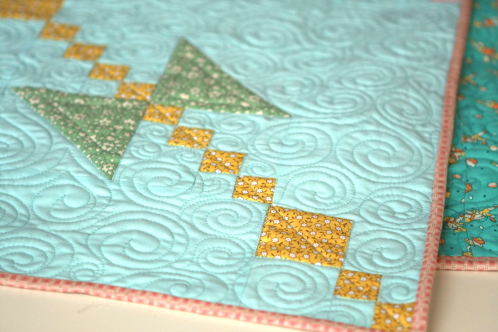 I played with the idea of using half square triangles to make kite string ties over a year ago, but I couldn't decide how I wanted to make the strings.
Then about a month or so ago I was looking at vintage quilts and noticed a lovely Irish Chain quilt and had a light bulb moment.  It would be a perfect string!
The Irish Chain turned out to be little 4 patches… but the idea was the same.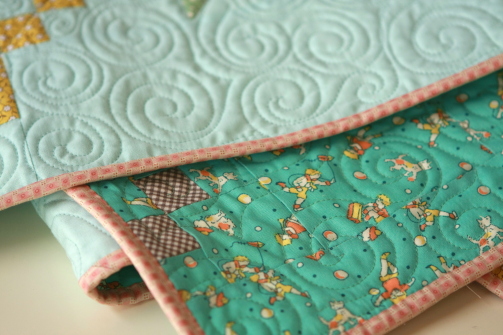 I love the cheerful 30′s fabric for the backing which even has a little kite flying boy.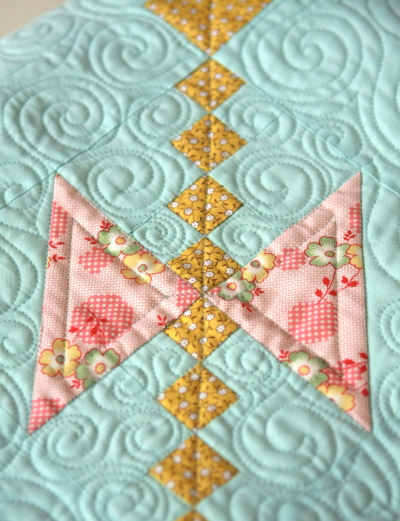 The quilting, done by my very talented Aunt Karen, evokes the whimsy of the wind on a perfect kite day.
I'm still working on the pattern and hoping to have it available soon… for sure a baby quilt size, like I made, and pretty sure in twin size as well.  I think the pattern would look perfect on a child's bed.

17 Responses to "Kite Strings Quilt"