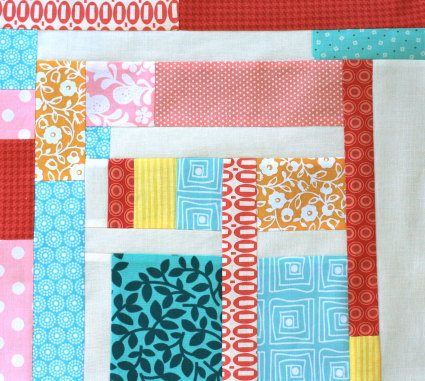 I was behind on my Bee's Knees Bee Block, and I'd like to blame it on Summer.
But actually I think I was a little intimidated by June's bee block.  Excited to try it, but intimidated.
Erika, from Pink Suede Shoe, sent out a fun, bright bundle of fabric- all turquoise, pink and yellow.  The assignment was Improv.  Go with the flow and sew.
The fact that I don't really understand Jazz music aside, I think I'm fairly easy going.  But even still, I found myself wanting to draft my block before going for it.  I wanted a plan.
Despite my reservations I decided to embrace the idea of Improv, the quilting equivalent of Jazz and see what happened.  Doing new things was the whole point of joining the Bee in the first place, after all.
You know what?  Improv quilting is very liberating.  I loved every minute of making Erika's block.  I liked the fact that I didn't need to worry about accuracy.  I didn't need to think about points coming together.  I could just put pretty fabrics together in a way I liked.
Thank you Erika for a great assignment!
Now for a little update on the fire on the mountain behind my home.
When we came home at midnight on the 4th of July, I set up my tripod to capture this photo: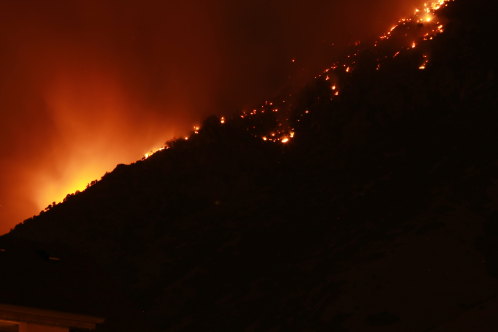 If you look closely, in the lower left corner of the photo, you can see the roof of my neighbor's home.  The fire wasn't threatening their home or ours, but it was certainly getting very close to our neighborhood.  The fire was just coming over the closest ridge to our homes.  It was unsettling in the extreme to see the fire's progress.
We looked at the forecast for the next day, a cool down was expected, with a chance for some scattered showers.  The weatherman stressed that not everyone would get rain, but it sounded hopeful.
Thursday morning we had planned a trip to the zoo with our cousins.  As we pulled out of our driveway, drops of rain began to fall.  I said a silent prayer that it would be more than just a sprinkle.
And rain it did.  It rained for hours- a glorious, steady rain.
When we arrived home after our soggy trip to the zoo, the rain had stopped.  The air was fresh and clear.  The billowing smoke was almost gone, with just wisps of steam high on the mountain.  As we drove up toward our home and the mountain, my kids and I stared in stunned silence.
I didn't capture a photo, but Erika of Pink Suede Shoe did.  Rising from the previously burning mountain, was a beautiful double rainbow.
Our little community in Alpine is feeling profoundly humble, awed, and blessed.
4 Responses to "June Bee's Knees Block – Improv"