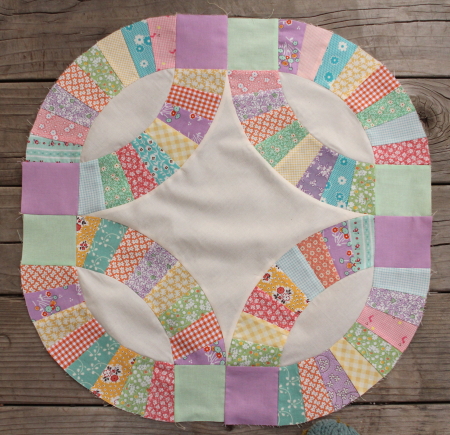 Life has been so topsy-turvy around here, I've let more than a few things fall behind this month.
So this week I've been trying to catch up.
I was happy (and relieved) to finally send off packages of fabric for all my Bee partners.  Because ready or not, April is my month!  Better late than never – I hope.
I've loved being part of the Bees Knees Quilting Bee.  Our bee consists of 11 other talented and wonderful quilt bloggers who each had a month over the past year.  I have thoroughly enjoyed working on all their beautiful blocks.  I've had the opportunity to work on Dresden plates, an improv block, simple paper piecing, complicated paper piecing, and awesome fabrics.  I've learned new techniques and been able to try my hand at a few blocks I've wanted to make for a while… like a string block.
I've had a whole year to think of the quilt for my month of the bee… I really wanted something that was a challenge, but not TOO hard.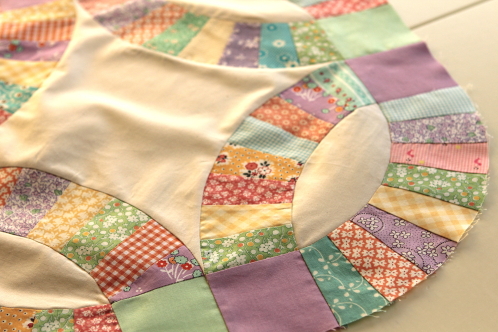 One of my friends in the Bee, suggested the Pickledish pattern from Aneela Hoey.
Aneela's free pattern templates and tutorial was just what I wanted.    I would call her pattern more of a double wedding ring.  But either way you slice it, it's a classic wonderful design.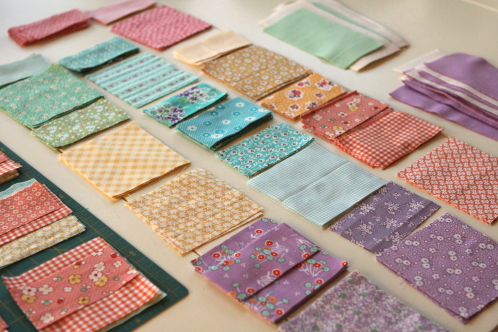 The fabrics I chose are very in keeping with a double wedding ring, which was popular in the 1930′s.  Most of my fabrics are 30′s reproductions.  The color pallet reminds me of ice cream sherbet.
It's easy to think of a double wedding ring as an old and quintessential quilt design, but did you know the first double wedding ring pattern didn't appear in the 1920′s.  Barbara Brackman has an interesting post about DWR quilts here, if you interested in the history, like I am.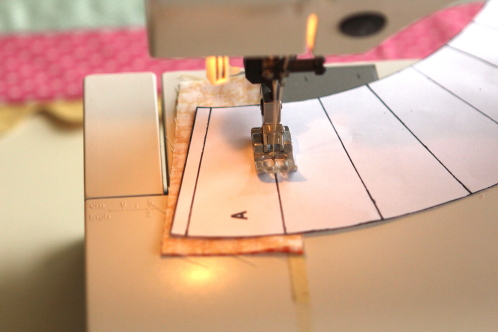 If you are familiar with Aneela's pattern, you can see I made one small change to her arc template.  I found it easier to draw lines to sew along, and paper piece it more traditionally.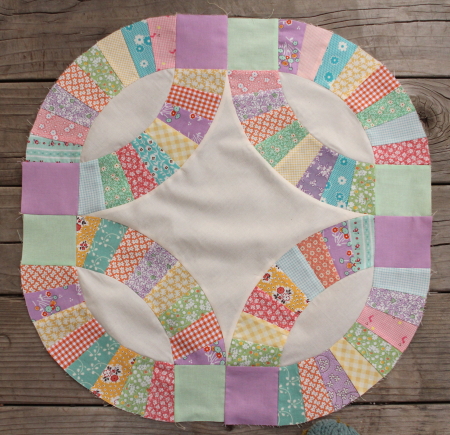 I went with purple and green solids for the end points of the melons and unbleached muslin for the background.  I'm hoping the quilt has an old/new feel to it when it's done.
I'm pretty sure I'm going to make one other change to Aneela's pattern and leave off the corners that make her blocks into a square.  It'll add a little more challenge when assembling the rows, since it'll be all curves, but I think it will look nice with less seams.
Making a whole block like you see above took some time, so I am only asking my Bee friends to make one melon, or two if they are feeling energetic and inspired.
Until the finished melons arrive back to me, I'll have plenty to work on for this quilt, since I'm making it large enough to fit a full bed.
4 Responses to "Bees Knees Quilt"