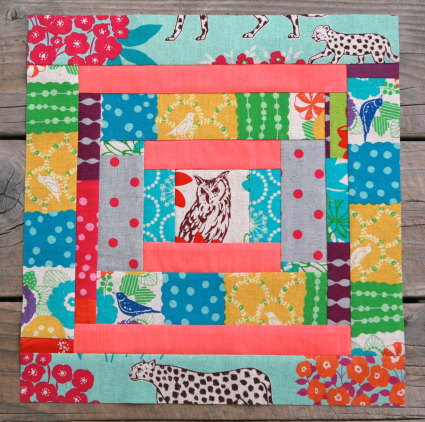 Today is August 31 and, just in the nick of time, I finished my August Bee's Knees Bee Block.
This month's block is for Amy Ellis of Amy's Creative Side.
When I opened the package in the mail at the beginning of the month, I think my jaw dropped.  The picture cannot begin to show how wonderful the Echino fabrics are.  I loved working with the heavier linen weight.  And even if the riot of color and texture were challenging for my brain, it was so much fun to create this block.
Amy asked for log cabin type blocks – bull's eye, quarter cabins, or courthouse steps. Since no one had made a courthouse steps, I opted to make that block.  I have a thing for owls so I was seriously excited to find one in the fabric Amy sent.  I knew I had to fussy cut it for the center of my block.  I ended up not using the same fabric for the steps, since it didn't look quite right to me, so I don't know if I can still technically call it a courthouse steps block…
Now all I need to do is get to the post office and pop it in the mail.
I really can't wait to see this quilt finished.

2 Responses to "August Bee Block"