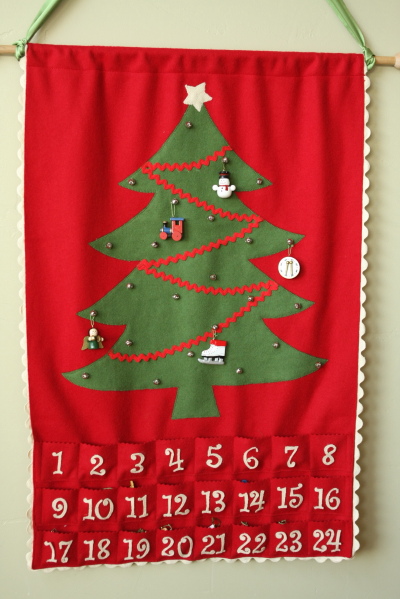 A few years back, I made this fabric Advent Calendar for our family.  It was based on my husband's recollections of the hanging advent calendar his family used when he was a boy.
Their advent calendar had been made out of burlap, which I seriously considered, but in the end I made ours out of wools.  I was true to his memories by adding rick rack to the tree and small bells to hang the ornaments on.
Our family loves this advent calendar.  It's one of our favorite holiday traditions.  The kids can't wait to take turns finding what miniature wooden ornament is hiding in the pocket each day.
I made a few mistakes, and learned a thing or two making my original calendar, so when my mom called to find out if I could give advice and help to make another advent for my sister-in-law, I was happy to say yes.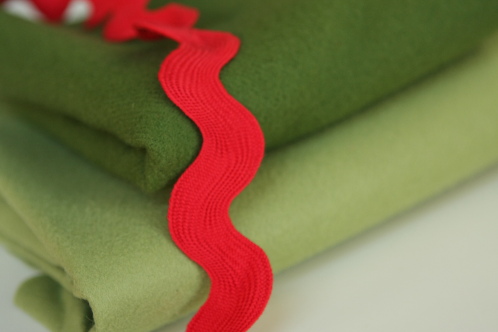 Here's the fabrics I've chosen for her new calendar.  I think the light green felt for the background (a synthetic/wool blend from Material Girls Quilts) is absolutely wonderful.
After talking about a few changes and improvements for the new calendar with my mom the other day, she suggested I write a pattern.
Really?
I have a few hesitations.  It's a little late in the game for a Christmas craft pattern, but if there are any procrastinators out there (like me) who love this advent calendar pattern, it could be perfect for them. 
My biggest question is about the ornaments.  My ornaments are wooden and range in size from about 1″ to about 1-1/2″ inches.  It would be a challenge to make 24 different wool ornaments on that small scale.  The miniature wooden ornaments are available and my sister in law is planning on ordering them for her calendar.  But that is a problem for a pattern.
I'd love to know what you think.  Would this advent calendar pattern be of any interest?  Would it be of interest even without the ornament patterns?  Has anyone made wool ornaments on a scale that small?
I'm not sure if this project will get chalked up to a great idea for another time, or something to go for.

45 Responses to "Advent Calendars"