First, I want to thank you all for the overwhelming encouragement to create this advent calendar pattern.  I am so happy to say it is finished!
Sewing the Advent Calendar was an absolute joy and it's even been tested by my intrepid testers. For this new version, I was able to use what worked well from my original: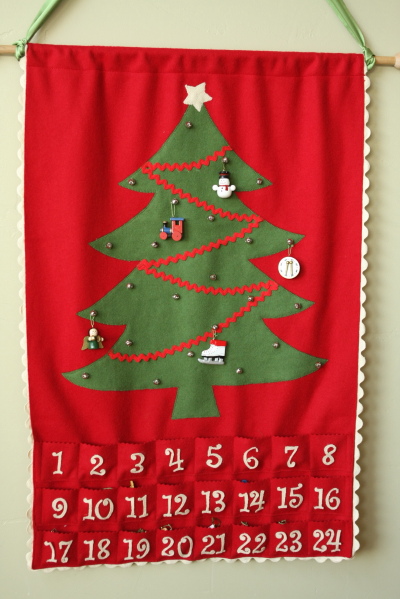 …the template I had created for the Christmas tree, the dimensions, the bells, and the fun rick rack trim. But, I was also able to make some nice improvements.
Here's what changed: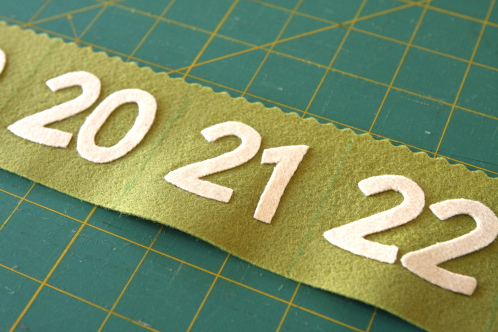 1.  The Numbers-  The font I used originally was Curlz.  I love the font, but cutting them out was a BUGGER!  The other problem was the font is so thin, that when I tried to stitch a number to the pockets, the wool started to pull apart.  I ended up with a combination of Heat 'n Bond and fabric glue with no stitching.  Every year I've had a few casualties and needed to re-glue a number or two.
The new numbers are CK Frosting Font.  They are more sturdy and I was able to blanket stitch them on… suitable for a lifetime of use, dare I say, even sturdy enough to pass down to next generation of merrymakers.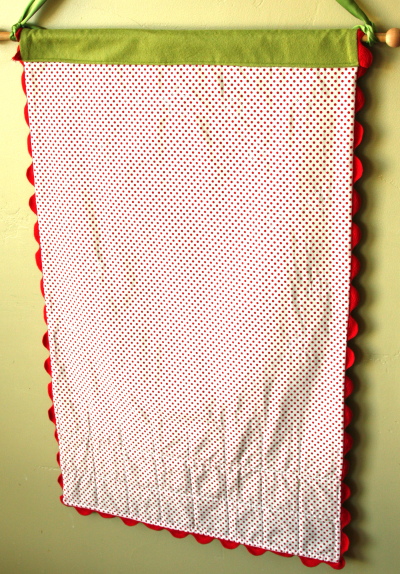 2.  I've added a backing. This is a major improvement over the original.  It not only looks cute, but it adds stability, particularly to the pockets:  I used a fun polka dot fabric.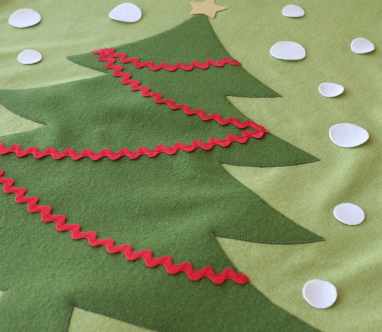 3.  It has the option of adding "polka dot" snowflakes for an updated look.
I love the new version.  The green background with snowflakes feels a little more updated.  But, the pattern can still be made in the traditional red, without the snowflakes for a retro, nostalgic version, which I love every bit as much.
All in all, I couldn't be happier with the results.  For anyone interested in making this before December 1st, there is hope.  I was able to make mine in several days!
Here is the pattern Supply List:
1 yard light green or red felt fabric for front body and pockets
½ yard dark green felt for Christmas Tree
White or cream felt for snowflakes and numbers
Matching thread for felt and medium rick rack
2/3 yard quilting cotton for backing
3 yards large rick rack for trim
1 ½ yards medium rick rack for tree embellishment
1 yard Heat 'n Bond
24 small bells (I used 3/8" sized bells)
24" of ½" circumference dowel and 2 decorative ball end caps
Decorative rope or ribbon for hanging
24 small ornaments (size 2" high or less)
Water Soluble Fabric Marking Pen
Sharp fabric scissors
Ruler, Mat and Rotary Cutter
Optional:  45 mm Pinking Blade for Rotary Cutter
Also, we've found lots of online sources for the miniature wooden ornaments.  My family members who are making this Advent Calendar are purchasing theirs from Old World Christmas.
To purchase the pattern, click the Buy Now button below to checkout via PayPal. Once payment is received your .pdf pattern will be emailed to you for instant download. Pattern includes instructions and templates.
$9.95
18 Responses to "Advent Calendar Pattern Now Available"