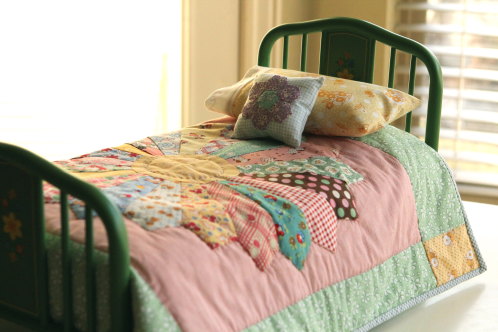 I've never shown the finished quilt that my 10-year-old daughter Emma made for her doll Ruthie.
She machine pieced the Dresden Plate and borders and appliqued the plate by hand.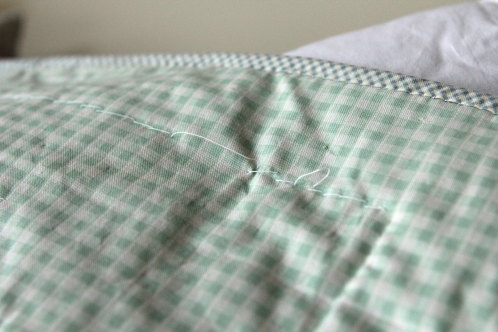 The other thing she did by hand was the quilting.  Yes, I did think about having her restitch this section.  I have concerns about its longevity ; ).  But I didn't have the heart to make her redo that much stitching.  By the time I spotted it, she'd gone on for inches.
Plus, it is so dear.  I love those big stitches.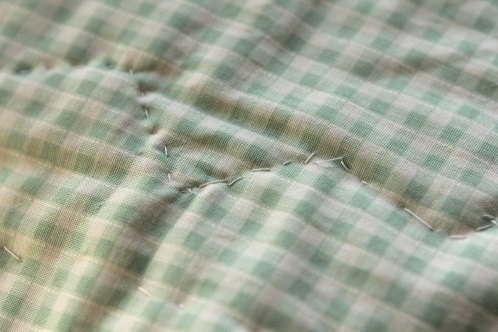 Practice really does make perfect.  Just look at how much her work improved!  Her hands are so small, it was hard to rock that needle back and forth.  I was proud of her that she kept at it.
She has been thinking about quilting it more… but decided to take a break before she decides for sure.
I told her it was up to her.  She is the quilter.  She gets to make her quilt exactly how she likes.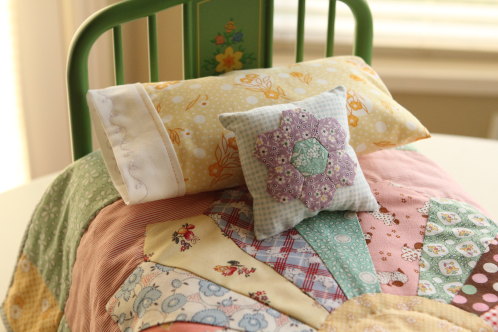 She even sewed a little hexagon throw pillow and pillowcase to match.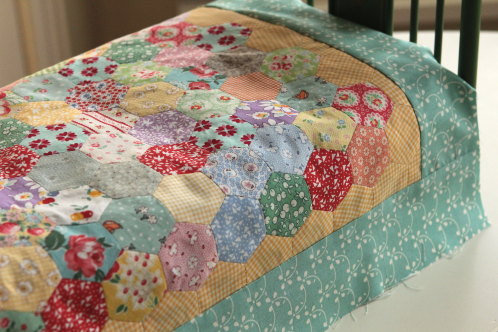 Lily also finished the quilt top for her doll, Kit.  She did such a beautiful job with the hexagons and her color choices.  It turned out so lovely.  Now for her hard decision- to hand quilt or machine.  Since her quilt was all hand pieced, except for the teal border, she is a little wary of hand quilting.
She is ready for some time on the sewing machine baby.
Again she is the quilter… and it's up to her.
They are both already planning 1940′s style quilts for their other dolls Molly and Emily…  both machine pieced.
16 Responses to "A Quilt for Ruthie"