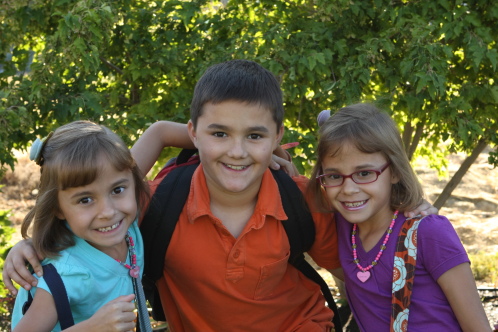 I just saw the kids off at the bus this morning.  It's the first day of school.
As the bus drove away I felt the mixed feelings that I'm sure many other mothers feel…
I am excited to be back to the wonderful routine that school brings.  I can't wait to have kid free hours every day.  I can work or clean uninterrupted.  There will be no one for hours in the day to spill crackers or milk on my newly mopped floor.
But I also feel intense heartache at the unstoppable nature of time.  My children are growing faster than I ever dreamed possible.  There are so many things I want to teach and do with my children… so much I want to cherish.
So now I will put away the breakfast dishes.  I will work on my projects.  I will get cookies and milk ready for when they step off the bus, tired from a long first day of school.
I will sit down and hear about their day… and try to stop time, if only for a moment.

3 Responses to "First Day"