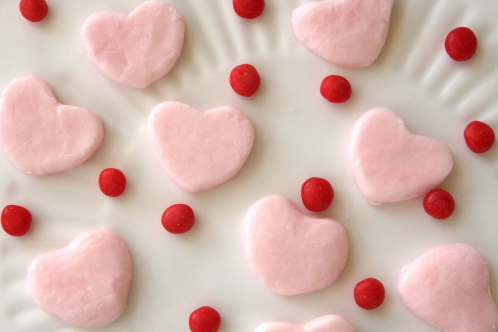 While digging through old recipes last month I came across this recipe for Sweetheart Mints.  It comes from an old friend, Laurie, who gave me the recipe at my Kitchen Wedding Shower.
It is the perfect recipe for a Valentine treat.
Sweetheart Mints
2 Tablespoons softened butter
2 Tablespoons shortening
6 Tablespoons warm water
5 to 5-1/2 cups powdered sugar
1/2 teaspoon peppermint extract
1 drop red food coloring
In a medium bowl, cream butter and shortening.  Add 3 tablespoons water and 2 cups powdered sugar.  Mix thoroughly with a spoon.  Add remaining sugar and water, peppermint extract, and food coloring.  Mix thoroughly using a wooden spoon.  Kneading by hand may be required to thoroughly mix ingredients.  The mixture should be firm like sugar cookie dough.
Divide mixture into 1/2.  Cover one half with plastic wrap.  Turn the other half onto a sheet of wax paper.  Top with another piece of waxed paper and roll out to about 1/4 inch thick.  Cut out with small cookie cutters, but do not remove.  Allow them to dry for about 1 hour.  Remove them from the waxed paper, using the cookie cutter to recut the heart again if needed.  Flip over and allow to dry at least 1 more hour.
May be frozen to store.
Click over to Tasty Kitchen for my printable recipe.
Here's the play by play: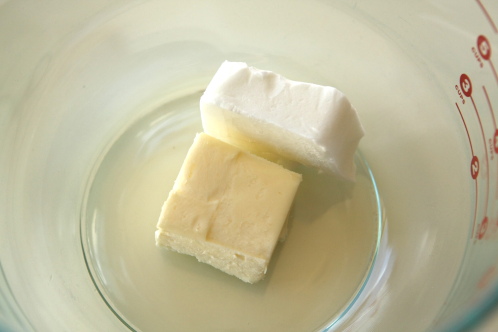 In a medium bowl add butter and shortening.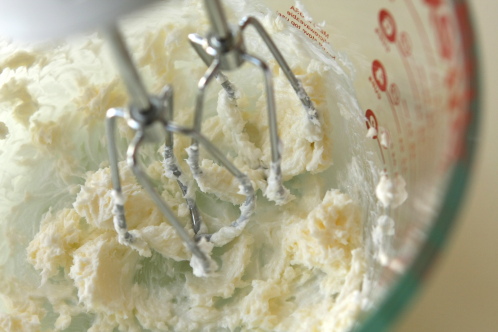 Cream them together until well blended.  Now I put your mixer away.  The rest is done with a spoon.
I started with a whisk and realized it was going to get WAY too stiff to keep it up.  Add 3 Tablespoons of water and 2 cups of powdered sugar and mix with a spoon until well blended.
Add the remaining water and powdered sugar, peppermint extract and 1 drop of red food coloring.  A little food coloring goes a long way with this recipe.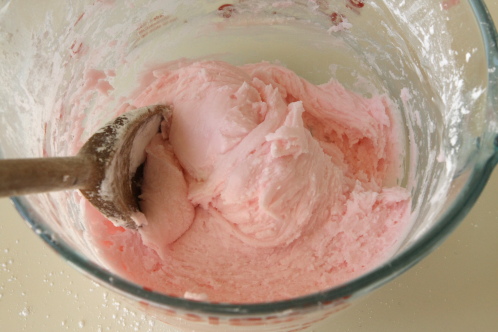 It needs to get the consistency of firm sugar cookie dough or your mints will be on the soft side.  Trust me on this one.  I found it out the hard way on my first batch.  If needed add up to an extra 1/2 cup of powdered sugar to get the mixture firm.  Laurie tells me that she sometimes kneads the last little bit with her hands because it's too firm for the spoon.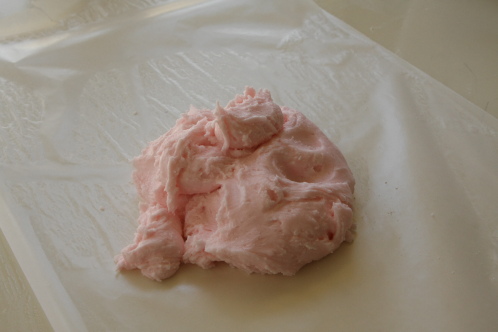 Divide your mixture in half and turn out onto a piece of waxed paper.  Cover the other half with plastic wrap until you are ready for it.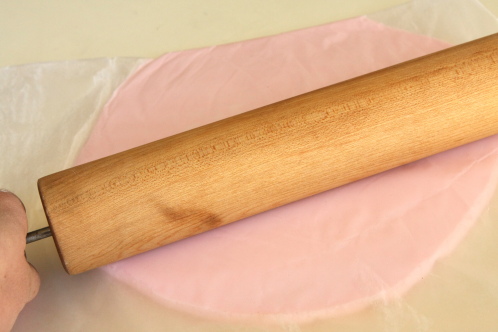 Cover with waxed paper and roll out mixture to a generous 1/4 inch thick.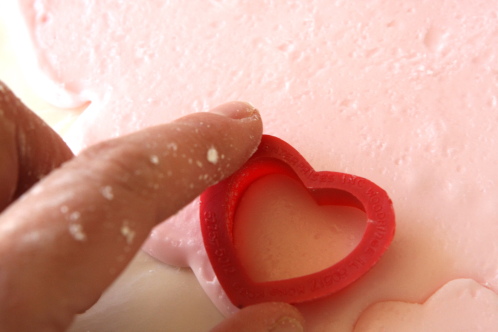 Cut out using a small cookie cutter.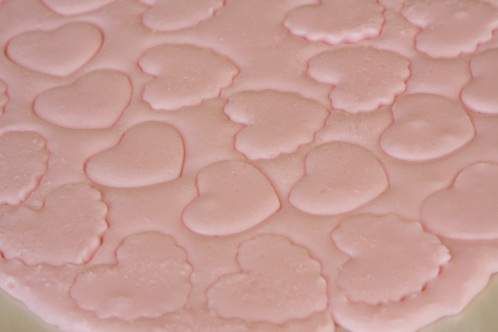 I tried both my smooth and scalloped small cookie cutters.  I liked the smooth best for these mints.
Cut them, but don't remove the mint hearts yet.  Allow them to dry for an hour or so.
After an hour remove from the waxed paper and the surrounding mixture.   To do this, I re-cut my hearts with the cookie cutter again and used metal spatula to remove them.  It takes a little patience… but only a little.
Flip them over and allow them to dry for at least another hour.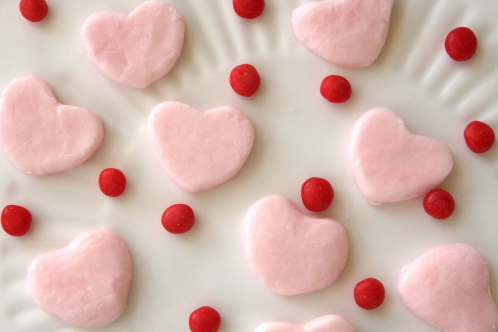 Now they are ready to give to your "Sweethearts."
Happy Valentine's
xoxox

7 Responses to "Sweetheart Mints"