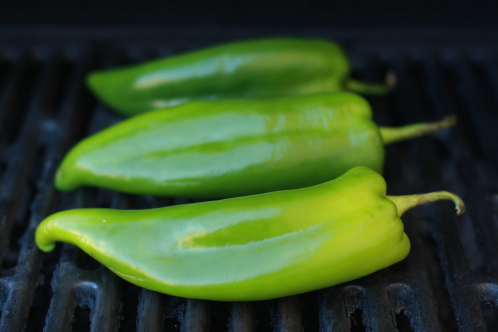 Yes, things are a bit peppery around our house this time of year.  I'm trying to use up our harvest of peppers.  I wish I could take credit for growing these GORGEOUS Anaheim Peppers.  They came from a friend's in-law's garden.  Wait is that too many possessives?  Where is my 7th grade English teacher when I need her?  Mrs Peterson had me shaking in my boots, I tell ya.
But I diverge, we've been loving peppers in all forms lately.  Stuffed peppers are to die for.  Candied Jalapenos are our new addiction.  And I've made Chile Verde twice in the last few weeks with fresh-from-the-garden peppers.
We all love Chile Verde so much I have to remind the kids it's not OK to lick their plate.
I love cooking in season, especially when the bounty comes from my garden. But, making Chile Verde with fresh peppers adds another step that was quite intimidating for a long time.
I've tried roasting peppers over the gas flame on my stove top- too slow!  Especially when you have 3 pounds of peppers to roast.  I've roasted peppers in the broiler- too hard to turn and cook evenly.  It wasn't until I tried roasting them on the gas grill that I found my fool proof method.  It is easy to watch and flip each individual pepper as needed.
Here's how I roast and peel my peppers:
Heat the grill until it's HOT, HOT, HOT.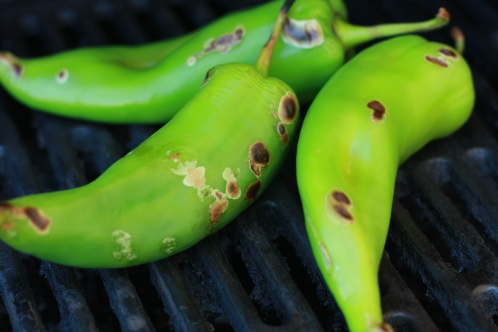 Toss the peppers on the grill.  They will pop and sizzle and the skin will start to blacken.  Turn the peppers to blacken on all sides.
I've found peppers blacken unevenly- which used to worry me.  But it's just fine.  I look for the skin to puff and even start to wrinkle a bit in spots before turning them. Once the peppers are about 60% blackened pull them off the grill.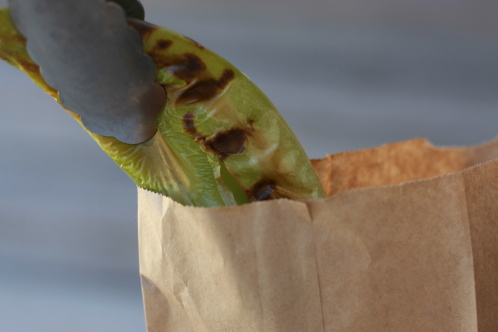 Immediately drop them into a paper sack.  I've used plastic too, but was told by my dad (who I always listen too) that my peppers would turn mushy in plastic.  Paper is the way to go.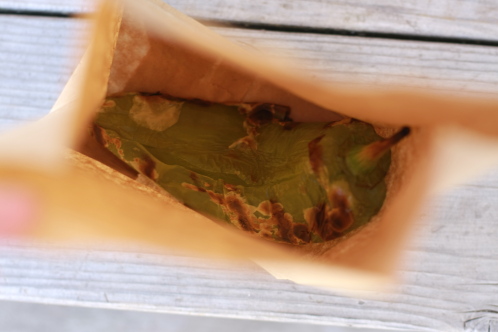 When all the hot peppers are in the paper sack….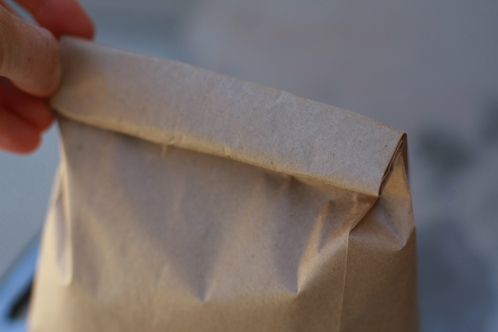 Roll the top down tight.  This traps the hot air in the bag and steams them.  Keep the bag rolled tight for at least 15 minutes.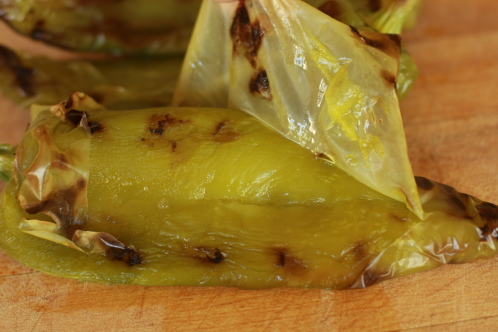 When you are done the skin slips off nicely.  Roasted peppers are perfect for adding to a salsa… or make my Dad's amazing New Mexican Chile Verde.  Even if you don't love spicy food, use Rotel MILD Tomatoes, and you'll be in love.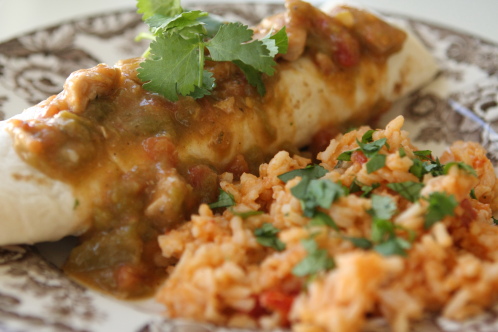 Oh my!  I think I want some Chile Verde for breakfast today.
Just a few quick notes:
The best result come from fresh peppers.  I left a few that I picked sitting for a few days too many and they were more stubborn to peel.
I've heard you can freeze them after they've been peeled, but I've also heard they will be slightly mushy.  I've never had enough to freeze since we eat them faster than we can grow them so, I can't comment on whether they freeze well.

One Response to "Quick Tip: How to Roast and Peel a Pepper"