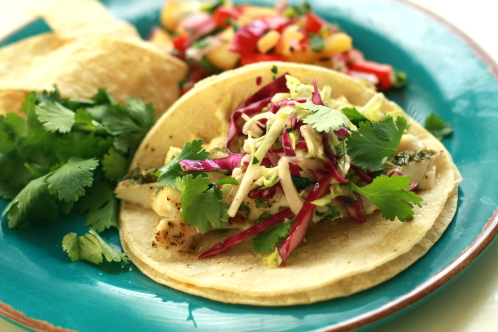 Our family eats "in" most of the time.  It's a great way to save money and eat healthy.  The thing is, I LOVE good food.
Even though we eat in, we still like to eat interesting.
A few months back, when Mission asked whether I would like to be part of their Eat Interesting Contest, I was so excited.  Not only do I use Mission tortillas all the time, the contest sounded awesome.
Here's the scoop.  Nine other bloggers and I were sent a box of Mission products, and we were given the challenge of sharing an "Eat Interesting" recipe.  Then you all (hopefully) will vote for the recipe you like best.
This is my version of Hawaiian Fish Tacos with a delicious Grilled Pineapple salsa. When on vacation in Kauai, a nice local guy gave us an enormous avocado straight from his garden.  It was so amazing, I knew I needed to include avocado in my recipe. So I've included our fish taco favorite Avocado Cream, adapted slightly from Patio Daddio.  If you're pressed for time, use chunks of avocado and sour cream instead.  I'm also including a recipe for Cabbage slaw… a perfect topping for your fish tacos, but simple shredded cabbage tastes great too.
If you like my recipe… or if you like me ; ), be sure to visit Mission Facebook Page to vote.  While you are there, you can also enter the awesome Eat Interesting Sweeps for the chance to win $3000 in cash and prizes.
Here's how to make my Hawaiian Fish Tacos: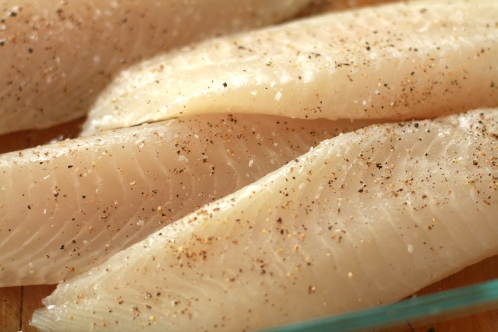 Tilapia is my favorite budget, kid-friendly fish choice.  It's inexpensive, mild and easy to prepare.  The other nice thing about fish tacos is you don't really need all that much fish per taco.  I make four fillets for my family of 5 and we usually have leftovers.
Start by brushing your fillets with vegetable oil and salt and pepper generously.  I sometimes use Lemon or Lime Pepper.  It's perfect on fish and gives a little spiciness to your tacos.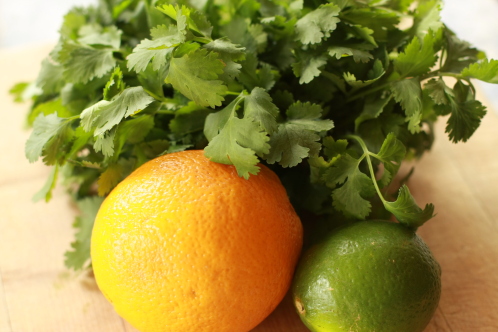 Next prepare the vinaigrette for the fish.  It's super simple.
Juice of one orange, juice of a lime, 1/3 cup vegetable oil, 1 tsp. kosher salt, 1/4 tsp. black pepper, 1/2 – 1 tsp. of your favorite hot sauce, 1 tablespoon of honey, and 1/2 bunch of fresh cilantro chopped.
Whisk it all up until emulsified, it's a good workout-  you also can pulse it in a blender or pour it in a mason jar and shake, shake, shake.  It's a 5 minute vinaigrette- tops.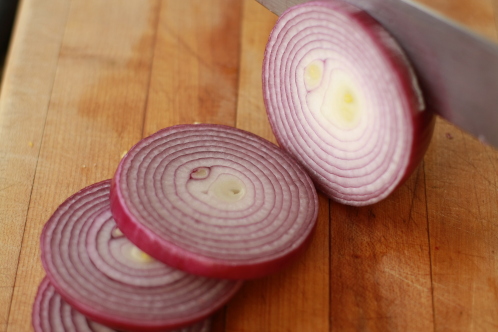 Next, heat up the grill and prepare the salsa.  Slice a red onion in fat slices.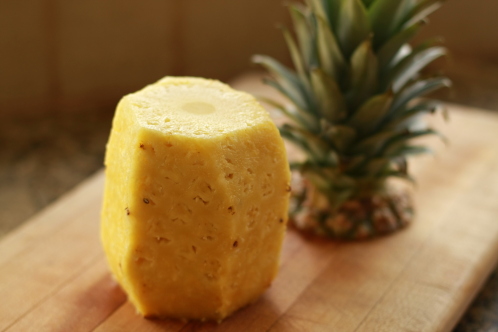 Cut up your pineapple into long spears.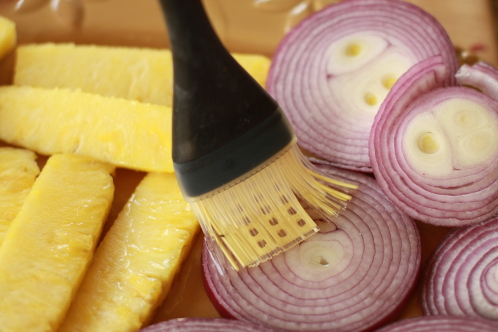 Brush them both with vegetable oil…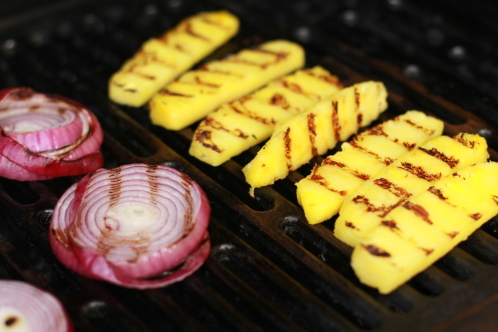 then onto the hot grill for 3 to 4 minutes a side… long enough to put on some nice grill marks but not long enough to make them mushy.  You can tell it's getting done because the pineapple gets nice and fragrant.  YUM!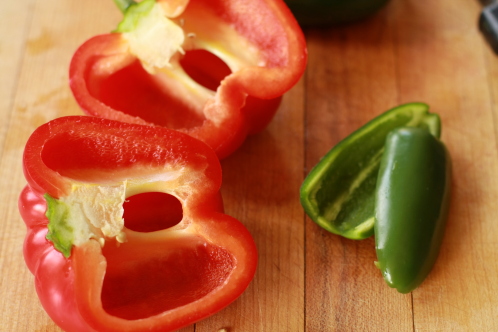 While they are cooking dice up a red bell pepper and a jalapeno or two. If you like it spicy, include seeds and all.   I want my kids to eat dinner so I'm seeding mine.
When the pineapple and onions are cool enough to handle, dice them into small bite-sized pieces.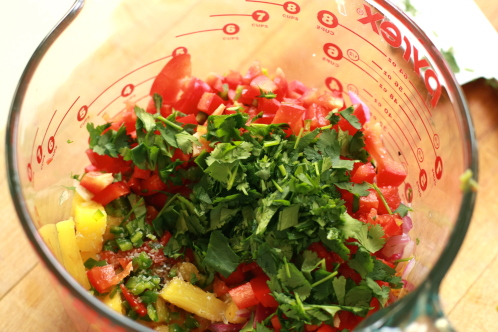 Add the remaining ingredients to the salsa and stir to combine. Set aside until you are ready to assemble your tacos.  This salsa is awesome with tortillas chips too.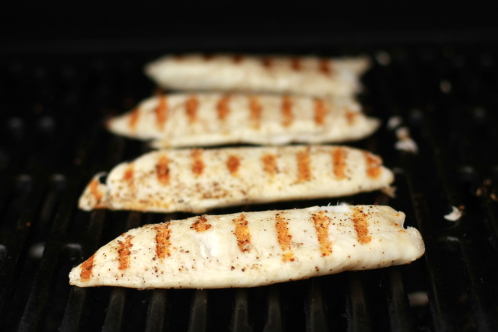 Grill the fish about 4 minutes per side or until the fish is flaky.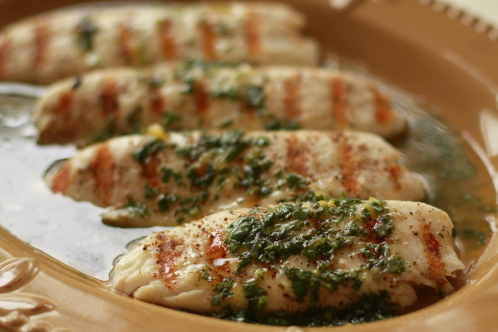 Remove to a platter and pour vinaigrette over the top.  Set aside while you prepare your corn tortillas.  Today I'm using Mission White Corn tortillas… they are my favorite.
Now don't be shocked…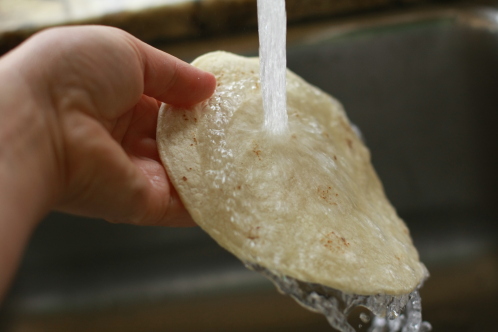 I often douse my corn tortillas under a stream of running water.  I do it quickly and give them a gentle shake to remove the excess water.
When you toss them in the hot frying pan to warm them up, they sort of steam and it gives them the BEST texture… not dried out… but perfect.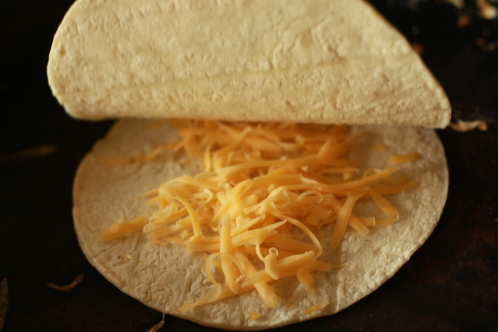 Here's my other favorite corn tortilla taco trick:  A single tortilla can sometimes fall apart with a hearty fish taco. But not if it's a yummy quesadilla!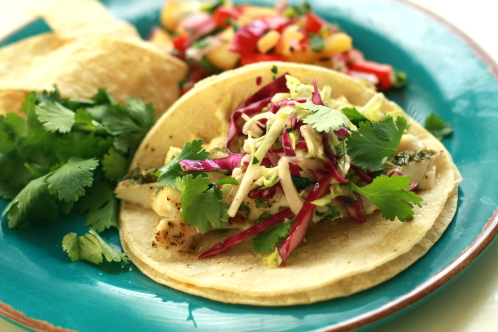 Load up your tacos just how you like them and enjoy!
Don't forget to visit Mission Facebook Page to vote for me!
Here's the recipe:
Hawaiian Style Fish Tacos
4 ( ounce ) Tilapia Fillets 2 tablespoons vegetable oil Kosher salt and black pepper OR Lemon Pepper Citrus Vinaigrette: Juice of 1 orange Juice of 1 lime ½ bunch of cilantro/ chopped ½  tsp. to 1 tsp. hot sauce 1 Tablespoon Honey 1 tsp. Kosher salt ¼ tsp. black pepper 1/3 cup vegetable oil For the tacos: Mission White Corn Tortillas
Cheddar or Jack cheese Shredded cabbage or cabbage slaw of choice
Pineapple salsa (recipe follows)
Avocado Cream  (recipe follows)
Heat grill to medium high.  Brush fillets with vegetable oil and season generously with salt and pepper (Lemon or Lime Pepper may be substituted.)  Grill fish for approximately 4 minutes a side or until flaky and remove to a platter.  Whisk together all the ingredients for the vinaigrette and pour over warm fish.  Allow the fish to sit for approximately 10 minute before serving.
In a hot frying pan or on the grill place corn tortilla, sprinkle cheese and top with another corn tortilla to make a cheese quesadilla.  Heat on both sides until cheese is melted and tortillas are nicely warmed.  Top quesadilla with chunks of fish, shredded cabbage (or slaw), pineapple salsa, avocado cream.
Enjoy!
Grilled Pineapple Salsa
½ large pineapple, cut into spears 1 small red onion, sliced into ½ inch rings 2 Tbsp. vegetable oil 1 to 2 Jalapeno Peppers, finely chopped 1 red bell pepper, chopped 2 limes, juiced Kosher salt to taste
Heat grill to medium high.  Brush pineapple spears and red onions with vegetable oil.  Grill approximately 3 to 4 minutes per side until grill marks are golden brown and pineapple is fragrant.
Allow pineapple and red onion to cool and dice into small bite sized pieced.  Combine all the ingredients into a medium mixing bowl and serve.
Optional Avocado Cream adapted from Patio Daddio:
1 large ripe avocado 1 cup sour cream or Greek yogurt Juice of 1 lime 2 tsp. favorite hot sauce ½ tsp. garlic salt ½ tsp. celery salt
Peel and seed avocado.  In a medium mixing bowl  mash avocado with the back of a fork.  Stir together with remaining ingredients.  Serve.
Optional Cabbage Fish Taco Slaw
1 cup green cabbage, shredded
1 cup red cabbage, shredded 1/4 cup rice wine vinegar 1 tablespoon sugar 1/2 teaspoon kosher salt 1 tsp. toasted sesame seeds Black pepper to taste
In a medium bowl, stir ingredients together.  Serve on fish tacos.
- – - – - – - – - – - – - – - – - – - – - – - – - – - – - – - – - – - –
This is a sponsored post by Mission.  The ideas, recipes and tips are my own.  Be sure to visit Mission Facebook Page for more ideas, recipes and tips and don't forget to vote!

5 Responses to "On a Mission to Eat Interesting"