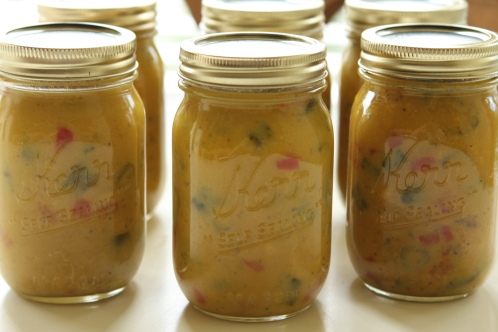 My husband's grandmother Eva was an avid canner.  One of the family favorites was her famous "Mustard Pickle."  It was a staple at the Sunday afternoon dinner table, where it was always served with a pot roast or ham.  It was especially loved for those Sunday night sandwiches made with leftover dinner rolls.
Have you ever tried Mustard Pickle?  I had never even heard of it until I married my husband.  And since, I have seen a number of other recipes… but this one has a special place in our hearts… it tastes like home…  and days gone by.
Several years before Eva passed away, my husband went to her home several times to cook with her.  I mentioned before that he learned to make her apple pie.
Luckily he also helped her make a batch of Mustard Pickle over the course of two evenings.
Here is Eva's hand written copy of her recipe.  She had it waiting for him the first evening when he arrived to peel the onions and prep the vegetables for the brine: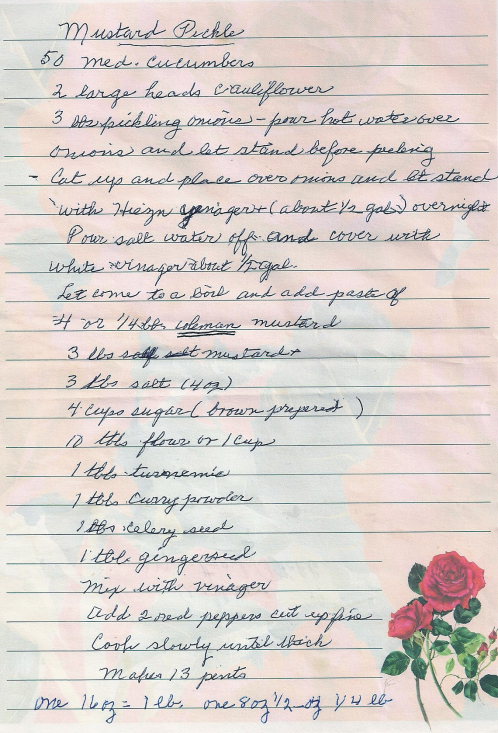 Don't you just love seeing her shaky scrawl?  I am astounded that, at the age of 90, Eva still had the energy to can a batch of Mustard Pickle, because let me tell you folks, it's not for the faint of heart.  Peeling 3 pound (in our case 6 pounds this year) of pearl onions is nothing short of a pain in the rear.
It's a process that is worth the work however.  And luckily the hardest parts of canning, sorta like childbirth, fades in your memory from year to year… and you are left with the warm memories of how smug and productive you feel when your cans are lined cooling on the counter.
Canning is always easier when you are in good company, and last night my kitchen was invaded by two of my favorite men, my husband and his father.
Here are some of the highlights of how we make Mustard Pickle: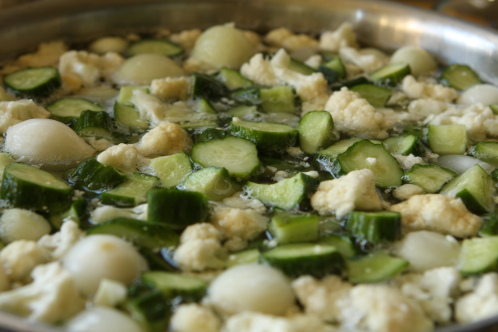 Right there is the lion's share of the work, folks.  I skipped taking the photos of our toil, since it happened after dark, and I was up to my elbows in onions.
The night (or the day before if you're smart) peel the pearl onions.  This is done by pouring boiling water over them and letting them stand for about 2 minutes.  Drain and toss them into an ice water bath to keep them from overcooking.  Then peel, peel, and PEEL some more.  Pearl onions are very light… and 3 pounds of them is a lot of onions.  6 pounds is even more… since we doubled our batch this year.
Also wash and slice up your pickling cucumbers.  Eva specified 50 medium pickling cucumbers.  Slice them about 1/2 inch thick.  If a cucumber is fat, half or quarter them as needed.  Think bite sized pieces.
Cut 2 large heads of cauliflower into small (approx. 1/2 to 3/4 inch) pieces and toss them all together in a large bowl or pan.  Cover with cold water and stir in 1 cup of salt.  Now go to bed.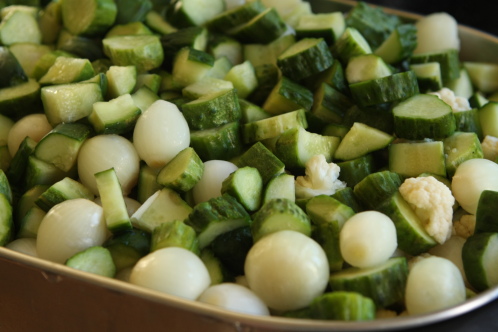 The next day, drain and thoroughly rinse the vegetables.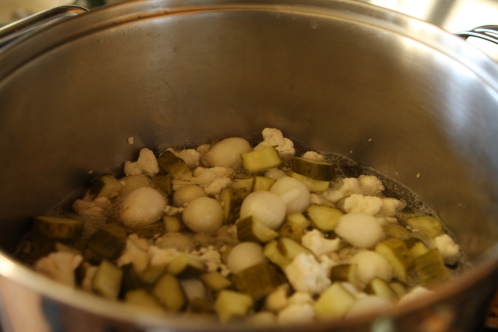 Pour them into a large stock pot and cover with vinegar.  Eva specified Heinz White Vinegar.  Use about 1/2 gallon.  Bring to a boil.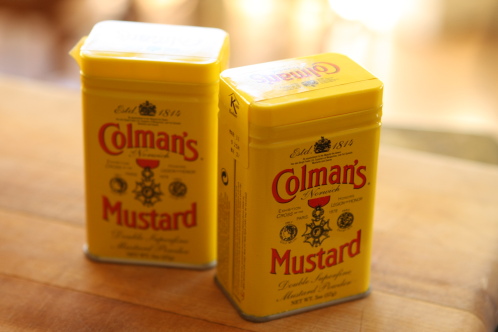 Once it comes to a boil add the dried mustard.  Eva specified Colman's Mustard underlined… twice.  Don't you dare try and use another kind of mustard or it will be ruined.. all ruined.
Actually I don't know what would happen if you used a different brand… and I'll never find out.  I wouldn't dream of messing with instructions that were underlined twice.  You use both 2 oz. containers of the mustard.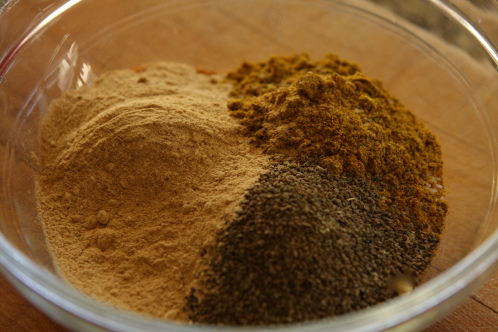 Oh boy, my husband is in my kitchen.  I know because the spices have been measured into little glass bowls that serve no other purpose than to sit there until ready to pour into the cook pot.  You're going to need turmeric, curry powder, celery seed, and ginger.  And my husband to do the dishes.
The recipe also calls for salt, lots of sugar, and…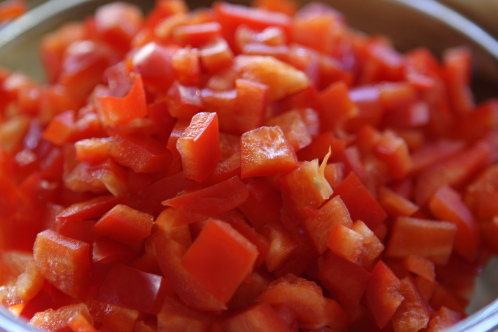 seeded and chopped red peppers.  Add them all into the pot.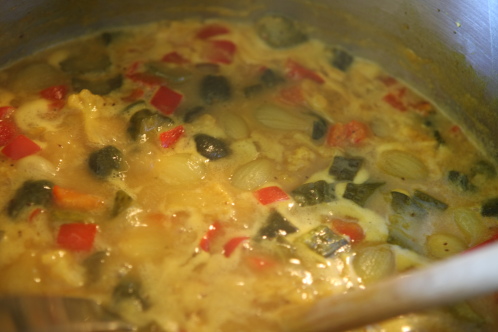 Last, you are going to thicken the sauce with flour.  I always ladle out a bowl of sauce and let it cool for a minute, then whisk the flour in.  Pour the whole thing back into the pot.  That way I don't get lumps.
Simmer for 1 hour, in which time the sauce will thicken up.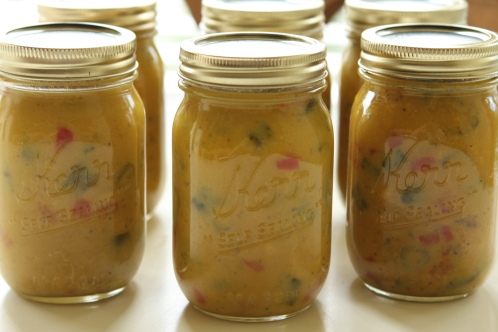 And then can in pint bottles.  I won't get into proper canning techniques in this post, but for my altitude we canned the Mustard Pickle in a boiling water canner for 20 minutes.
Leave on the counter overnight to cool.
Then here's the hardest part of making Mustard Pickle.  You need to wait about a month before eating, if you want to taste it in all of it's glory.  It needs time to cure.
I can hardly wait to cook a pot roast and enjoy a heaping spoonful of Mustard Pickle on top.
***** UPDATE:  Current canning guidelines DO NOT recommend using flour in any canning recipes.  Check with your local state extension service for advice on how to modify this recipe safely.
Here's Eva's recipe:
Eva's Mustard Pickle 50 medium pickling cucumbers 2 large heads of cauliflower 3 pounds pickling (or pearl) onions 1 cup salt water for brine
1/2 gallon Heinz white vinegar (approx.) 4 oz. Colman's Mustard (dried mustard) 3 Tablespoons salt- I prefer salt without iodine for canning, ie. pickling salt
4 cups packed brown sugar 1 cup flour 1 Tablespoon Turmeric 1 Tablespoon Curry Powder 1 Tablespoon Celery Seed 1 Tablespoon Powdered Ginger 2 whole red peppers The night before, chop up pickling cucumbers into 1/2 inch slices.  Peel onions by pouring boiling water over and letting stand for about 2 minutes.  Drain and place in a ice water bath to stop the cooking.  Using a sharp knife cut off the ends and peel.  Chop up cauliflower into 1/2 -3/4 inch pieces.  In a large pan or bowl, cover vegetables with cold water and add one cup of salt.  Stir and set aside overnight. The next day, drain and rinse thoroughly.  Pour vegetables into a large stock pot and cover with about 1/2 gallon vinegar.  Bring to a boil.  Add mustard, salt, sugar, and other spices.  Add flour to thicken and return to a boil.  Chop red peppers fine and add to sauce.  Simmer for 1 hour.  Sauce should thicken. Using safe canning methods, bottle in pint jars in a boiling water canner.  Check with your
local state extension office
for processing times.  For my altitude in the Mountain West it's 20 minutes. Makes 13 pints.
28 Responses to "Old Time Favorite- Mustard Pickle"