First of all, for the random winner of Tanya Whelan's beautiful book Sew What You Love: The Easiest, Prettiest Projects Ever

Congratulations Enid!  Send me an email with your mailing address so we can get your book sent out to you.
– - – - – - – - – - – - – - – - – - – - – - -
And now to share my favorite Berry Cobbler recipe.  This cobbler is the perfect mid-winter dessert because it works so well with frozen berries.
It comes together in just a few minutes and with the help of tapioca in the berry mixture, it has a wonderful consistency and serves up nicely.
The flavor of the fruit is the show stopper here, with the crunchy top that compliments it perfectly.  In short, it's absolutely delicious.
My neighbor who is allergic to gluten makes this recipe gluten free by substituting gluten free white cake mix for the flour, sugar, salt and baking powder in the topping.
Here's how to make this yummy cobbler: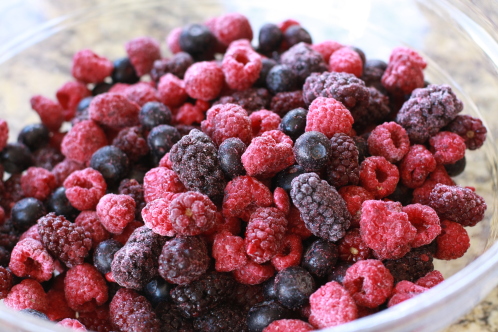 I'm starting today with frozen berries, since berries are LONG out of season.  This the blend of frozen berries from Costco, which are awesome for cobblers, smoothies and more.  They are a great price too.  Another smart option is to freeze your own berries when they are in season.
You can definitely use fresh berries for this cobbler and even peaches are great- just as long as you end up with 8 cups of fruit in a large mixing bowl.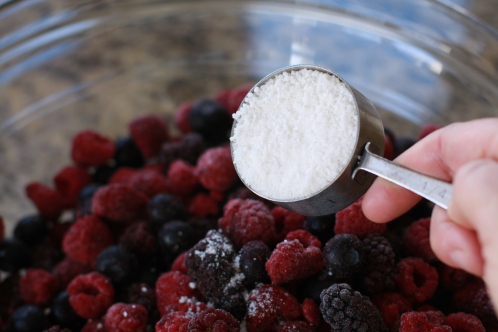 Add 1/4 cup quick tapioca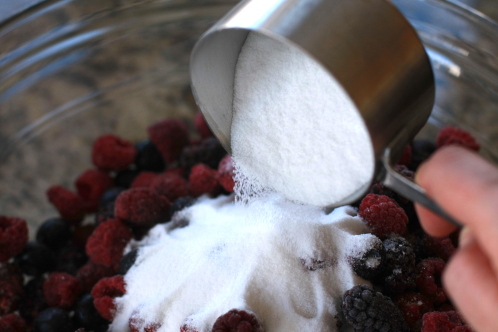 and 1 cup of sugar.  This can be adjusted slightly if your fruit is really sweet.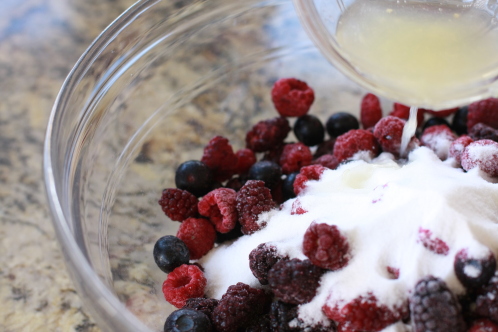 Add juice of 1/2 a lemon.  I always squeeze my lemon in a separate bowl to make sure I don't squeeze seeds into my cobbler.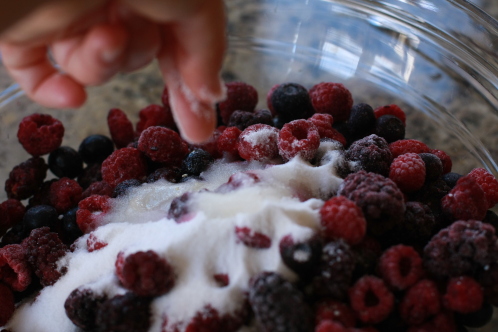 Add a pinch of salt.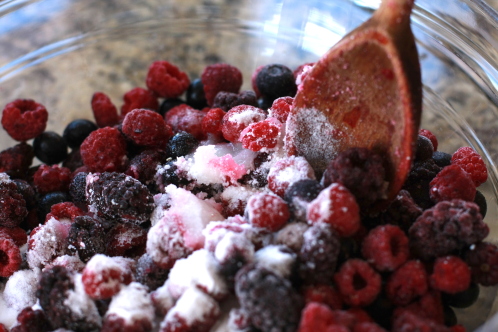 Give it all a good stir.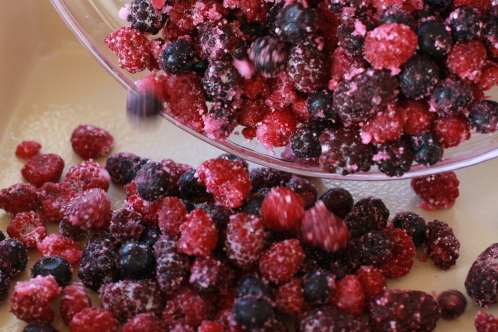 Spray your 2 quart baking dish with cooking spray or rub it with butter.  Today I'm using a 9 x 13 casserole dish.   Pour in your berry mixture and spread them out evenly.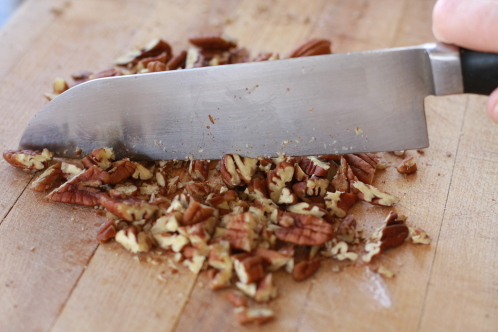 Now for the topping.  Chop up 1/2 cup pecans.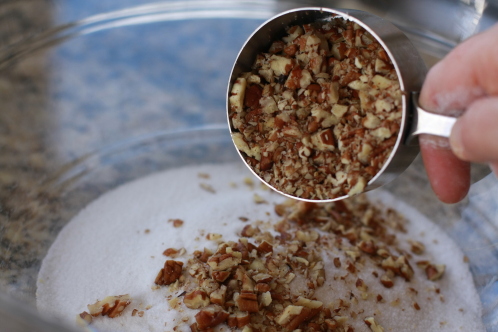 Add sugar, pecans….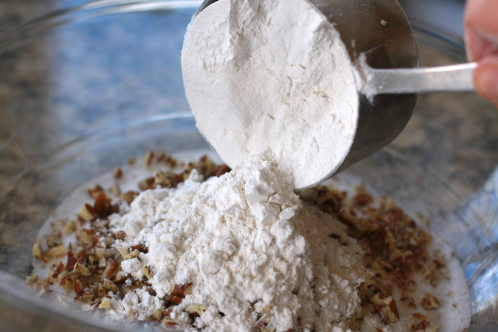 …flour,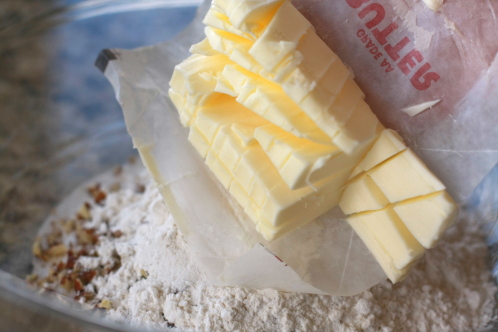 and butter into the a large mixing bowl.  I like to chop up my butter with a knife to make it easier to cut into the topping mixture.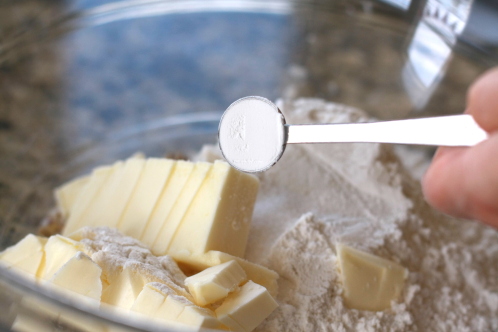 Also add in your baking powder and salt.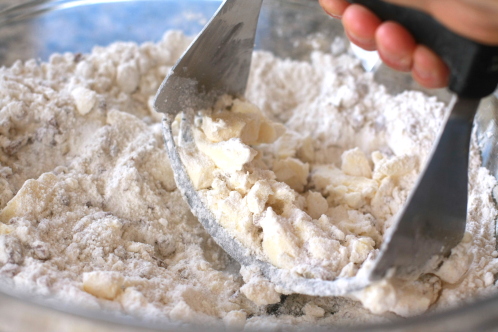 Cut the butter it in with a pastry cutter until it pea-sized.  If you don't own a pastry cutter, no worries, you can use your hands to work the butter in… or two knives.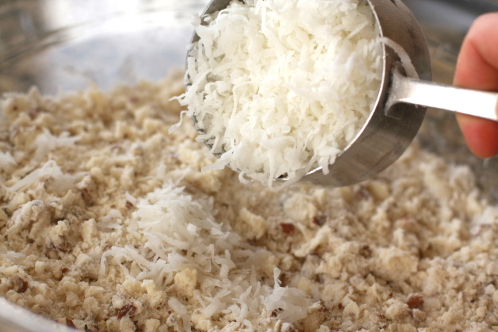 Add in the coconut and stir.  I missed this photo… but add in one egg and mix by hand.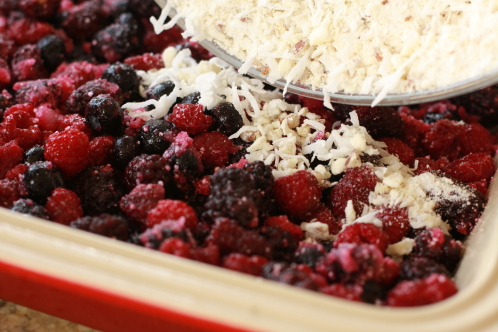 Pour the topping evenly over the fruit mixture.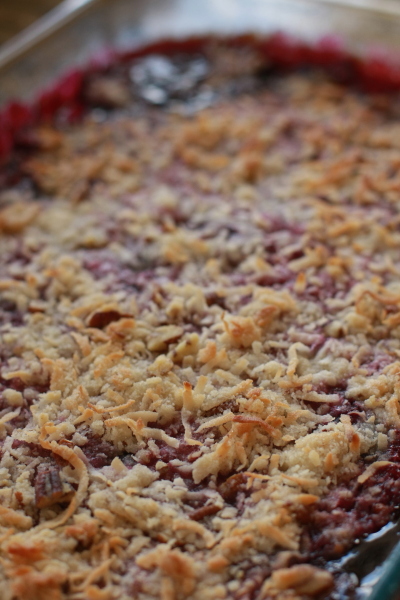 Bake in a 375 degree oven for 45 – 50 minutes, until golden brown, bubbly and crunchy.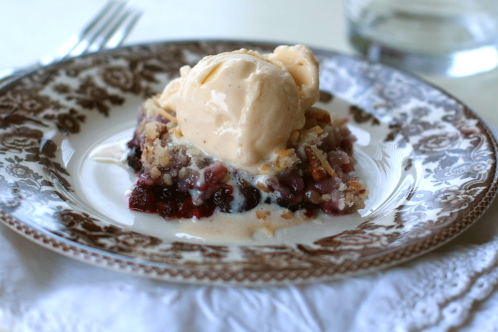 You can serve it room temperature with whipped cream, but I love it most warm with vanilla ice cream.  This is comfort dessert at it's best.
Here's the recipe:
Mixed Berry Cobbler
8 cups fruit (mix of berries or even peaches) (may use fresh or frozen berries)
1 cup sugar ¼ cup quick tapioca ½ lemon (or lime)
pinch of salt Mix all the ingredients together in a large mixing bowl in pour into a 2 quart baking dish sprayed with nonstick cooking spray. For the Topping: 1 cup flour ¾ cup sugar ½ cup chopped pecans ½ tsp. baking powder ¼ tsp. salt 1 cup shredded coconut ½ cup firm butter 1 egg Blend with a pastry cutter until crumbly.  Add egg and mix by hand.  Pour evenly over fruit mixture. Bake at 375 degrees for 45-50 minutes.
6 Responses to "Mixed Berry Cobbler and Giveaway Winner"