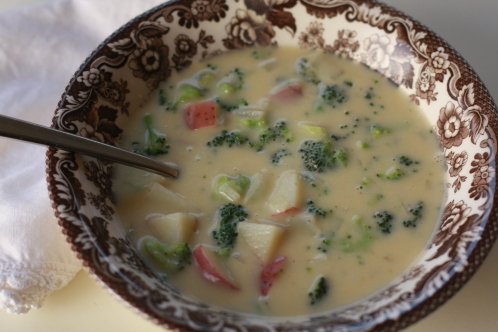 I am not going to go so far as to call this recipe a "Light" Broccoli Cheese Soup… it is a cheese soup after all.
Besides, my mom told me if I called it light, she wouldn't want to try the recipe.
Since this recipe started out calling for a WHOLE cube of butter and I paired it down to 3 tablespoons, I'm going to call it Lightened Up.
This is definitely a weekday recipe.  You can whip it up in 30 minutes or less.  It's easy, fast and uses what is almost always in my vegetable drawer and pantry.  You can even make it out of frozen broccoli, so it can be a great meal to have when you are in sore need of a trip to the store.
You can easily turn this into a Vegetable Cheese Soup, depending on your mood.  I threw in some red potatoes into our soup last night but add whatever you fancy.
Here's how I make my Lightened Up Broccoli Cheese Soup: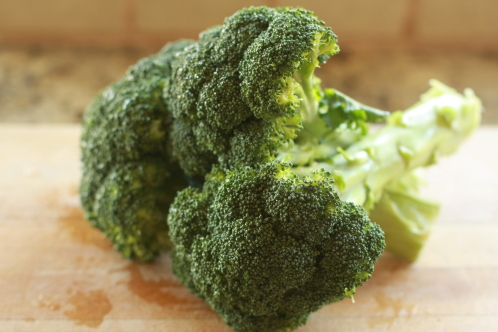 Start with a large head of good fresh broccoli.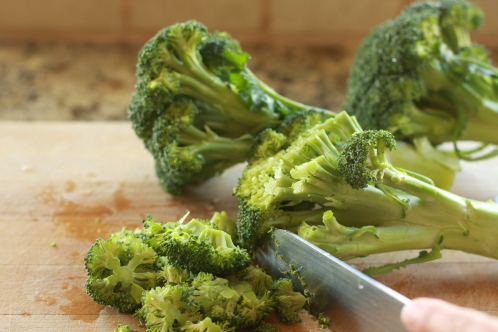 Take off the tops of the florets.  If you are serving a crowd and want to bulk up your soup, you can also add small pieces of the stem.  I hate to waste so I throw them in and save a few to munch on while I'm cooking.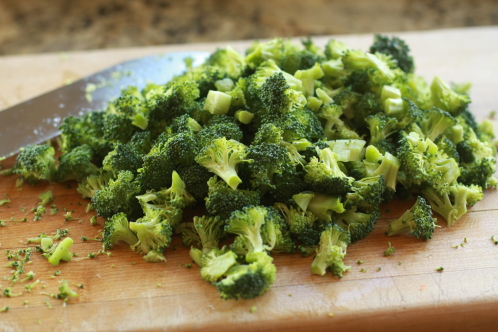 Cut any big pieces into small bite-sized pieces.  I don't puree my soup in the end, so I want the pieces to be fairly small.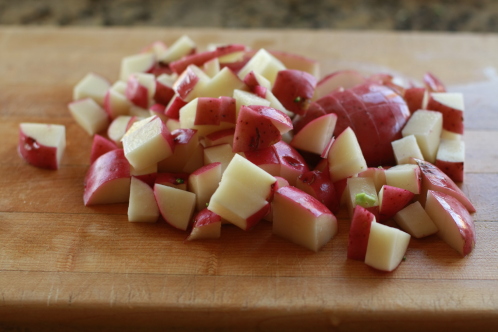 Today because the mood stuck me, I'm throwing in some red potatoes.  I thought it would make the soup more hearty… and it did.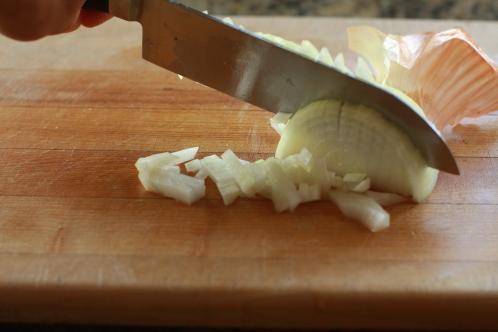 Onion is essential- half a large onion or a whole small.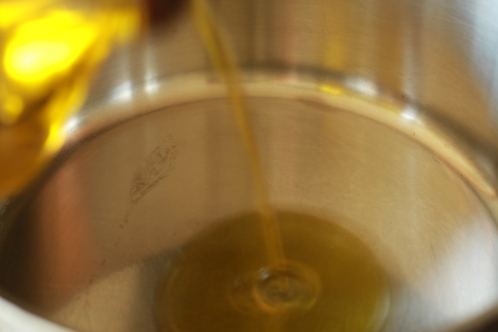 Here's my tip for lightening up: add about 1 tablespoon of olive oil into your soup pot.  Heat over medium high heat and…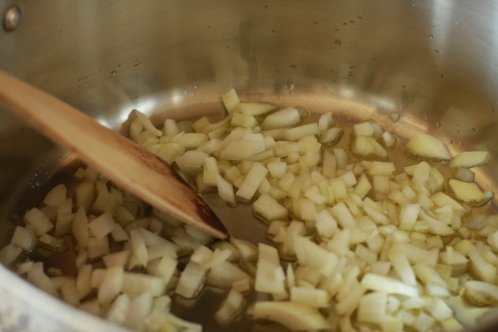 toss in the onions. Cook for several minutes until they start getting tender.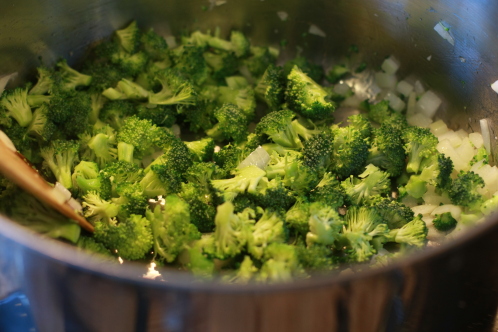 Add the broccoli, season with salt and pepper, and cook for several minutes more until the broccoli starts turning a brighter green, but don't overcook.
Spoon or dump the veggies onto a plate and set aside for a couple of minutes while you make a roux.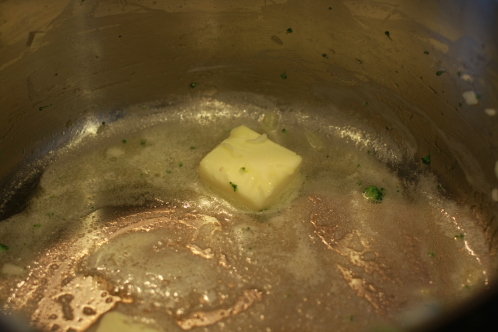 The roux is the reason you can get away with less fat in the soup.  It makes the soup thick and creamy, without the fat.
A few friends have told me they are intimidated by making a roux, but it's really quite easy.  Once you master making a roux, you can make the yummiest gravy baby.
But back to making soup.  Over medium low heat melt 3 tablespoons of butter in the same soup pan you've been sauteing the veggies in.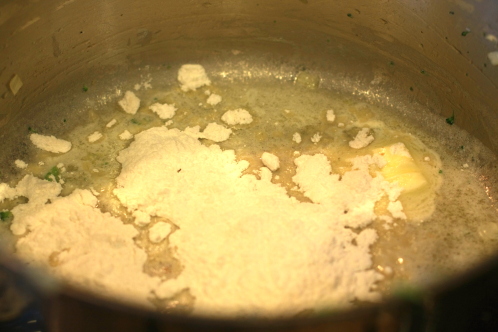 Ouch!  My photos are dark.  I was chasing the light in my kitchen.  It's getting dark so early these days, especially since my stove is far from the window.
Sprinkle 1/3 cup flour into the pan fairly evenly.  Now I'm breaking all sorts of culinary rules here, since a roux should have equal parts fat to flour.  But it still works wonderfully and it's lightened up.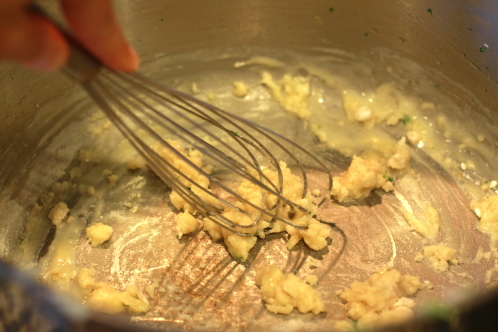 Keeping the heat low, whisk constantly to cook the flour for a couple of minutes.  (If you've never made a roux before, cook the flour until the raw flour taste is gone.)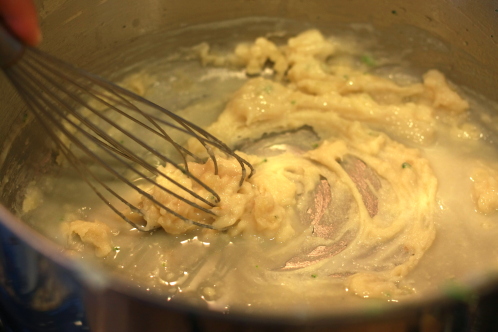 Slowly, slowly start pouring in a can of Chicken Broth into the paste while you whisk vigorously, making sure to whisk out all the lumps of flour.  The slow pouring is the key.  If you dump in all the broth at once, you'll have lumps. I don't show the pouring of the broth, since I needed one hand for the camera.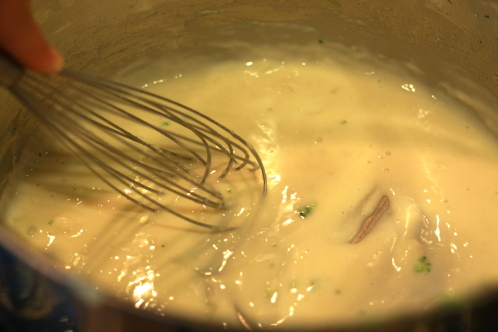 With a little whisking and pouring, the lumps are gone.  Add a second can of broth.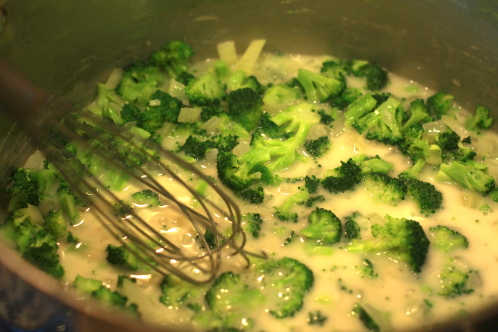 Add the veggies back into the pot.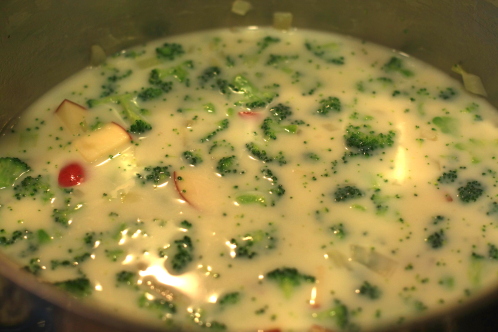 Cover the pot with a lid and cook for a few minutes until the vegetables are tender.  If you are adding the potatoes, they take a few more minutes (10-15) which is why I like to cube them small.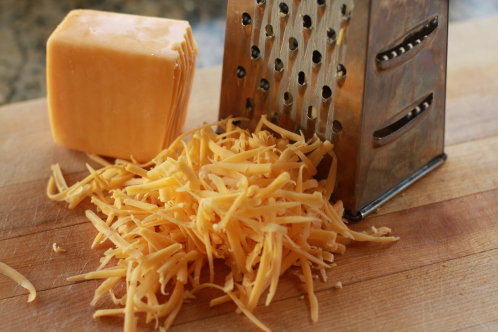 While the vegetables are cooking, shred the sharp cheddar cheese.  Sharp equals flavor.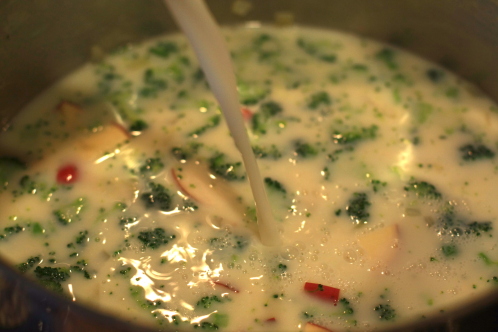 When the vegetables are tender, add the milk and heat gently to thicken the soup.  I'm using skim milk for more lightness.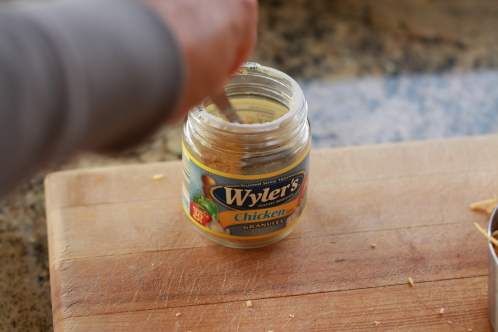 Here's another trick to add flavor.  After adding the milk, sprinkle in a teaspoon of granulated chicken bouillon.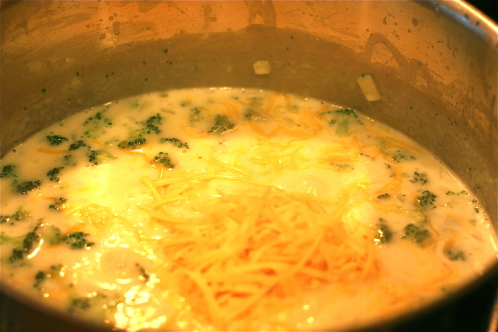 When it's thickened up, add 3 cups of cheese.
After it's all melted, taste for seasoning and add salt and pepper as needed.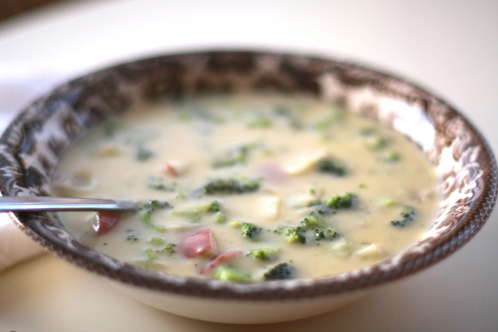 Dinner is served.  It's creamy, flavorful and delicious.  It's just the thing for a chilly weeknight evening.  I love to serve it with some homemade bread best of all.  But if there's no time, I usually have a loaf of bread in the freezer.  Last night's meal was quick and easy.
Enjoy!
Lightened Up Broccoli Cheese Soup
1 small onion, chopped
1 large head of broccoli
1 tablespoon olive oil 3 tablespoons butter 1/3 cup flour 4 cups chicken broth 2 cups milk 1 teaspoon granulated chicken bouillon
3 cups sharp cheddar cheese, shredded
salt and pepper to taste (Other vegetables like potatoes, carrots, zucchini are optional) Prepare broccoli by chopping the florets and stems into small bite-sized pieces. In a soup pot heat olive oil and add the onion.  Cook a few minutes until tender.  Add broccoli and season with salt and pepper.  Cook until just bright green.   Remove the vegetables from the pot and set aside on a plate for a few minutes.  Make a roux by adding 3 tablespoons of butter to the soup pot and melting over medium low heat.  Sprinkle in the flour and cook for a few minutes, whisking constantly. Slowly add chicken broth, whisking to prevent lumps. Add back the vegetables to the pot and cook until vegetables are tender.  Add milk and bouillon.  Heat gently until thick (do not boil).  Add cheese and cook until melted.  Season with salt and pepper to taste. Serve.
10 Responses to "Lightened Up Broccoli Cheese Soup"