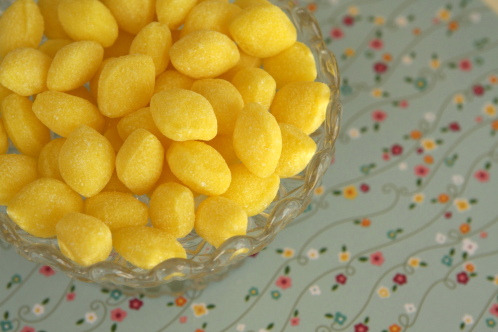 I blame it all on February.
It's February's fault I made Lemon Drop Cookies yesterday.  Winter is getting a bit old… and I'm craving things that are bright and cheery… be it fabric or food.
This lovely little cookie starts with a bowl of lemon drop candies, but it doesn't stop there.  It also has lemon zest, lemon extract, and lemon juice.  They're pretty much guaranteed to help you shake off the winter doldrums.
Here's the recipe:
LEMON DROP COOKIES
3 cups flour
1 teaspoon baking soda
1/2 teaspoon salt
1 – 1/3 cup sugar
Zest of one lemon – reserve juice for glaze
1 cup butter, softened

2 eggs
1 teaspoon vanilla
1 – 1/2 teaspoons lemon extract
4 ounces lemon drop candies, crushed
For the glaze:
1 – 1/2 cups powdered sugar
3 Tablespoons lemon juice
Preheat oven to 350 degrees.  In a medium bowl, mix flour, soda, and salt until well blended, set aside.   In a separate bowl add sugar and lemon zest.  Using your fingers, rub together until well blended and fragrant.  Add softened butter and cream together.  Blend in eggs, vanilla, and lemon extract.  Mix in crushed lemon drop candies.  Add flour mixture in batches until mixed in.  Do not overmix.

Using a cookie scoop or a spoon drop 1 inch balls onto a greased cookie sheet.  Flatten balls slightly with your hand.  Bake at 350 degrees for 10 – 12 minutes until slightly browned.
Cool and spoon glaze on top.  Allow glaze to set up before serving.
Makes 4 dozen cookies.
Click here for the printable recipe from my Tasty Kitchen Recipe Box.

Here's the play by play: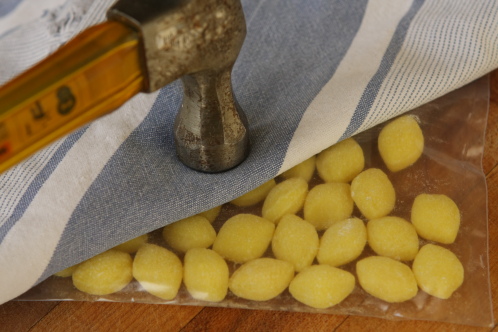 Crushing lemon drops is therapeutic… it's not everyday you get to use a hammer in the kitchen.  I placed the lemon drops in a plastic bag, placed a dishtowel over the bag and hammered away.  I don't have a kitchen mallet… so a girl's got to make it do.
Crush them into very small pieces.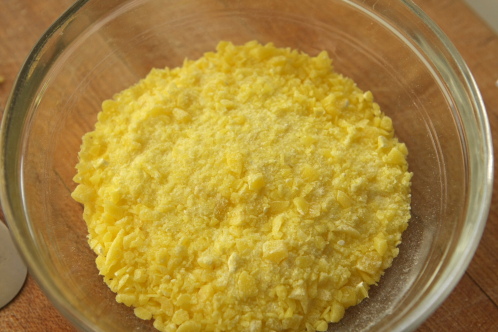 Like so.  There is still a few chunks.  They'll make the cookies good.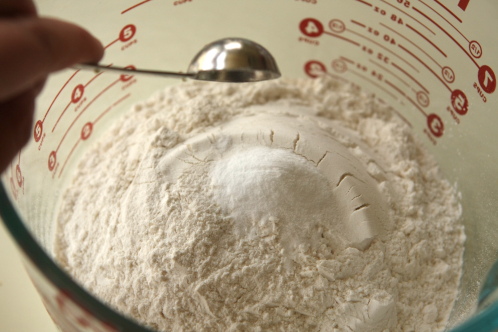 In a medium bowl add the flour, baking soda and the salt.  Mix them up well and set aside.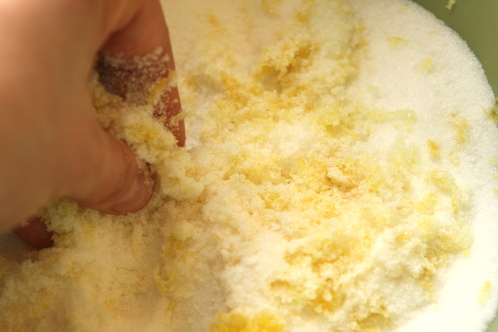 This is the fun part.  In a large bowl, add the lemon zest to the sugar and rub together until well blended.  It smells so good!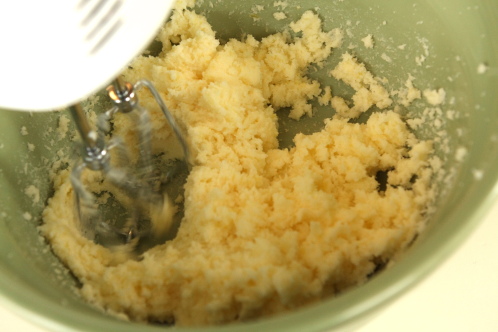 Cream in the butter.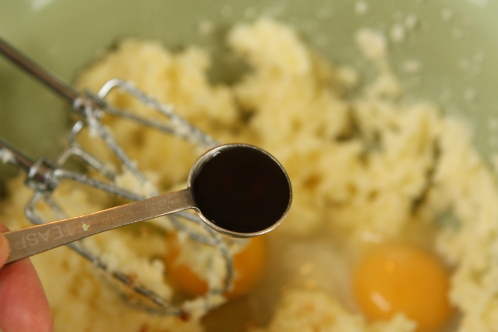 Add the eggs and vanilla and mix them well.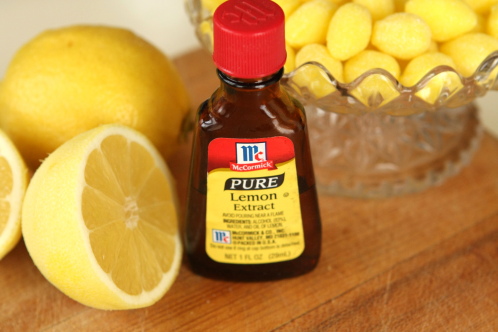 I told you there is A LOT of lemon flavor in these babies.  Here comes the lemon extract.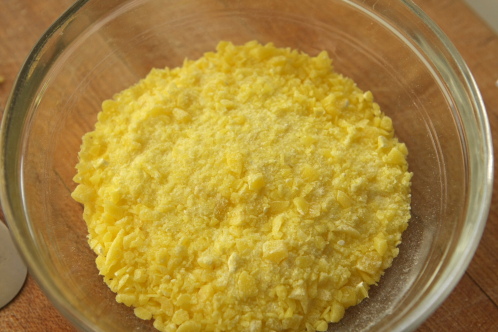 And the lemon drop candies.  The bag at the grocery store was 8 ounces.  Just use half the bag and there's no need for a scale.  The other half you get to eat… or make more cookies.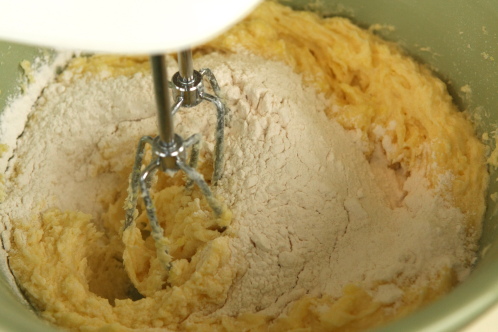 I like to add the flour in batches, I get it mixed in before adding more.  That way you are less likely to over mix and have tough cookies.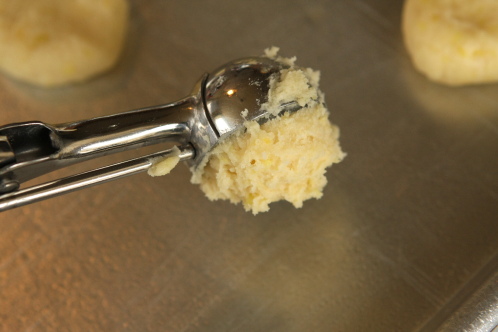 Do you have a cookie scoop?  It's a must have in my book.  It makes fast and even work out of scooping cookie dough.  You are going to want 1 inch balls.  The dough is a little sticky and I did need to rinse out my scoop between sheets.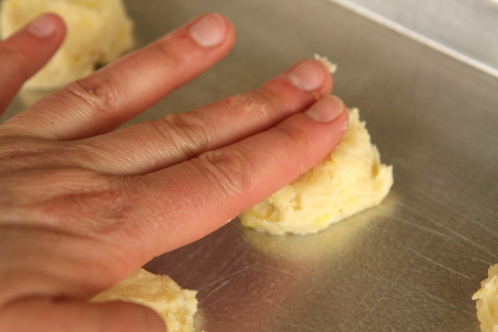 All you need is your hand to press down the cookies slightly.  Do you read Pioneer Woman?  Did she say something yesterday about a freaky pink alien claw?  Yes I do my own dishes.  Why do you ask?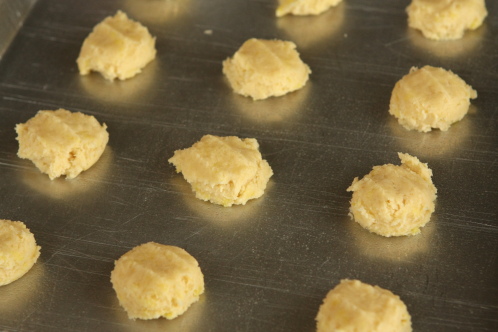 Cook 12 cookies to a sheet, they spread out a bit.  Put them into a preheated 350 degree oven for 10 – 12 minutes, until they are slightly golden brown.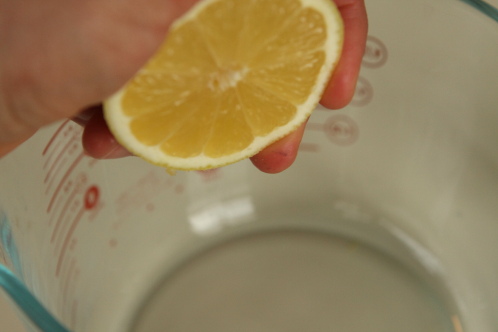 While they are cooking, I make the glaze.  The juice of one lemon… (about 3 Tablespoons.)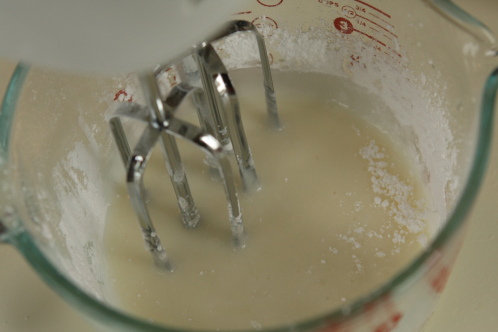 And powdered sugar… approximately 1- 1/2 cups.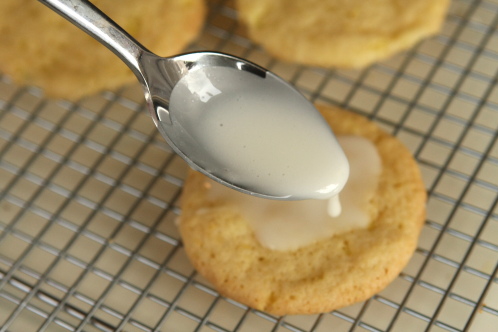 When the cookies are cooled.  Drizzle on the glaze.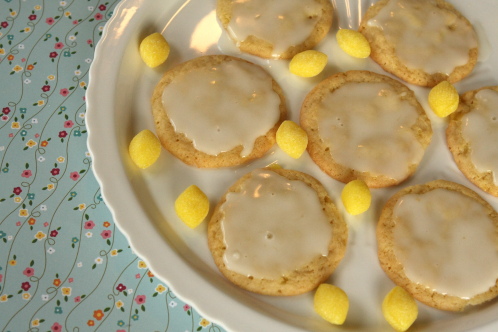 And try hard not to eat the whole plate.  I'm not saying I ate a whole plate!  But if I did, I could plead that it is February, and there's lots and lots of lemon goodness in a plate of these lovely cookies. Make 'em today, they're guaranteed to make you smile.

22 Responses to "Lemon Drop Cookies"