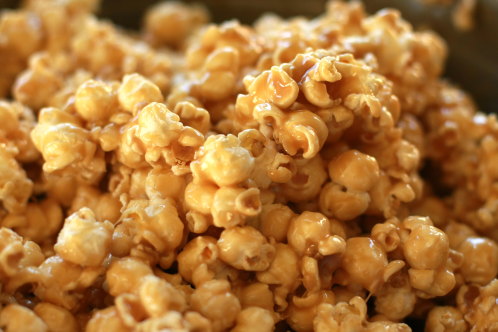 Earlier this week, I made batches and batches of caramel corn with my mom.  That evening my husband walked in the door expectantly.  "I've been thinking about caramel popcorn all day, where's ours?"
Doh!  I didn't make any extra for my family.
So yesterday, since I am a total sucker, or really since I love my husband, I made one more batch for him.
This is one of those near perfect, simple, delicious recipes that I've been wanting to share for a long time.  So this was a good excuse.
The first step to making great gooey caramel popcorn is to put your candy thermometer away.
Last December I bought a new, really good quality thermometer after my cheap thermometer broke making marshmallows.   A few weeks ago, wanting to give it a whirl for caramel popcorn, I used my new fancy thermometer to make a batch and guess what?  Even though my thermometer never reached the soft ball stage, I overcooked my caramel. It wasn't soft and gooey like I like it… it was somewhere between gooey and cracker jacks.  Bummer.  After a little research I think it had to do with things like altitude etc.  In fact, Amberlee from the Giver's Log has a great tutorial for making caramels with a thermometer and she share troubleshooting tips for your thermometer here.
But for caramel corn, from now on, I'll always use the tried and true method that my family has used to make hundreds of batches of perfect gooey popcorn.  It's easy and thermometer free.
Here's how: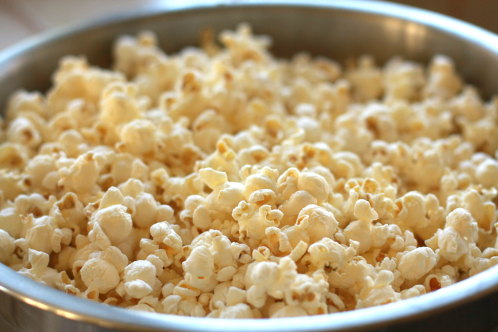 Start by popping two poppers full of popcorn in an air popper.  Now say that 10 times fast.
Every air popper I've used pops 1/2 cup of unpopped popcorn per batch, so that's 1 cup of unpopped corn total.  You'll want to have your popcorn in two large bowls for easy stirring unless you have a giant bowl (like a 12 quart).
One important tip:  We always shake the bowl of popcorn slightly to let any unpopped kernels drop to the bottom.  Then we transfer the popcorn by handfuls to a new bowl and throw away all the unpopped kernels that are left at the bottom.  Your teeth will thank you.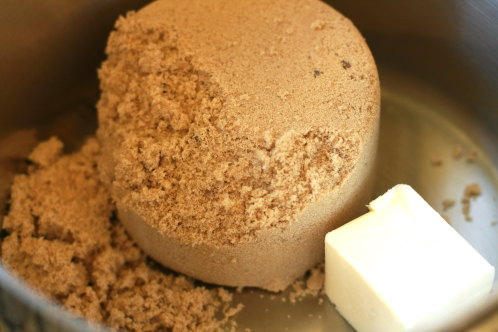 In a large saucepan over medium-high heat add 1/2 cup (1 cube) of butter and 2 cups of brown sugar.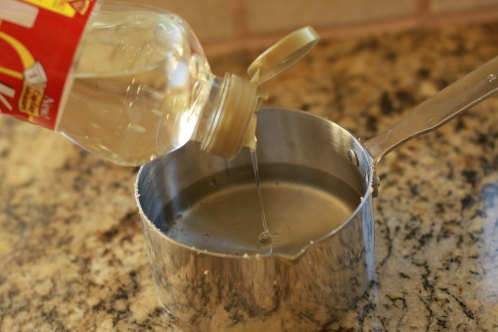 …. and one cup of corn syrup.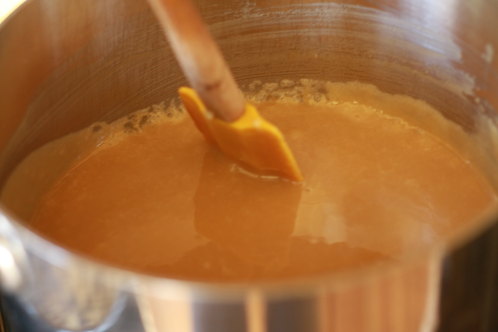 Stirring constantly, bring it to a boil.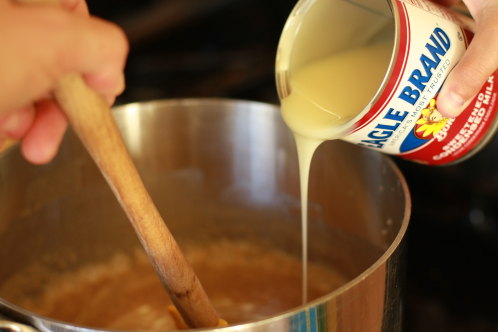 Once at a boil, slowly add in one can of sweetened condensed milk, stirring it in the whole time you are pouring.
My mom taught me to stir candy in a figure 8 pattern back and forth across the pan.  Scrape around the entire pan and go back to 8′s.  Just make sure you're stirring the entire bottom of the pan consistently.
Once you add the can of condensed milk, the mixture will stop boiling for a time.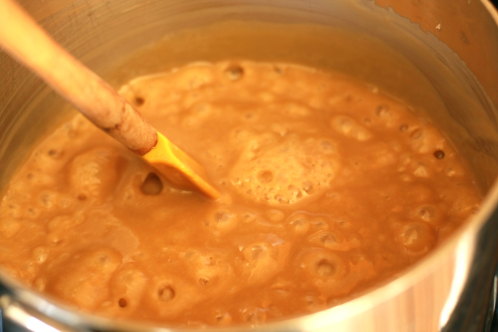 This is the most important part of getting your caramel right.  Stirring constantly, wait until your caramel comes back to a full boil.  As soon as it does, start timing for 5 minutes.
Right before the 5 minutes are up, your caramel will darken slightly into a nice caramel color.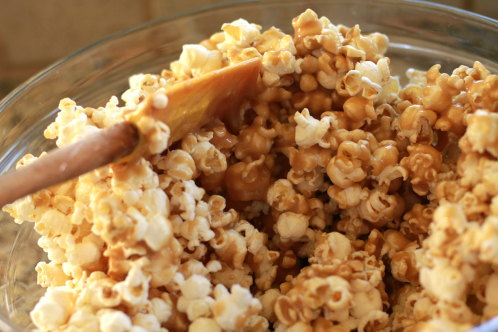 Immediately pour over your popcorn and stir to coat the popcorn thoroughly.  (Please, for the love of Pete, be careful!  I've gotten some nasty burns pouring and stirring the hot caramel!)
If you are giving popcorn away in cellophane gift sacks, you can spread it out on foil that has been sprayed with baking spray for it to cool and dry a bit.  It will make it much easier to put in bags later.  Whether in a bowl or in a bag, to keep your popcorn loose, don't compact it down.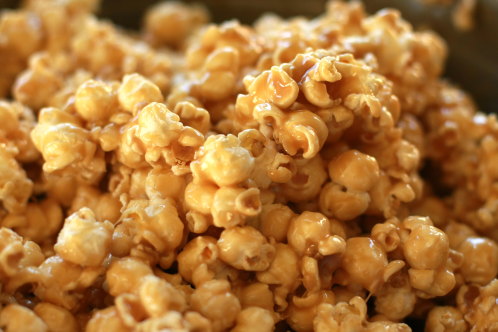 Once cool, it will be gooey and soft, but not too sticky.  In other words, perfect popcorn.
Gooey Caramel Corn
1/2 cup butter (1 stick)
2 cups packed brown sugar
1 cup corn syrup
1 can sweetened condensed milk
2 poppers full of popcorn from an air popper (1 cup unpopped total)
Pop 2 full batches of popcorn in an air popper.  Remove any unpopped kernels. Set aside.
Bring butter, brown sugar and corn syrup to a boil over medium high heat, stirring constantly.  Slowly stir in 1 can of sweetened condensed milk.  Continue stirring until mixture returns to a full boil.  Start timer for 5 minutes and continue to stir until timer goes off.  Remove from heat.  Pour over popped corn and stir until well combined.  Allow to cool before serving.
Enjoy!

10 Responses to "Gooey Caramel Corn"