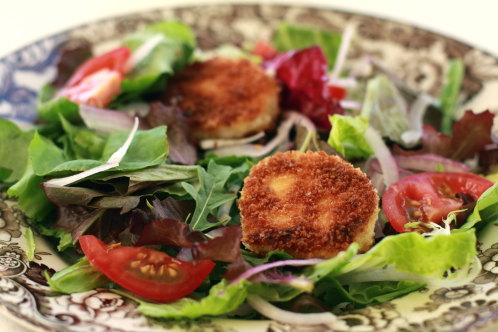 I really love cheese and goat cheese best of all.
Bread and fry goat cheese and serve it warm in a salad and I think I've died and gone to heaven.
It's an elegant, special salad, perfect for guests, but could not be easier to make.
me + fried goat cheese medallions = true love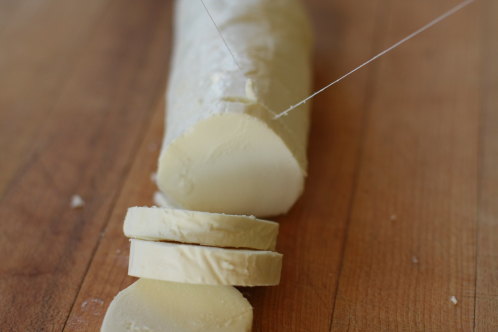 I'm starting with a 10.5 ounce log of goat cheese.
Goat cheese is very soft and it's a pain to cut it with a knife.  My heavier quilting thread is just the thing to easily slice perfect medallions.  If you don't have thread, unwaxed, unflavored dental floss works too.  Slide it under the cheese about 1/4 – 1/3 inch, cross the thread and slice.  (It's the same method I use for cutting cinnamon rolls.)
If your goat cheese is really soft, you can place it in the freezer for 10 to 15 minutes to firm it up before cutting.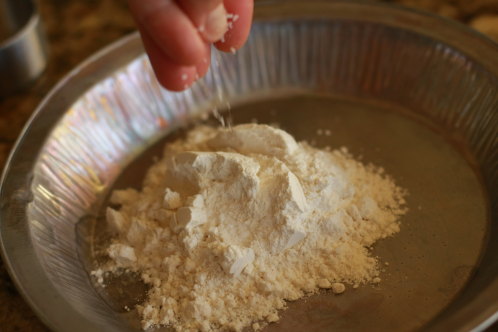 Lay out three plates.  The first with about 1/2 cup of flour.  Season it with salt and pepper.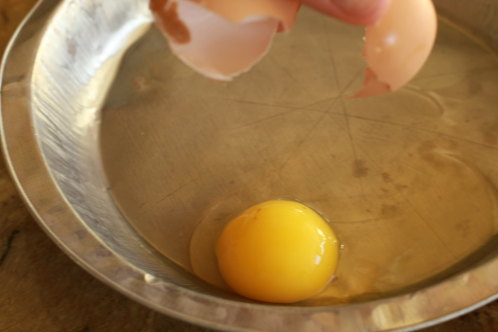 Break 2 eggs in the second plate and add about a tablespoon of water.  Whisk it up well.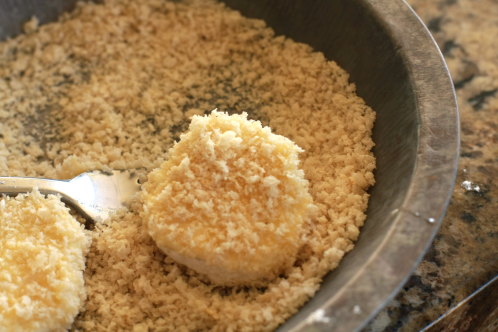 Add about 1 cup of Panko bread crumbs to the last plate.  Dip the medallions first in flour, then egg, then coat with bread crumbs.
If you choose, you can shake things up a bit by adding herbs to your medallions.  Chives, parsley, or basil would be nice.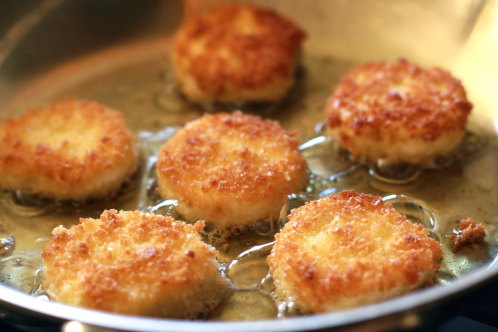 In a frying pan add a 3 to 4 tablespoons of olive oil.  (Canola or vegetable oil work too.)  Fry them until nicely brown on each side.
Place on a paper towel to drain for a moment before serving.
It's best served warm on your favorite salad.  Last night I served ours on salad from lettuce and arugula from our garden, thinly sliced red onion and cherry tomatoes.  The dressing was a delicious papaya seed dressing that we received as a gift from Hawaii.  You can make your own dressing or Brianna's Blush Wine Vinaigrette is wonderful too.
A couple of other quick tips:  My girls aren't fans of goat cheese, but you can easily fry up mozzarella cheese sticks for the kids.  You do need to freeze the mozzarella for about 20 minutes before frying.  Click here for the how to from Pioneer Woman.  Serve it with a little marinara and they'll love it.
Last night after finishing the goat cheese I used the same flour, egg, breadcrumbs and frying pan to fry up some chicken fingers.  I simply added a little grated Parmesan cheese to the breadcrumbs.
Fried Goat Cheese Medallions for a Salad
10 ounce log of goat cheese 1/2 cup flour salt and pepper to taste 2 eggs 1 Tbsp. water 1 cup of Panko bread crumbs Olive oil for frying Slice goat cheese into 1/4 inch medallions.  Place flour seasoned with salt and pepper in a small bowl.  In a separate bowl whisk egg and water.  Add Panko bread crumbs to the last bowl. Coat the medallions first in the flour, then egg mixture, then breadcrumbs.  Heat a frying pan, with a 1/4 inch of olive oil to medium heat.  Add medallions and cook until golden brown.  Drain on a paper towel for a minute.  Serve warm on your favorite salad.
Click here for my printable recipe on Tasty Kitchen.
3 Responses to "Fried Goat Cheese Medallions for a Salad"