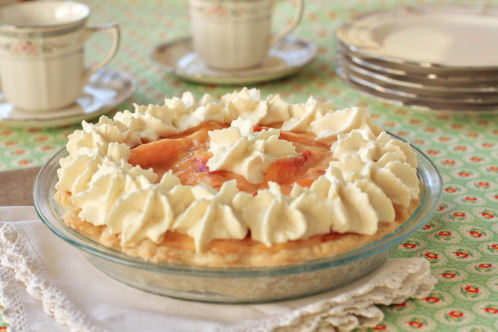 I've shared this recipe before, but this pie so wonderful and since peaches are starting to come on, I just had to share it again.
Mom's Fresh Peach Pie
1 cup Water
1 cup Sugar
4 heaping Tbsp. Corn Starch
Yellow Food Coloring
¼ cup fresh Lemon Juice
Pinch of Salt
¼ cup Butter (1/2 stick)
6 Peaches, peeled and sliced
Precooked 9 inch Pie Shell
Combine water, sugar, cornstarch, food coloring, lemon juice and salt in a medium saucepan.  Whisk until combined.  Stirring constantly, cook over medium heat until thick (and hard to stir.)  Remove from heat and add butter, stir until melted and combined.  Add peaches and gently fold to coat.  Pour into precooked pie shell.   Refrigerate for 4 hours to set.
Top with whipped cream and serve.
For the step by step tutorial and a link to the printable recipe click here.

6 Responses to "Fresh Peach Pie Revisited"