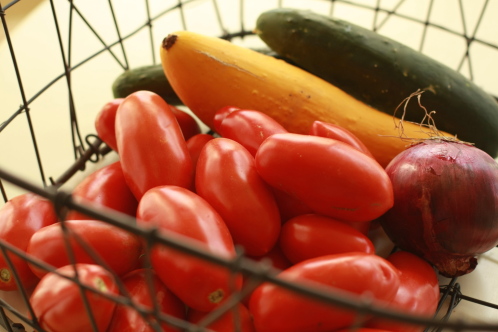 My garden is overflowing right now.  I could eat and eat.  And I do.
I like to see what comes out of the garden and then decide what I will make for lunch or dinner.
Yesterday I picked lots of plum tomatoes and some beautiful green and jalapeno peppers (which I didn't get a picture of).
That means salsa!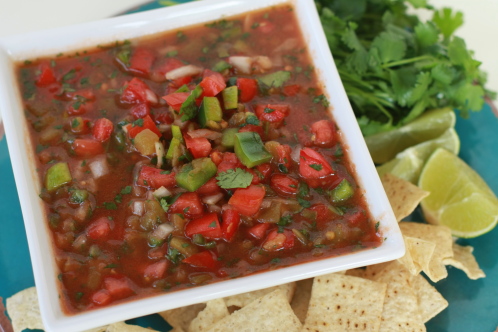 The recipe I made yesterday is an old favorite.  I've made it ever since I started keeping a vegetable garden.  It came from a quilting friend of my mom's named Afton.  And it is a gem.
Here's how to make this delicious fresh from the garden salsa: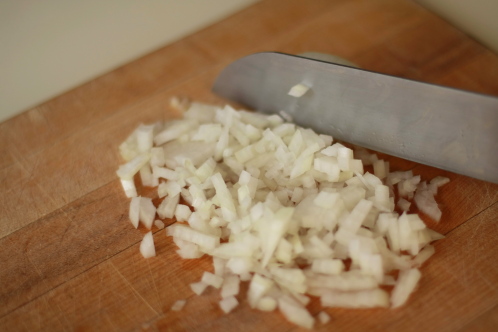 Chop up about a 1/2 of a medium onion.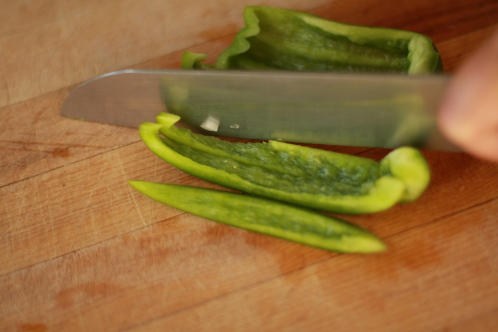 Chop up your peppers.  About a 1/2 of a large green pepper.  I also added one jalapeno… seeded to cut down of the heat a little.  I chop the jalapeno very fine.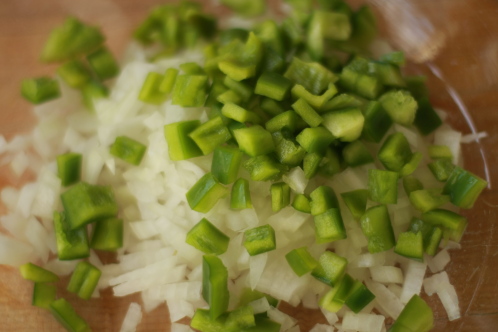 And into the bowl they go.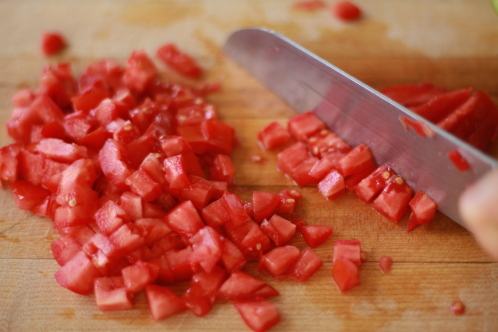 Next come the Roma tomatoes.  I like Romas for salsa since they aren't as runny.  About 4 large Roma tomatoes fit the bill.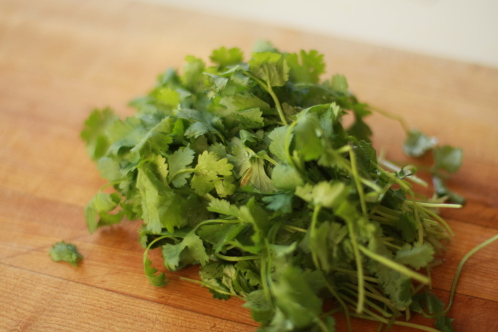 I am sad to say this cilantro did not come from my garden.  Every year I try to grow it and every year it dies in mid-summer.  This bundle is store bought.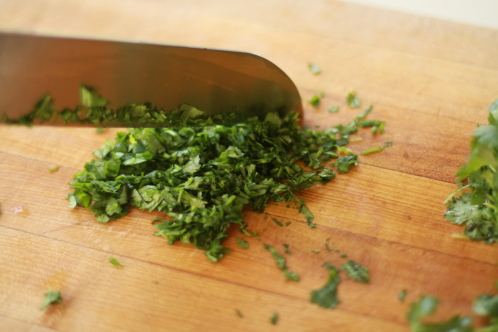 Give it a chop chop.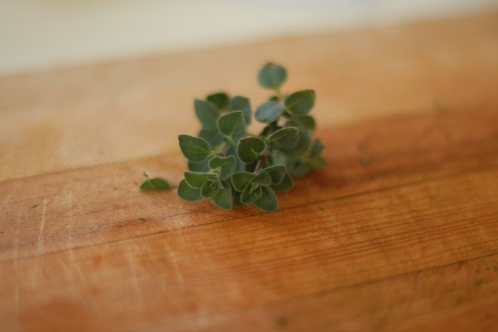 At least I can grow oregano.  This herb is from my garden.  Oregano is such a surprise for a salsa.  But I love it in there.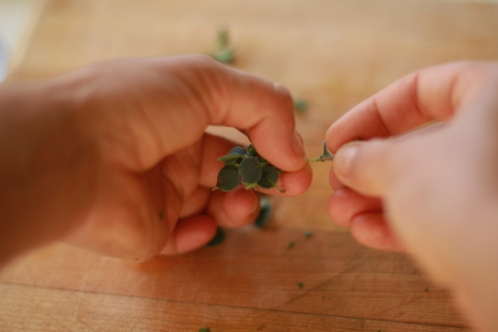 I run my fingers down the stem to remove the leaves and chop up about 1/2 teaspoon of fresh.  If you don't have fresh use about 1/8 teaspoon of dried.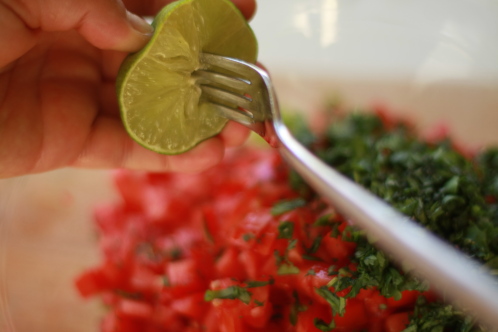 Fresh lime is a must.  About 2 tablespoons.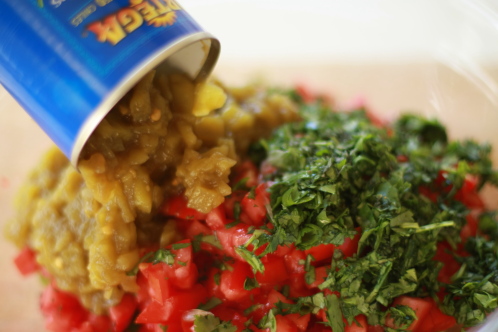 Canned diced green chiles go in next.  If I've roasted fresh… that's what I'd use.  But not today. I especially like the hot diced green chiles.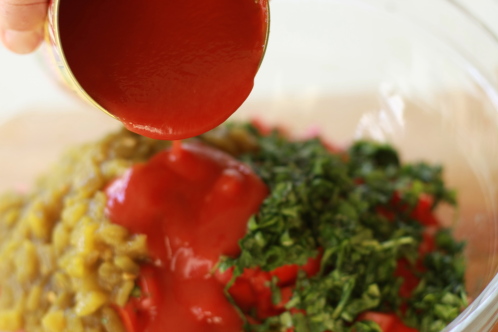 Here's another twist.  Add about 8 ounces of tomato sauce.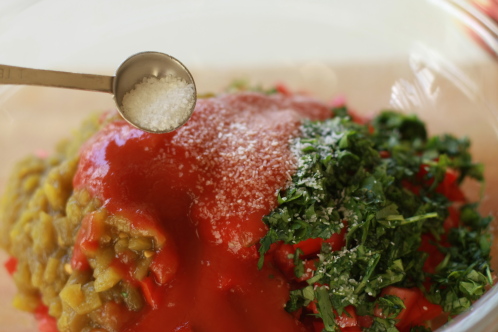 1 teaspoon of salt.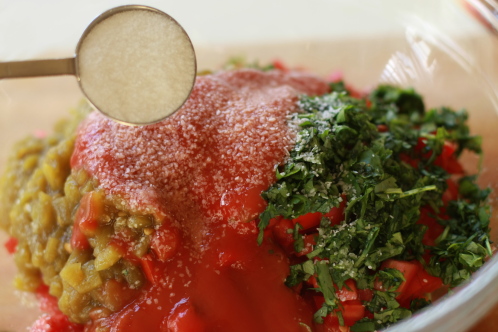 And a tablespoon of sugar.  I ended up not putting in the whole tablespoon.  I added half…  and after stirring and tasting decided 1/2 a tablespoon was good for me.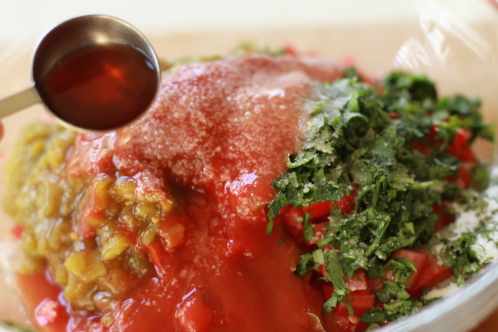 Add 1 tablespoon vinegar.  I used red wine vinegar.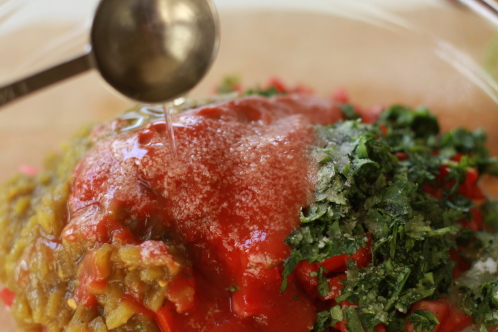 And 2 tablespoons of vegetable oil.  I used mild light olive oil.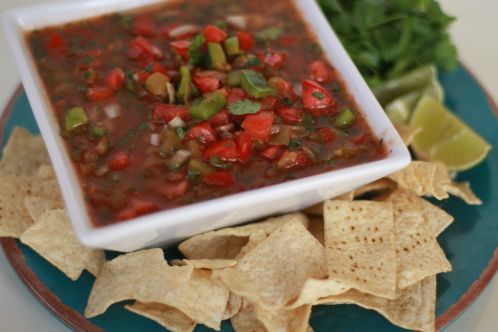 Mix it up and serve.
This is my oldest salsa recipe and one I keep coming back to.  It's a wonderful recipe with lots of flavor.  This time of year it's my favorite recipe since it uses my garden abundance.
Here's the recipe:
Fresh Garden Salsa
2 cups diced tomatoes (I prefer Roma tomatoes) 1/2 cup diced onions 1/2 cup diced green peppers' 1 finely chopped and seeded jalapeno (I added this to recipe) 1 small can diced green chiles (I use a 7 ounce can) 1/2 – 1 Tablespoon sugar
1 teaspoon salt 1/2 cup fresh cilantro 1/2 teaspoon fresh oregano 2 Tablespoons vegetable oil 2 Tablespoons fresh lime juice 1 Tablespoon vinegar (I prefer red wine vinegar) 8 ounces tomato sauce Add all the ingredients into a large bowl and stir.  Serve and enjoy.
One Response to "Fresh from the Garden Salsa"