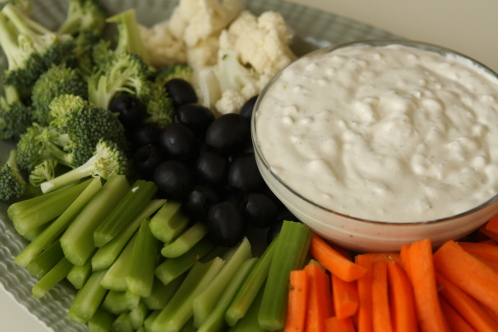 Whether you are serving a crowd this Super Bowl Sunday or just your family, you can balance out the nachos and wings by serving a few vegetables.
With this dip in tow, your guests will actually want to eat them!
This dip is NOT gourmet or fancy in anyway, but every time I serve it I catch someone try to lick the dip bowl clean.
I'm kidding of course.  Sort of.
The recipe calls for Hidden Valley Ranch Mix.  You know, the kind in the envelope.  It also has a lot of cottage cheese, which helps balance out the sour cream and mayonnaise a bit.
Kathy's Vegetable Ranch Dip:
1 pint Cottage Cheese 1 cup Sour Cream 2 cups Best Foods Mayonnaise 1 small package Hidden Valley Ranch Mix ½ tsp dried parsley ¼ tsp garlic salt Stir all the ingredients together.  Best if made a day ahead (or a few hours at the least.)
Click over to my Tasty Kitchen recipe box for a printable recipe.
2 Responses to "Crowd Pleasin' Vegetable Dip"