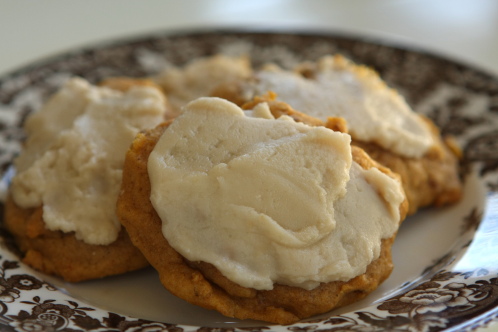 There is only one time of year I love to bake these cookies….
Because they just wouldn't taste this wonderful any other time of year. The leaves have to be turning. There has to be a chill in the air.  Make them on day like that, and you won't believe how good they are.
Harvest Pumpkin Cookies
2 cups flour 1- 1/2 teaspoon baking powder 1/4 teaspoon baking soda 1 teaspoon cinnamon 1/4 teaspoon allspice 1 cup butter 1 cup sugar 1 egg 1 cup canned pumpkin 1 cup chopped pecans (toasted) Frosting: 6 Tablespoons butter 1/3 cup brown sugar 2 cups powdered sugar teaspoon(s) water to right consistency
Preheat oven to 375 degrees. Chop pecans.  In a saute pan, toast pecans until fragrant.  Set aside. In a medium bowl, mix together flour, baking powder, baking soda, cinnamon, and all spice.  Set aside.  In a large bowl (or mixer) cream together the sugar and butter.  Add one egg.  Stir in the pumpkin.  Add flour mixture and mix until incorporated.  (Do not over mix.)  Stir in pecans by hand. Drop with a teaspoon onto a greased cookies sheet.  Bake at 375 degrees for 10 – 12 minutes. Heat butter in a a saucepan.  Add brown sugar and stir.  Remove from heat and whisk in the powdered sugar.  Add a teaspoon of water or more until you reach desired consistency.  Frost the cookies.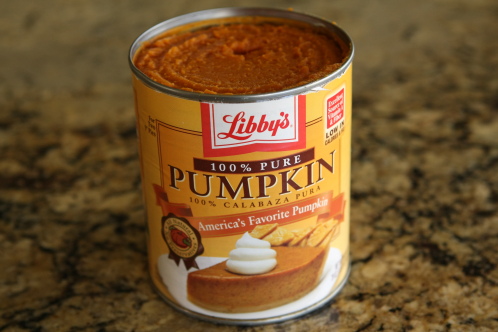 I am so glad the pumpkin shortage is supposedly over.  It had me in a downright panic whenever I thought of it.
What would I do without Pumpkin Chocolate Chip Bread and Pumpkin Pie? …. and Harvest Pumpkin Cookies of course!
Pumpkin is the secret to these cookies.  And butter.  Isn't butter always the secret to the best cookies?
First, preheat the oven to 375 degrees.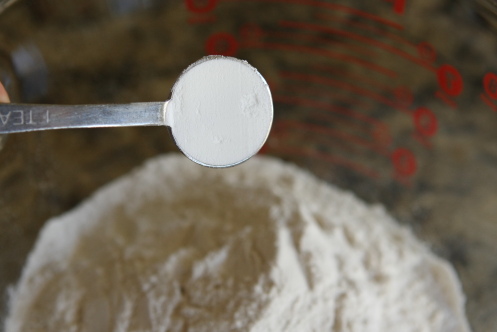 In a medium bowl, add flour, baking powder, baking soda….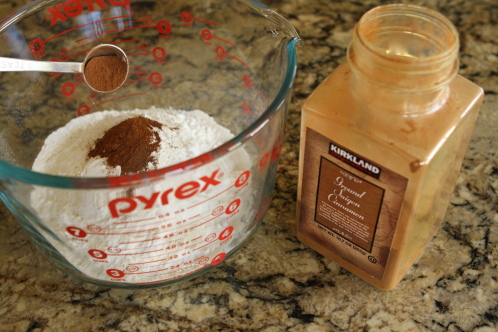 … and allspice and cinnamon.  Stir it all together and set the dry ingredients aside.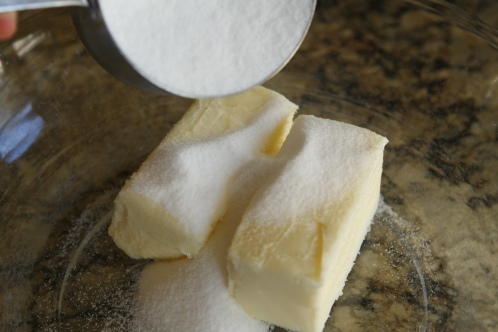 In a large bowl or mixer, add butter and sugar.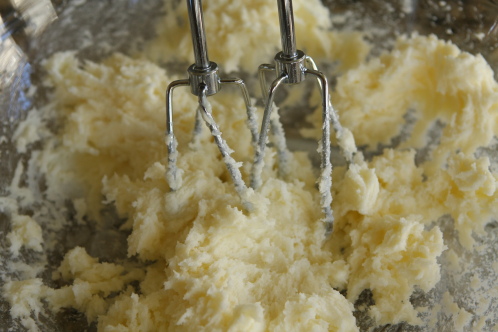 Cream together.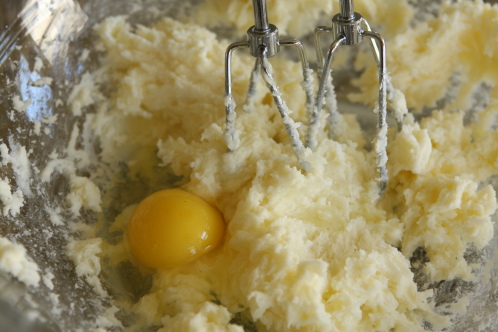 Add an egg.  And cream together some more.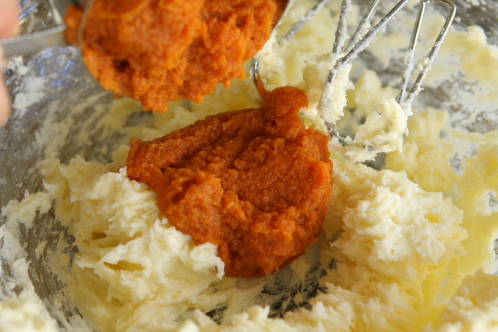 Then add in the canned pumpkin.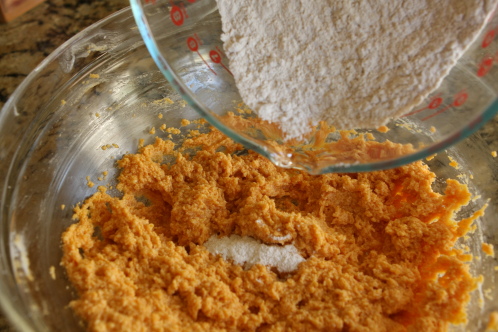 Add the flour in and mix until just incorporated.  I like adding in a bit at a time, mixing it in and adding a bit more.  It just seems to work better than just dumping it all in at once.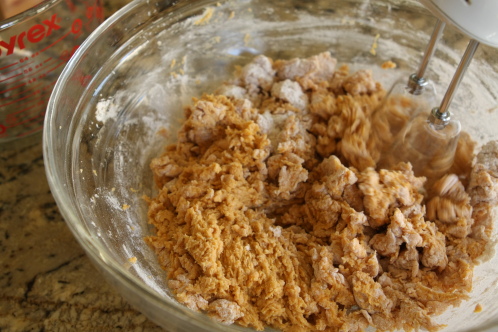 Just don't over mix.  You don't want tough cookies.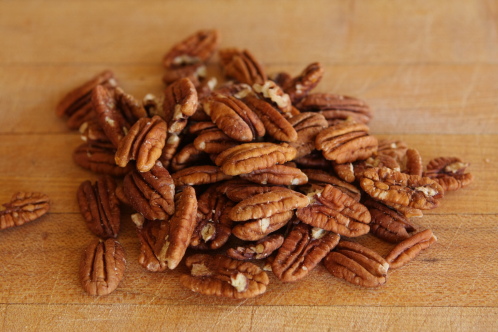 Can you believe it?  I didn't get a photo of toasting the pecans.  They cook so fast, I didn't want to walk away or take the time to take a picture.
Toast them until your smell them… that's my rule of thumb.
Stir the pecans into the cookie dough with a wooden spoon.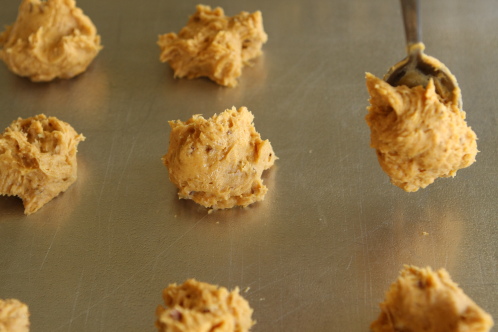 Drop them with a teaspoon onto a greased cookie sheet.
And into the oven for 10 – 12 minutes at 375 degrees.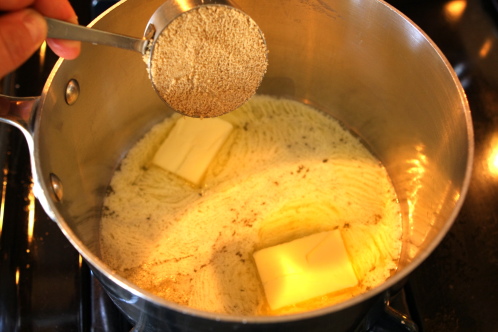 While they are baking, melt the butter for the frosting in a sauce pan.  Add the brown sugar.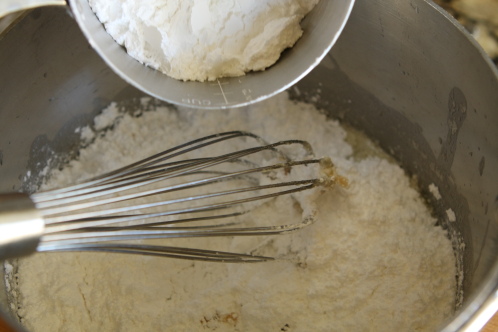 Remove from the heat and add the powdered sugar.  Whisk it in and add 1 or more teaspoons of water to reach desire consistency.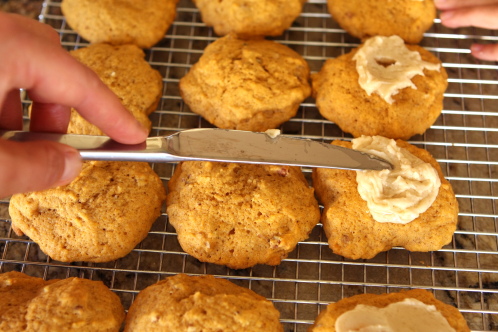 Once out of the oven, and cooled for a minute, frost the cookies.  I don't mind if they are still a bit warm since the frosting is more like a glaze.
Call the kids in an let them frost the rest of them.  My kids love to frost cookies.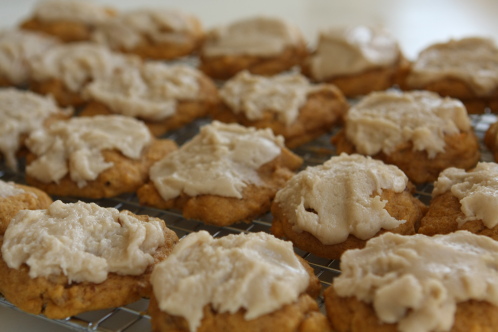 When they're done frosting them, the cookies taste all the sweeter to them.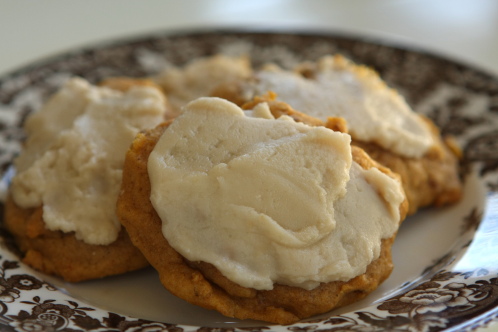 Make them this weekend and you won't be sorry.
13 Responses to "Cookies for Autumn"