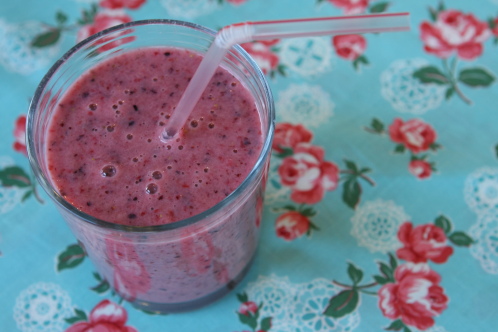 Everyone has a favorite smoothie recipe.  Some smoothies are a lot of work, this one is super quick and easy.
Now that strawberries are inexpensive and sweet at the grocery store, this is a favorite quick breakfast treat or fast after school snacks, before we are off to soccer practice or gymnastics.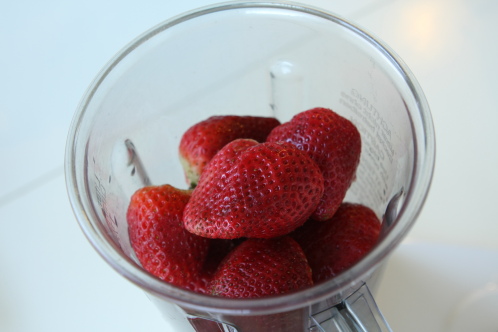 Add a 16 oz. package of strawberries to the blender.
I don't use a knife.  I simply pull of the leaves from the top of clean strawberries and throw them in the blender.  Pioneer Woman leaves the leaves…. do you?
I need to try it, but I haven't yet…  it's just a quirk, but old habits die hard and my mom always removed the leaves.
Speaking of my mom and smoothies.  I grew up with them, but the other day my mom told me that her mother always made smoothies when she was a child in the 1950′s.  That really blew my mind.  Somehow I pictured smoothies being invented of the 1980′s or something.
My grandmother would make orange smoothies and throw in a raw egg…  My mom says they were cold, frothy and delicious.  Nowadays that smoothie would be a sin!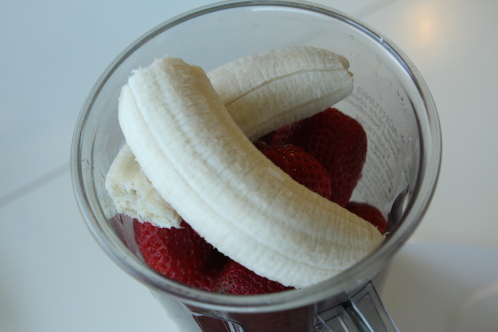 Back to my smoothies.  Throw in a banana, this will give nice sweetness.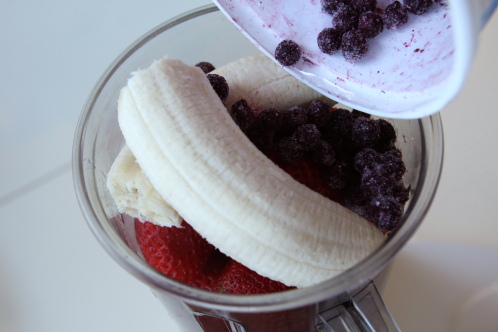 I love to add some sort of frozen fruit.  It makes the smoothie nice and cold.  Today it was some frozen blueberries.  I love the color, flavor and nutrition from blueberries.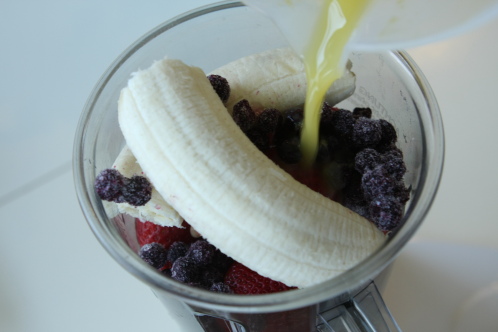 I also pour in a about a 1/2 cup of liquid.  It can be milk but I always use orange juice if I have some.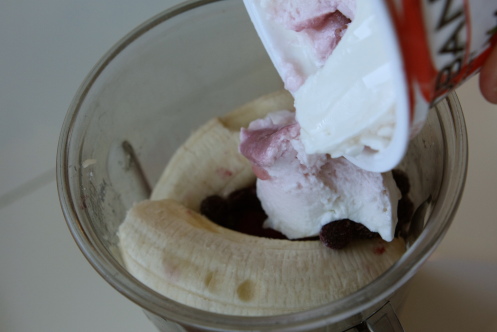 And last but not least a cup of yogurt.  It can be plain or flavored.  I try to add flavored if my strawberries aren't top notch flavor, it gives some sweetness to the smoothie… and creaminess.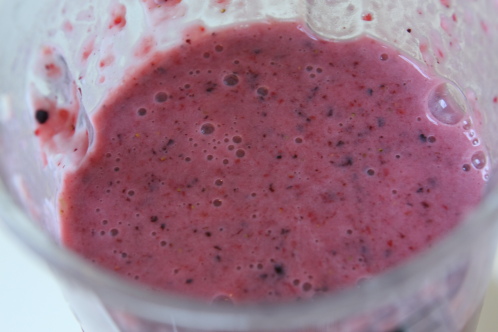 And blend it all up.  That was three minutes tops.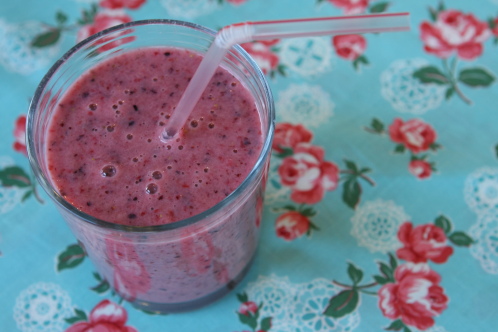 My kids love to drink their smoothies with a straw.  It's a quick and easy breakfast or snack that I can feel pretty darn good about.
What's your favorite smoothie?

13 Responses to "3 Minute Strawberry Smoothies"