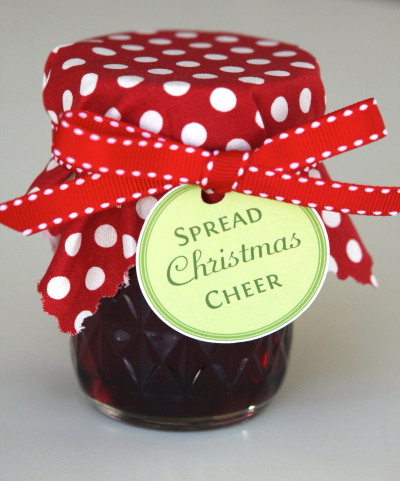 Every year the grapes we pick at Mamaw's in October are put up into jelly to give as Christmas gifts.
I love to give a small jar of jelly with a loaf of homemade bread.
In a season deluged with sweet treats of every kind (treats I love and give too!) a gift as fresh and wholesome as homemade bread is always appreciated.
This year I've made little tags to go with the jelly… and since I'm a sucker for a double entendre, my tags read:
"Spread Christmas Cheer"
If you are interested, I'm sharing my simple template I used for my tags.  I used a 2″ Circle Punch
to cut them out and a hole punch at the top.  You could also adhere the tag to the jar with double stick tape like a label.
Click here if you would like to use my template.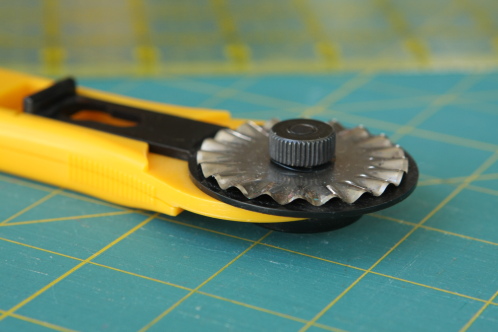 To cut out a fabric top for my jars, I cut a 6″ square of cotton fabric using my Pinking Olfa Blade
.  I love any chance to use this blade.  It's what I used on the top of the pocket for my advent calendar.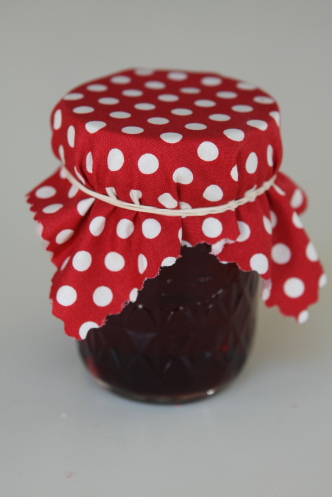 Here's a quick tip for tying the ribbon around the fabric.  First put a rubber band around the fabric, below where you will tie the 3/8″ ribbon, to hold the fabric in place.  Then tie on the ribbon.  I used a hole punch on my tag and slipped it onto the ribbon before tying the bow.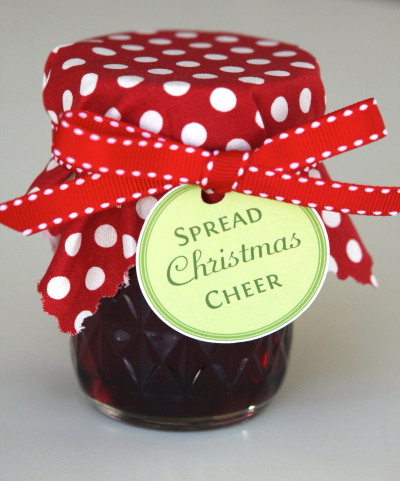 "The best way to spread Christmas cheer is singing loud for all to hear."
Thanks Buddy!  I think I'll spread a little jelly on my bread too.

8 Responses to "Spread Christmas Cheer: Jelly Jar Labels"