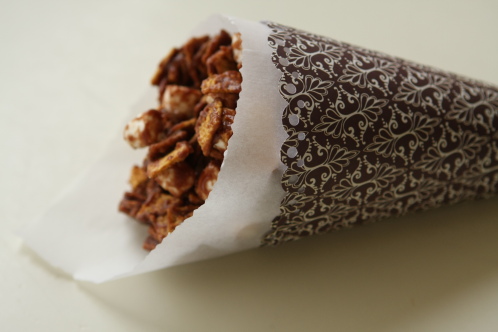 I'm guest posting over at No Biggie today, sharing how to make a cornucopia cone, perfect for Thanksgiving after dinner snacking.  Be sure to pop over and say hi.
Kami at No Biggie is so much fun.  She has great recipes, crafts, and great practical tips… like spraying your pan with cooking spray over an open dishwasher to avoid the over-spray mess.  Now why did I never think of that?  And last but not least, Kami is an amazing thrifter!  Not being much of a shopper… (I only go when the need is extreme) I marvel at the wonderful things she finds.
What do you do after Thanksgiving dinner?  Take a nap? Watch football? A movie? Lounge around and talk? At our house it's usually everything but the nap.  How many Thanksgivings have been spent watching Uncle Buck
?  Once a year, that show really cracks me up.  We also love to play board games.  Our family tradition is to give a new board game on Thanksgiving day.  I talked about some of our favorite games in a post last year and I have a few more to add to that list:
We got Ticket to Ride
as a gift last year, and we've become Ticket Junkies… I think we've played it like 500 times.  We bought Quiddler
as our Thanksgiving game last year.  It turned out to be a little challenging for the kids… we need to help them out a bit… but they still love it and so do I.
I've only got a few days left and I'm still not sure which game we'll end up with this year for Thanksgiving.  I was leaning toward Clue
, but all they had at the store was some silly, souped up edition.  Call me old-fashioned but I like the old school versions of all the games…  give me a dead Mr. Body and Colonel Mustard, Miss Scarlet, Mrs. White, and Professor Plum for suspects and I'm happy.
If anyone has any favorite games let me know.

11 Responses to "Guest Posting Today at No Biggie"