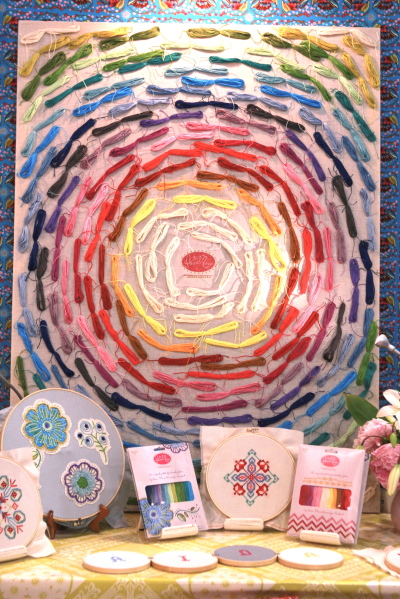 This was my first time to Quilt Market.  And WOW!  What an experience.
To see so much talent and so much loveliness in one place…  was amazing… INSPIRING.  I think I've been suffering from sensory overload since.
Even if you don't quilt or sew, I hope you enjoy the mini tour of the show I captured on my trusty camera.  I apologize ahead of time for the length of the post.  And this is just a fraction of what I want to share.  I'll break up the tour over the next few days…
The piece of art above is made from embroidery floss from Anna Marie Horner's booth.  I loved all the hanging strings.  It may have just been for display, but it is a piece of art I wouldn't mind having in my craft space… if my craft space wasn't my kitchen table, that is.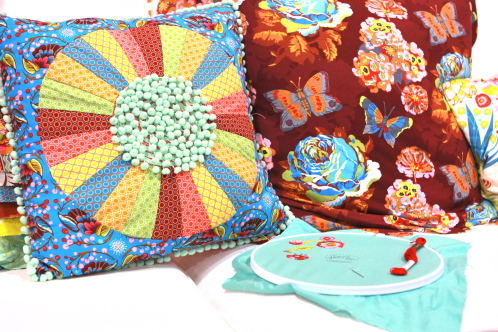 Here's more from Anna Marie… the use of petite pom poms in a spiral circle is brilliant and something I haven't seen before.  Anna Marie's booth had lots of embroidery too.  LOVE IT.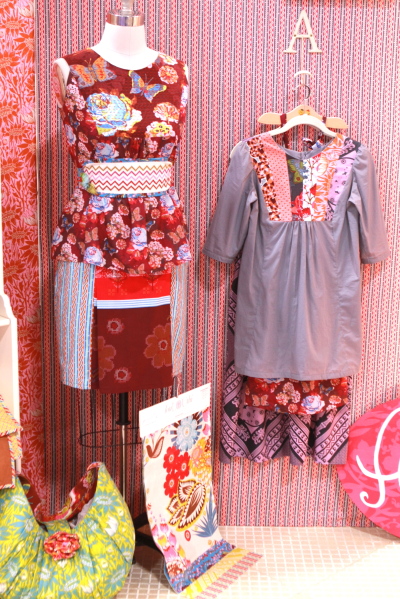 One more pic from Anna Marie Horner's booth.  Tunics were big at this market.  I love the piecing work on the tunic pattern above.
There were also lots of fun project made with laminated fabrics.  Here's Anna Griffin's booth.  I got a kick out of the pink flamingos.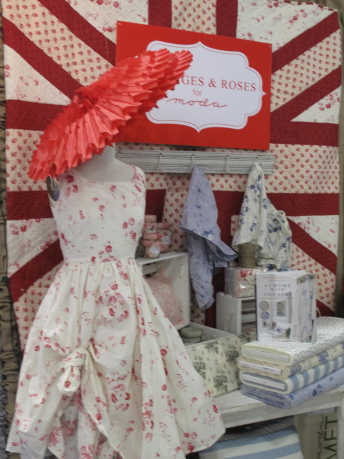 Here's Cabbages and Roses from Moda.  It was fun to see the Union Jack quilts… also another mini trend.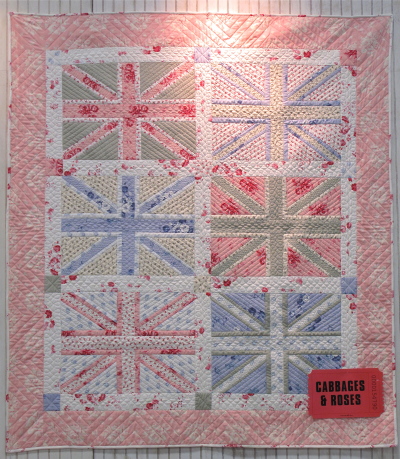 The Union Jack has never been so sweet as in these lovely pastels… also from Cabbages and Roses.
Hands down, my favorite part of Market was meeting some of the designers I've loved over the years.  Here's Sandy Klop of American Jane from Moda.  She was so delightful… just as cheerful and wonderful as her fabric.  We talked pie… pie crust recipes… the superiority of a good pie over most other desserts.  She gave me her recipe for "Party Pie" which I can't wait to make.  Sandy's quilts and fabrics have been some of my very favorites over the years.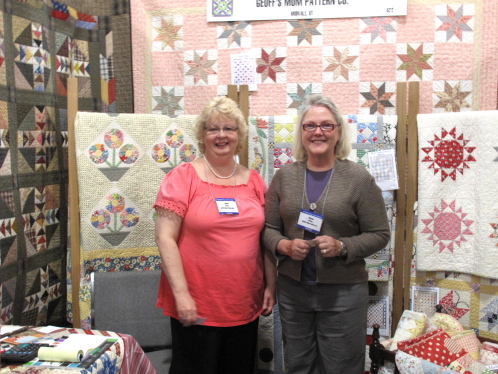 Speaking of favorites, here's Joyce and Norma of Geoff's Mom Pattern Co.  They are two incredibly talented quilters and close friends of my mom.  In fact, some of their quilts are designed by my mom.  I loved seeing all the beautiful (many of them hand quilted) quilts in their booth… and both women are just as lovely as their quilts.  Maybe someday I can become as talented and masterful as they are.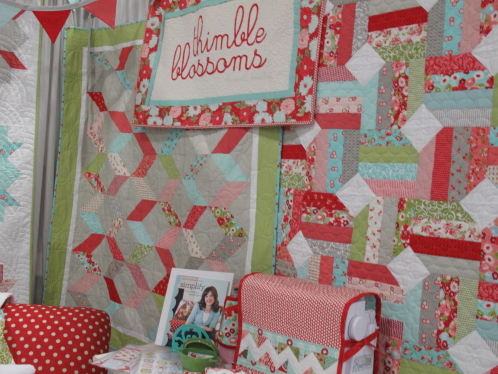 Camille Roskelley's booth was very cheerful.  It made me realize, my sewing machine needs a fashionable cover.  Love the zigzag.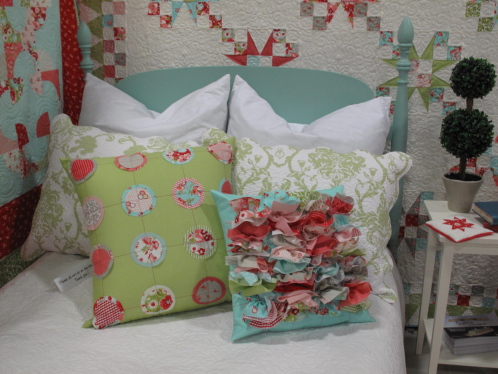 I especially loved the quilt above her bed and the pillow with circles.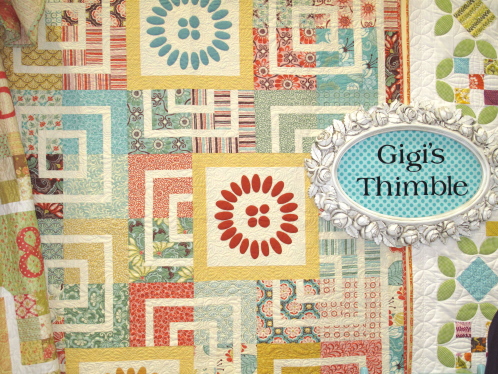 Speaking of fun quilt design.  What a great quilt from Gigi's Thimble.  It has a nice balance of color and pattern… and stood out with the wonderful appliqued blocks.
The designer is Amber from A Little Bit Biased.  Amber lives in my hometown.  Yeah Amber!  I'm not even remotely biased, I loved your quilts and your booth!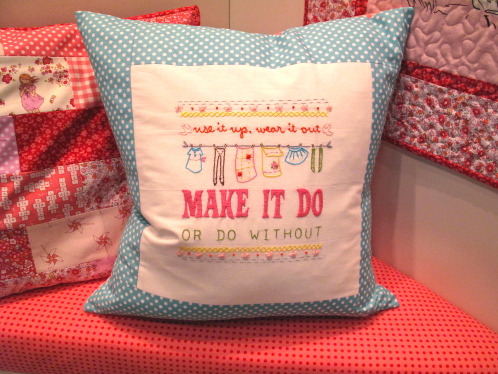 And last but not least for today.  One of the highlights of Market for me.  This booth spoke to me.  Can you tell why?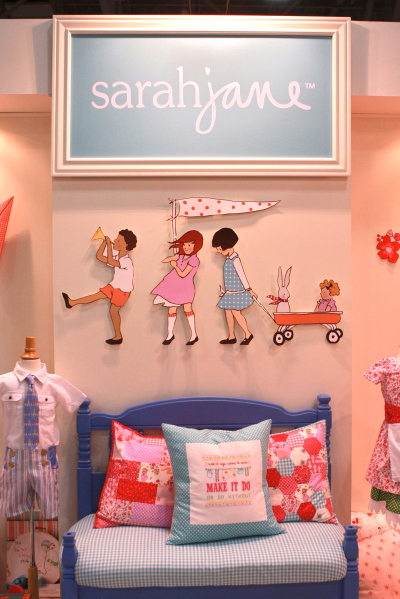 It's Sarah Jane of Sarah Jane Studios.  I fell head over heals for her lovely new fabric line for Michael Miller.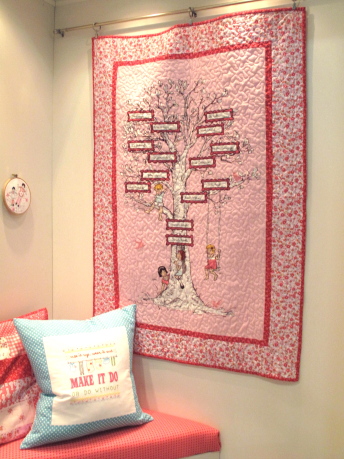 Just look at this!  It's her family tree illustration on fabric.  What little girl wouldn't love to have their own family tree, embroidered with their family members on their wall?  Mine would love it.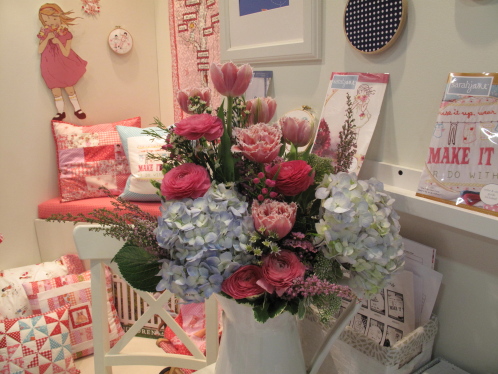 Sarah Jane outdid herself with a such a bright and cheerful booth.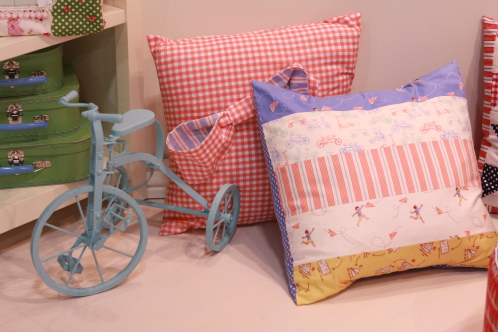 Can you get a taste of the fabric line?  The line is called Children at Play and includes has many of Sarah Jane's illustrations…. combined with FABULOUS basics in stripes, checks and polka dots.  I see lots of her fabric in my future.  At over 50 fabrics in the line, there will be so much to choose from.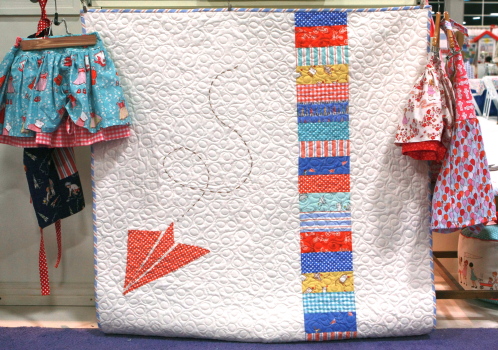 My dear friend Amy from Diary of Quilter made some of the projects for Sarah Jane's booth, including this paper airplane quilt.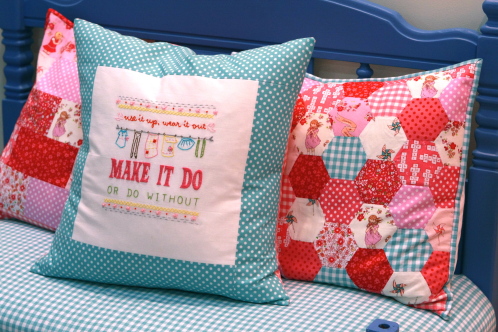 I know for sure this Make it Do embroidery pattern is in my very near future, just as soon as it's available.  Hurray!  It's an iron-on pattern!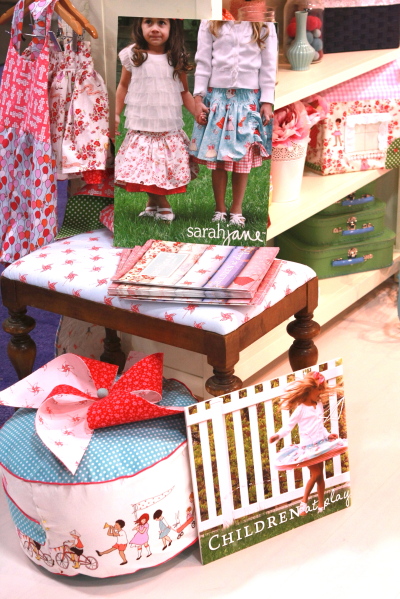 Well that's a wrap for today.  Much, much more to come over the next few days.

5 Responses to "Quilt Market: Part One"