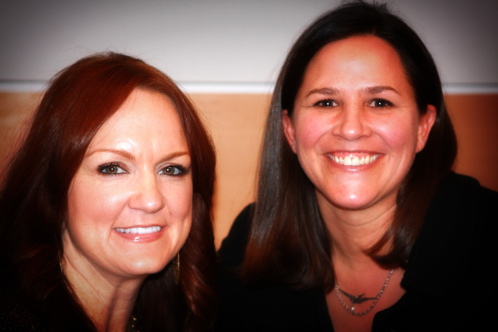 Last night I got to meet the real live Pioneer Woman as she stopped by Salt Lake City on her book tour.
It was a long drive up to the big city and I wasn't sure I wanted to make it, especially since I ended up having to go alone…  but I'm so glad I did.
I love Pioneer Woman and her Tasty Kitchen.
She is exactly what I love about blogging.  It's a wide world out there, full of lots of people, but no matter where we live our circle of friends is necessarily limited.
The world of blogs changes that.  You can be inspired by a talented quilter from Yorkshire, England or learn a trick or two from a bakery chef in LA.
And lucky for us, we get to know a wacky ranch wife from Oklahoma, who is funny and kind and makes a killer chocolate sheet cake.  She is someone you would be friends with if she was your neighbor.
She gives me insight into a different world… a world of agriculture and wide open spaces.  She makes me laugh often and shares awesome recipes.  What more could you ask for from a friend?  So even though she doesn't know me at all, she, and Missy and her mother-in-law and her girls feel like an old friends.
In person, she was just as fun and funny and heartfelt as she is on my computer screen.
Yep, it was a long drive, but I was really glad I went.
I also wanted to give a quick shout out to Laura from Rather Be Baking who I met last night.  I love your site!  I think your homemade poptarts are in my near future, since my kids have never had store bought one, and the guilt is killing me!  And big hi to Laura's mom out in Arkansas, who Laura said reads Make it Do.  It was fun to meet you, Laura!
**************************
UPDATE:  Be sure to check back later today.  I'll be posting fun and easy Valentine treats.

12 Responses to "Pioneer Woman"