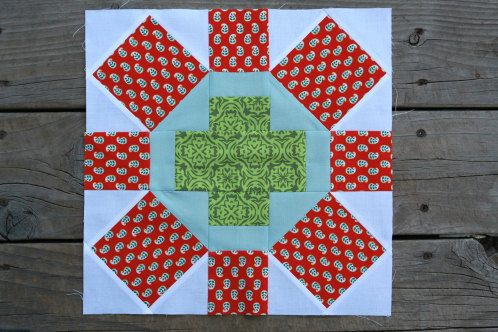 Since I'm just getting around to posting my Bees Knees Bee Block from July, you might say that summer is getting the better of me.
July's block was for Nedra of Cactus Needle Quilting.  My mom knows Nedra and has spoken so highly, not only of what a super talented quilter she is, but also what really nice person she is, that I couldn't wait to make Nedra's block.
I was even more excited when the fabric came in the mail.  Nedra had chosen the Spin Cycle pattern from Allison of Cluck, Cluck, Sew.
What a fun block this is to make!   I loved it enough, that I just had to buy the pattern.
Now I just need to sign my name to the block and get it sent hopefully today.
In the meantime, I officially have Olympic fever.  I'm glued to the TV every chance I can get.  It's a great excuse to get a lot of sewing done at the very least.  I've been working on the blocks for my new quilt, which is rolling right along.  I've also been stitching hexagons and working on a little embroidery.
I think I may have a serious let down when the Olympics are over.  I don't remember a games with more amazing and dramatic moments.  Watching Oscar Pistorius run gave me a goosebumps – a testament, not only of the power of the human body, but also of heart and soul, to overcome whatever challenges are placed before us.  He was amazing.
So for the next week, I'll happily sew in front of the television, my jaw dropped by breath-holding synchronized swimmers and high flying trampoline jumpers, and happily forget all the other things I should be doing.

3 Responses to "Bees Knees Block for July"