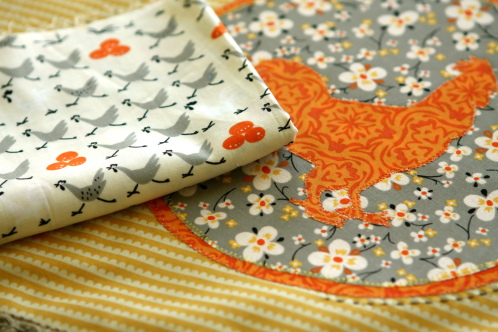 The last few days, the temperatures have been in the 70′s.  Our air conditioner has been turned off.  Our windows are open.  Sleeping at night with the crisp air is heaven on earth.
My friend and walking partner has been busy this week, so I've been walking alone… with the temperatures so cool, and the mornings so quiet, it's actually been a nice thing to walk alone.
As I walk, I find a stillness that works it's way into my soul.
The change of summer into autumn never fails to invigorate me.  I feel myself shake off the dull lethargy of late summer.  I love routine that autumn brings.  I enjoy cleaning my home.  I love preserving and canning.  And more than anything, I want to make beautiful things things.
The project above is my "Rise and Shine" Dish Towel, almost done.  The Alexander Henry "farmdale crossing" fabric with it will soon be my new oven mitt.
The fabrics feel just like autumn to me.  I love the idea of rising with the sun and starting the day with energy.  I'll be sharing tutorial for the towel in the next week or so.
Also if you have already, be sure to click here enter to win the Sewing 2010 Calendar.  The contest ends today.  I'll announce a winner tomorrow.

3 Responses to "Rise and Shine"