Posts Tagged 'tie dying for the 4th'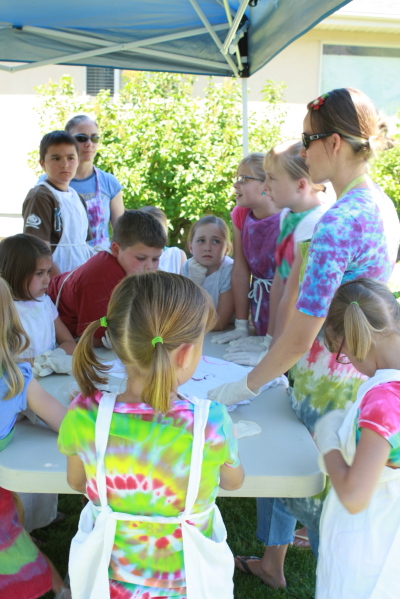 This past week we got together with our cousins for a little tie dye activity.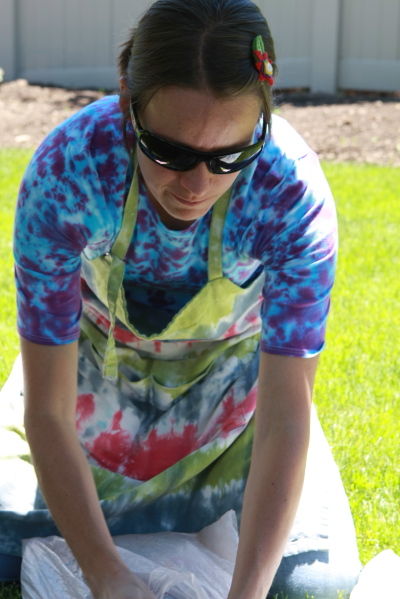 We invited Jen, a tie dye expert, to come teach us how to tie dye.
Jen has been tie dying for a long time… she estimated she has dyed well over a thousand items.  She was so organized and knowledgeable it made our day incredibly fun… and not stressful in the least.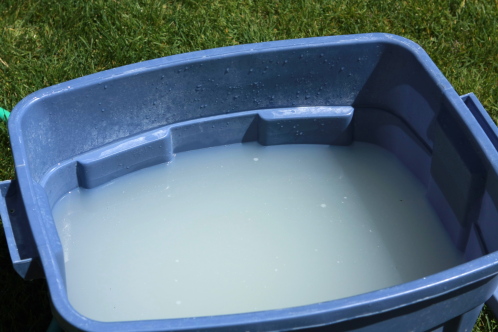 Jen started by having us toss our tees into a tub with water and sodium carbonate which is the main ingredient in washing soda.
We all provided our own tees.  The only criteria was they needed to be 98 – 100% cotton, but it really can be any natural fiber to take the dye.
The best part about tie dye is that you can "rescue" a stained or old shirt by giving it new life with dye.  Just carefully dye over the stain and voila… just like new.
The shirts only need a two minute soak… then we wrung them out….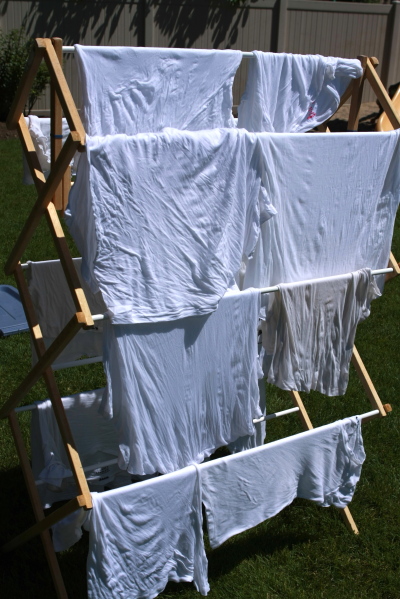 And tossed them up on a drying rack.  The dye on a tee that is too wet will run all together.  Totally dry and the die will not soak in well.
Once the shirts are damp dry…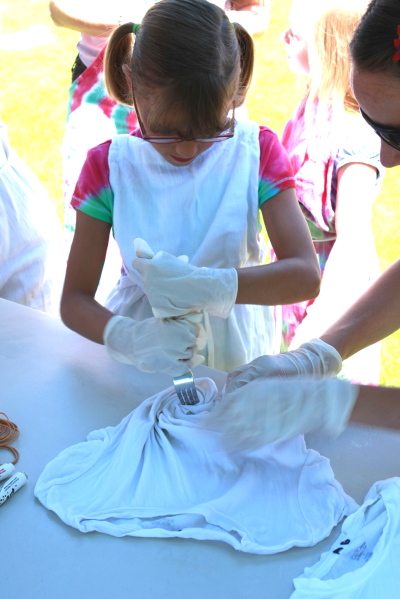 It was time to fold the shirts.  This was a cool method.  Lily is making a swirl by sticking a fork into the spot she wants the swirl to start, and then twisting.  Jen is making sure the shirt sort of folds neatly around the swirl.
Jen was amazing at knowing how the pattern would turn out and showed us how to make swirls, stripes, star bursts, and even hearts.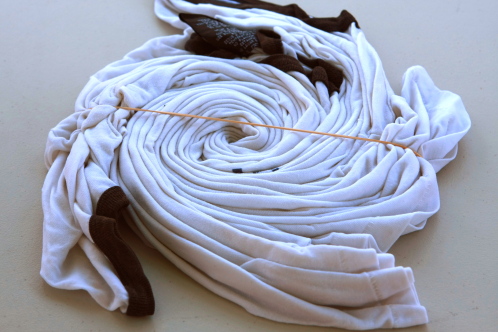 Here's my husband's tee, in the same swirl as the shirt above.  Then we put on the rubber bands like a pie that has been cut, a pie with three rubber bands to make six slices.  I dyed a different color of dye in each section.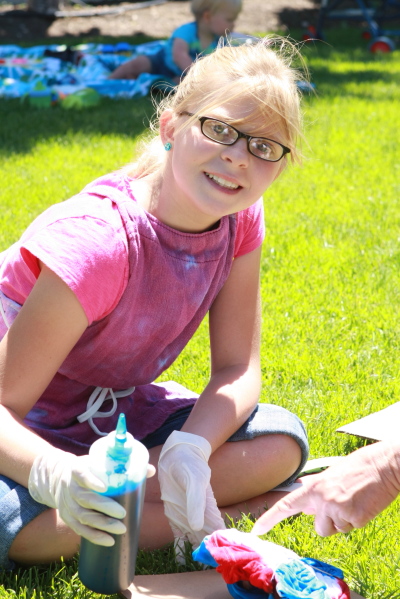 Then it was time to dye.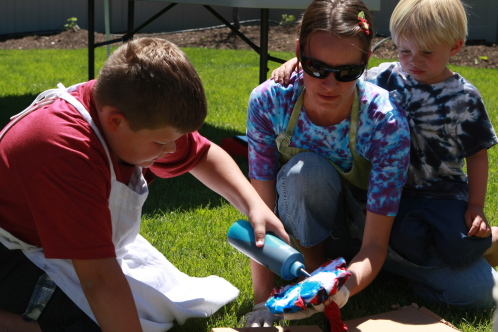 And dye some more.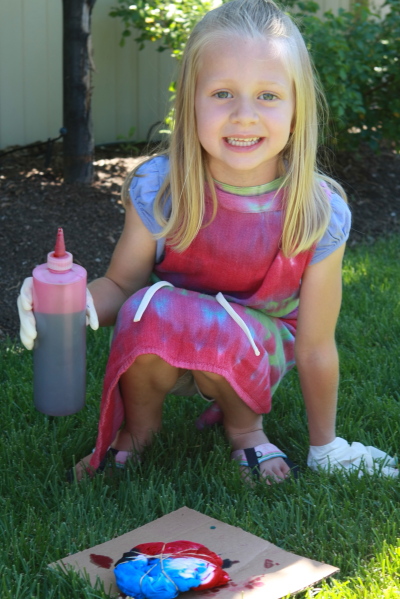 Even the littler kids were able to dye their own shirts.  They LOVED it.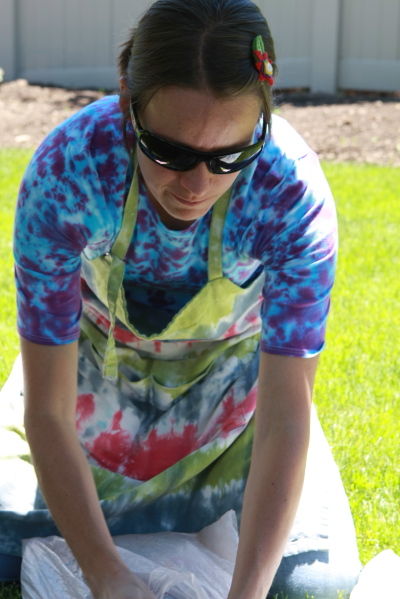 The hardest part was bagging up our shirts and waiting 24 hours to rinse them out and wash and dry them.
The suspense almost killed the kids.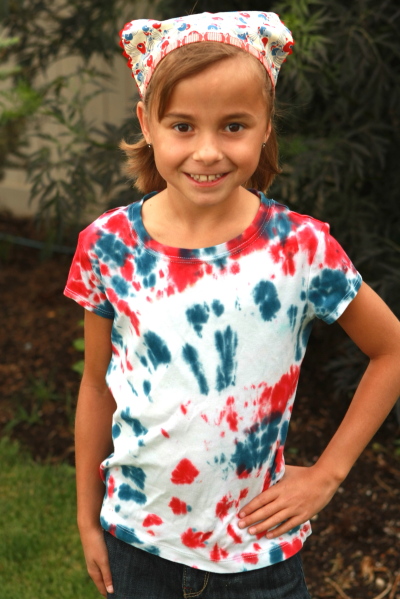 All of the kids made their Tie Dye Shirts in Red, Blue, and Turquoise on their white shirts.
Come 4th of July we'll all be sporting our tie dyed shirts at the neighborhood parade.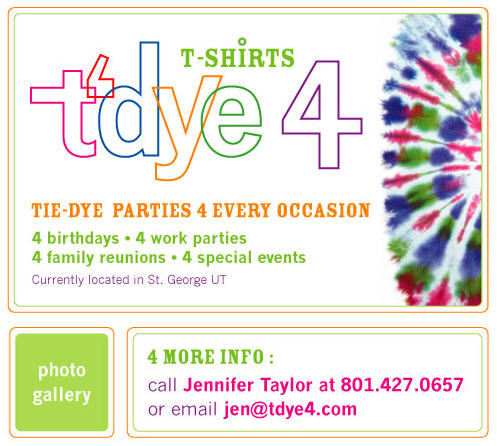 If you live in Utah County and are interested in having Jen create a tie dye event for you… here's her contact information.  She provided everything we needed for our fun… including tables, a shade cover… and all the supplies except the shirts.  Her rates are very reasonable.   (PS.  it says St. George on her logo but she lives in Provo now.)
If you want to try dying on your own, there are lots of resources on the web.  Just Google how to tie dye.