Posts Tagged 'Thanksgiving recipe'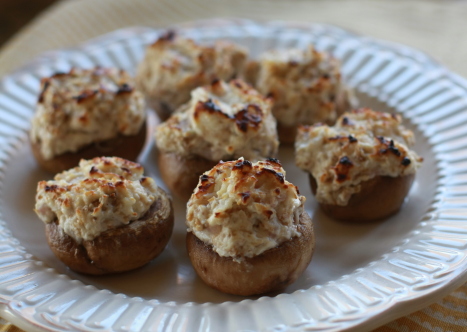 This month I am planning on sharing a few more of my favorite Thanksgiving recipes.
I am not a huge fan of appetizers for Thanksgiving, since I like saving my calories for the turkey, stuffing, cranberry sauce, green beans…. etc. etc. and PIE.
But these stuffed mushrooms are more than worth breaking my no appetizer rule.  They are a family favorite and if I only eat one (or two) little ones…. there will still be plenty of room for my favorite chocolate pecan pie.
This stuffed mushroom recipe is simple, delicious and quick to make.  The filling is cream cheese with minced mushroom stems and shallots.
We love them enough to eat them more than once from Thanksgiving through New Years…
Here's how I whip up these delicious stuffed mushrooms: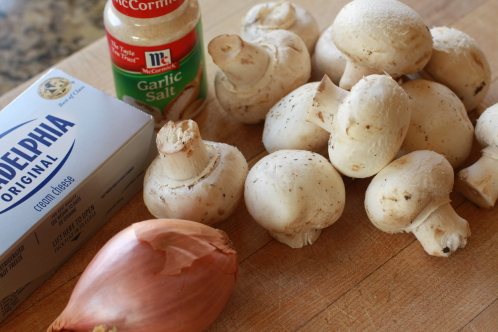 Start with simple ingredients: button mushrooms, a shallot, cream cheese, garlic salt and butter.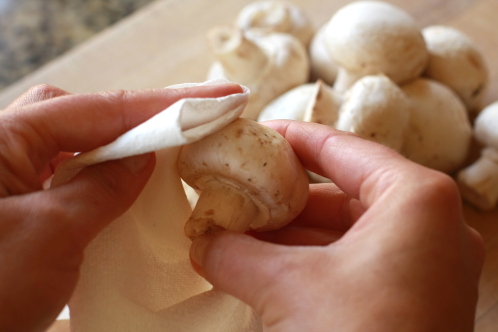 Here's the first key to good stuffed mushrooms:  never wash them with water.  A wipe down with a damp paper towel is the perfect way to clean mushrooms, no matter how you're using them. If you rinse them under the tap, your stuffed mushroom will come out of the broiler swimming in water.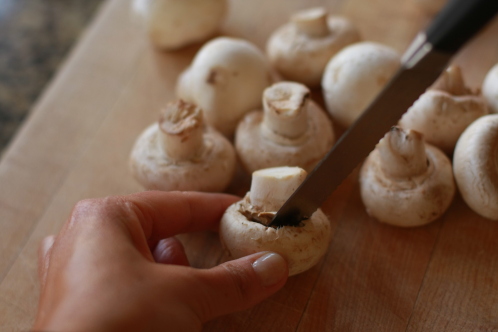 Using the tip of small knife cut around the stems and remove.  Save the stems!  They will go into the filling.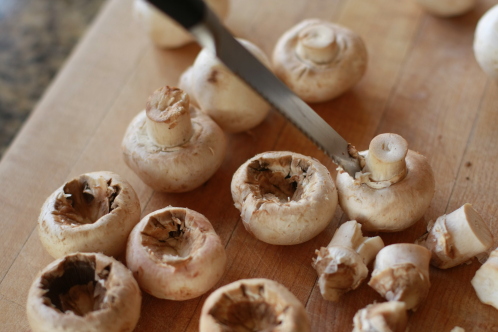 It's quick work.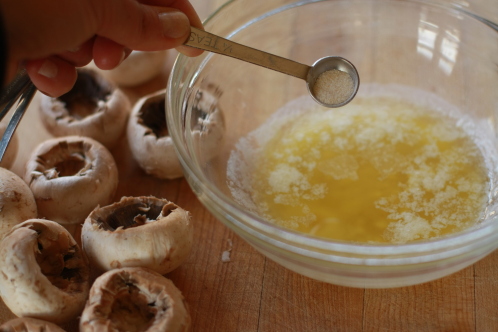 In a small bowl melt the butter and mix in 1/4 teaspoon of garlic salt.  Stir to dissolve.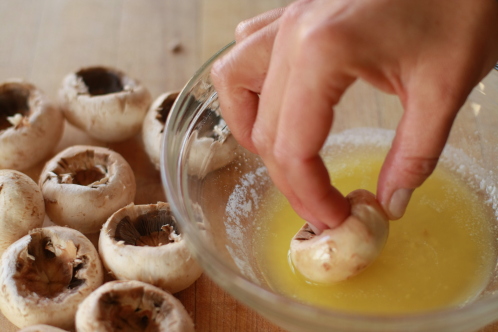 Dip each cap in the butter mixture, coating bottom and sides but be careful to not get butter into the top reservoir.  Line the dipped caps on a cookie sheet or baking pan.  Set aside.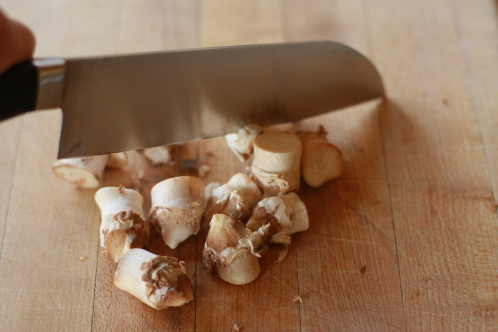 Mince up the mushroom stems.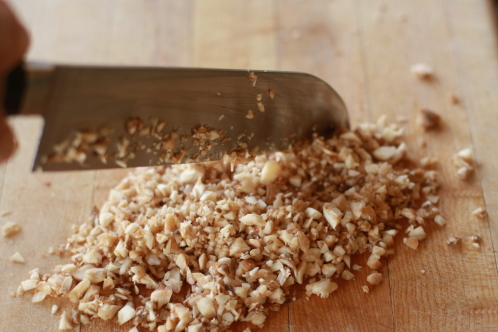 I like them finely minced.  I've tried chopping them up in my food processor and it was a little too heavy handed, plus it's a good workout to mince them up by hand.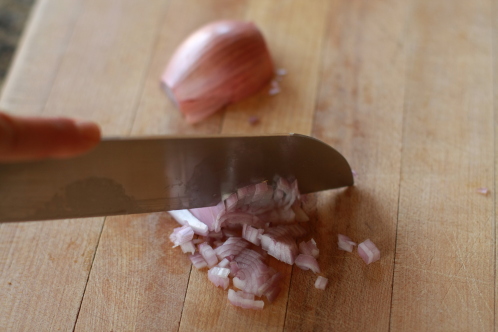 Finely mince the shallot.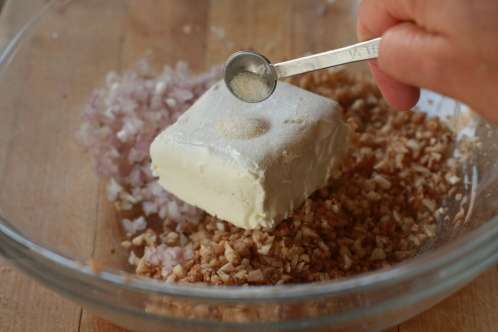 Toss them all into a medium bowl with the cream cheese and garlic salt.  I've tried substituting a light cream cheese and unfortunately it doesn't work quite as well.  The filling tends to be runny once cooked.
Use a fork to mix the ingredients and work the stems and shallots into the cheese.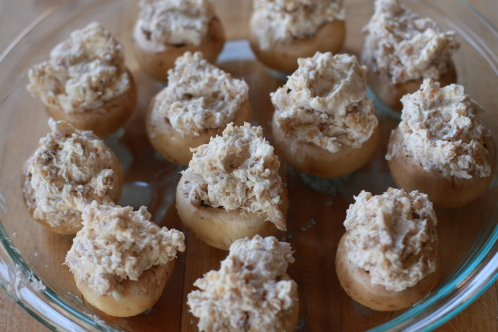 Spoon the filling evenly into the dipped mushroom caps until all the filling is used.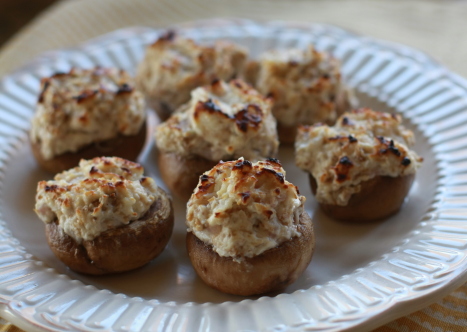 Cook under the broiler on the second shelf from the top until they are golden brown.  My husband likes them just as you see them in the photo above… when the tips are starting to get dark.
Allow to cool for a few minutes and serve warm.
They are really good, but I will warn you once you start eating them, it's hard to stop.
Here's the recipe:
Stuffed Mushrooms
1 lb. medium white button mushrooms- stemmed, save stems for filling

1 – 8 oz. package cream cheese – substituting low fat cream cheese makes for runny mushrooms and is not recommended

1/2 cup finely minced shallots (1/4 – 1/2 cup finely minced onions may substitute)
1/2 teaspoon garlic salt – divided use
1/4 cup butter
Melt butter and add 1/4 tsp garlic salt.  Stir to dissolve.  Dip stemmed mushroom caps into butter mixture taking care to not get butter into the reservoir.  Place on a cookie sheet and set aside.  Finely mince mushroom stems and shallots.  Add to a mixing bowl with remaining 1/4 tsp. garlic salt.  Mix with softened cream cheese.  Spoon cream cheese mixture into prepared mushrooms caps.  Broil until turning golden brown.
Note: Can be prepared a day ahead and stored covered in the refrigerator until ready to cook.
I've never been a fan of Cranberry Sauce.  That red jelly stuff from a can… (my sincere apologies if you like it.)  No thank you… Cranberry Sauce has never been my cup of tea.
That is, until I tried my Mother-in-Law's homemade sauce.
And despite my prejudice, it was love at first taste.
Nowadays it wouldn't be Thanksgiving without the delicious smell of cranberry sauce simmering on the stove.  And what would Thanksgiving turkey be without a big dollop of sauce on top?  Or best yet, turkey sandwiches on rolls with cranberry sauce the next day.
Making cranberry sauce is so quick and easy, there is no excuse for buying the stuff in a can.  And when I say it makes your house smell good, I mean I would still make Cranberry sauce even if I didn't like how it tasted, just for the smell.
Here's her wonderful recipe:
Kit's Cranberry Sauce
12 oz. package fresh cranberries
1 cup water
1 cup sugar
1 large Granny Smith apple

1 large Anjou pear
1/4 teaspoon cinnamon
1/4 teaspoon nutmeg
1/4 teaspoon cloves
zest of one orange
Rinse cranberries and place in a medium sauce pan with sugar and water.  Cook over medium heat until cranberries start to pop, about 10 minutes.

Peel and cube the apple and pear into small cubes.  Zest one orange.
When cranberries start to pop, add remaining ingredients and cook for about 5 minutes or until apples and pears soften.
It's hard not to like this Cranberry sauce, just look at the ingredients.
1.  Combine cranberries, water and sugar in a medium saucepan.  Cook over medium heat until cranberries start to pop.
2.  Peel and cube the apple and pear into small pieces.
3.  Zest one orange.
4.  Once the cranberries start popping, add remaining ingredients.
5.  Cook for about 5 minutes more over medium heat or until the pears and apples are softened.
The sauce will thicken as it cools.
I like it straight on a spoon.  But I can hardly wait for turkey…