Posts Tagged 'teaching a child to use a sewing machine'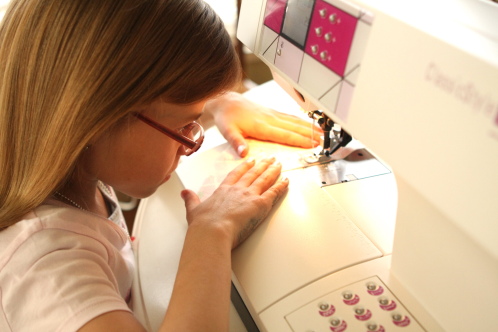 My girls have done lots of handwork when it comes to sewing.  They've made pillows, dolls, stuffed animals and embroideries.  But up until recently we haven't ventured onto the sewing machine.
It's not for lack of interest.  They've probably asked to learn every time they've seen me sewing for the last 3 years.  That's more times than I care to admit.
I must admit to feeling a little worried about it.  I am usually good at sharing (thanks mom and dad)… but this is my sewing machine we're talking about!
Despite feeling a bit possessive, a few months ago I bucked up and gave the girls each a lesson.  We talked about how the machine works, what the knobs and buttons do, how it is threaded, and a little safety lesson.  We also talked about how to guide the fabric.
Of course we learned what 1/4 inch seam is.  Just as my mom taught me, I talked about watching the side of the presser foot to achieve your 1/4 inch seam and not to watch the needle.
Needless to say, learning to sew on "Mom's sewing machine" was pretty exciting for the girls.
One of the tricks to teaching a child to sew is to find projects that are quick and easy and that give them a great sense of accomplishment when they are done.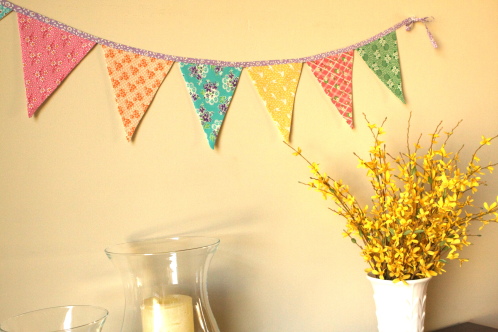 The flag bunting for my girl's birthday party was the perfect project for a mini sewing lesson.  I used my own tutorial for a flag bunting found here.  Since there were 7 flags, I made the first flag to show the girls proper technique.  I showed them again how to create a 1/4 inch seam.  I also showed them how to turn a corner by leaving the needle in the down position, and how to take the single stitch at the point using the handwheel.  I also showed them how to clip a corner and turn their flag using a chopstick.
Then they each got to make 3 flags.  They helped layout the flags and I sewed them into my homemade binding tape (which took a little more control sewing right along the edge).  It was a great beginning project and they were so proud of the results.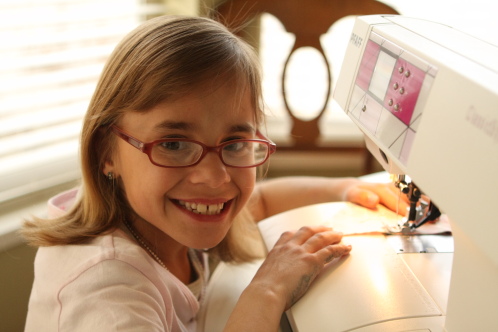 Next project I'm thinking of having them sew cozy pants or a simple skirt…. they've done so well, I think they might be up for it.