Posts Tagged 'stove top potpourri'
Making my home smell wonderful is so important to me this time of year.  The smells of the evergreen, cinnamon, orange and spice all mean the Holidays are here.
A stove top potpourri mix is an easy inexpensive way to make your home smell wonderful.  Packaging the mix in a Holiday bag makes a wonderful gift for friends, neighbors, teachers and co-workers.
Here's how I make my concoction:
Holiday Stove Top Potpourri Mix
one whole orange or just the orange peel

1/2 cup cranberries
1 Tbsp. whole cloves
3 sticks of cinnamon or a small handful of small pieces of cinnamon
a bit of grated nutmeg if desired
Quarter the orange.  Put all the ingredients into a saucepan.  Fill pan with water.  Place on the stove on the smallest burner, on the lowest setting.  Refill water as needed.
It's just that easy.
I love to use an orange that is starting to get old… or just use the peel of an orange.
Another important tip is don't allow the water to completely evaporate. I always refill the water when I turn it on.  One mix stays good for weeks.  With heating the mix does turn brown, but continues to smell wonderful, so I usually make only batch in a season.
It's not the Holidays without the delicious scent… it makes me think of cranberry sauce or wassail.  Yum.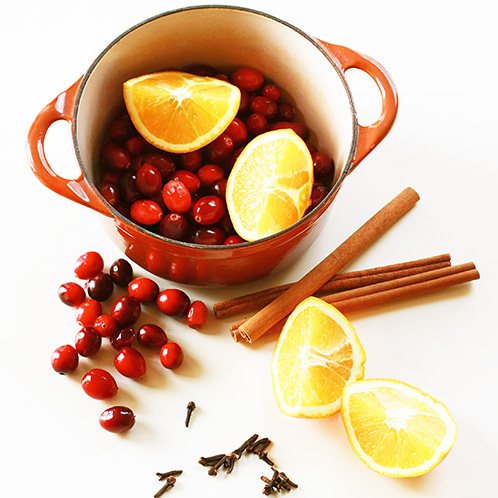 A stove top potpourri mix makes a perfect easy gift this season.  It is inexpensive, homemade and useful.
- – - – - – - – - – - – - – - – - – - – - – - – - – - – - – - – - – - – - – - -
P. S.  If you are interested in a few ways to package stove top potpourri as a gift, I blogged about it here.  I even included a PDF you can download with the instructions for use.