Posts Tagged 'sleep over treats'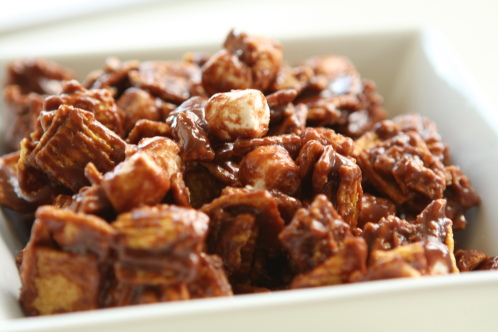 Since we just got back from camping over the Labor Day weekend. (My labor day actually started today… with a messy house and a GIANT pile of campfire smelling, very dirty laundry.)
And since my Night Owl bag will be in the pattern shop tomorrow…
I thought it would be fun to share our favorite recipe for S'more Treats. They are perfect for little Night Owls.
They are also EVIL… pure evil, I tell ya.
I'll also tell ya, this has been a D-A-Y.  So the fact that you can whip up this treat on a bad day is also saying something. They are fast and super easy.  They are the perfect munchie, sweet and crunchy, with chocolate.  Can you tell, I love 'em?  I just can't… stop… eating… them.
This recipe comes from my sister-in-law Marcie, who is as sweet as her treats.  Thanks Marcie!  I think I need to exercise for an hour extra tomorrow.
Here's how to make Marcie's S'mores:
Just one look at the ingredients, and I know it's going to be good.  One look at the ingredients and my kids exclaimed, "Mommy are you making Auntie Marcie's S'mores?  I love you.. and Auntie Marcie!"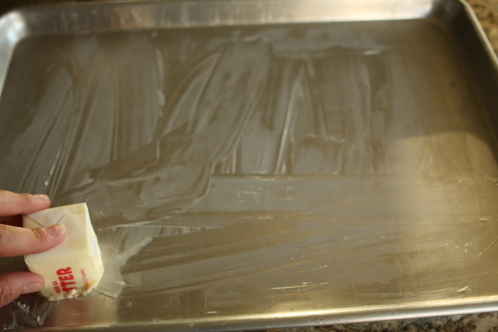 Start by prepping a cookie sheet by coating it in a little butter.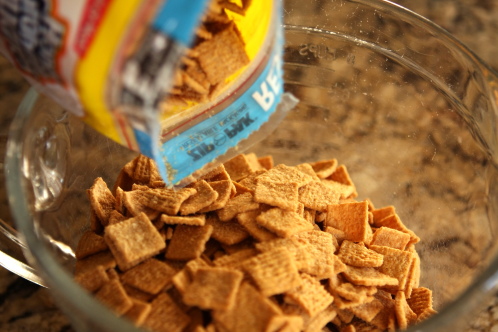 Measure 9 cups of honey graham cereal (like Golden Grahams) into a large bowl.  Marcie likes and always uses the Malt-O-Meal brand, and luckily they were on sale at my grocery store this week.  My kids are stoked because there is cereal left over and they never get to eat sugar cereals.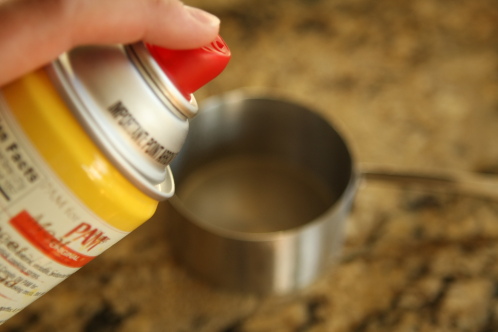 Measure 3/4 cup corn syrup into a medium sauce pan.  A little non stick cooking spray in the measuring cup really helps the corn syrup slip right out.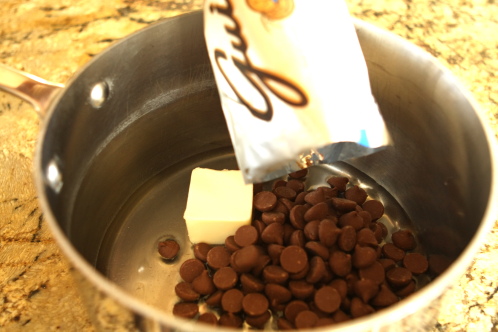 Add 3 Tablespoons of butter and a whole 11.5 ounce bag of Milk Chocolate Chips.
And heat over medium heat until chocolate chips are melted and ingredients are incorporated.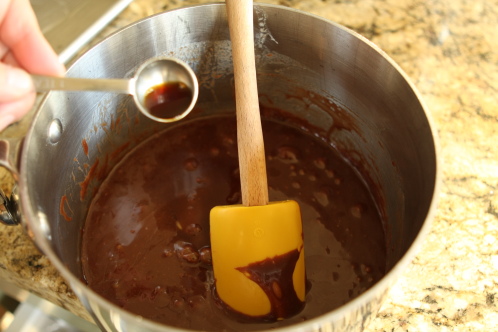 Once melted remove from heat and stir in 1 teaspoon of vanilla.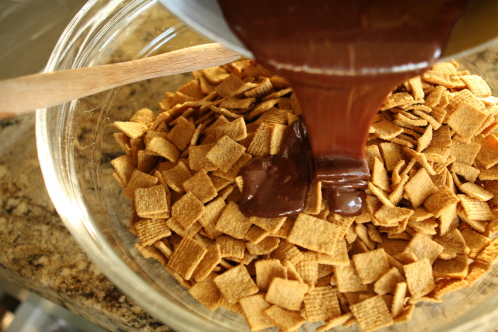 You've got to work fast now.  Stir the chocolate until it coats the cereal.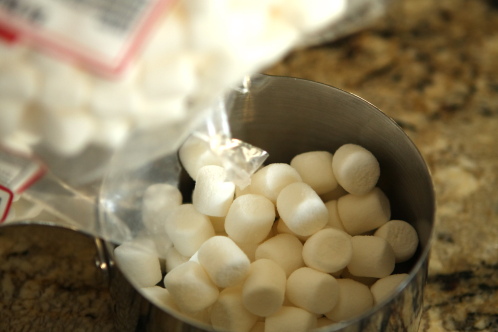 And toss in 2 to 3 cups of marshmallows… depending on how many you like.  Marcie and I both like 2 cups.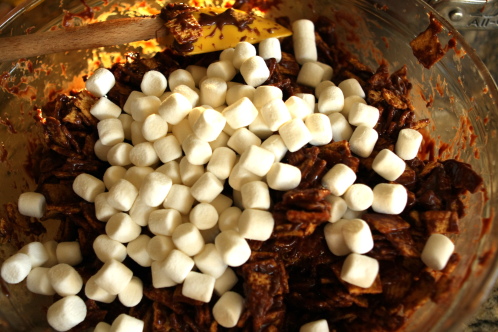 Stir them in quickly.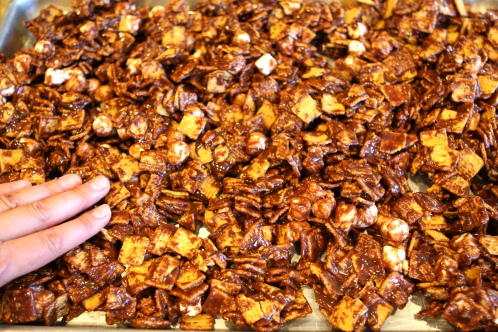 Pour them out onto your cookie sheet, and using a slightly wet hand, press them into the pan.
And they are ready to eat.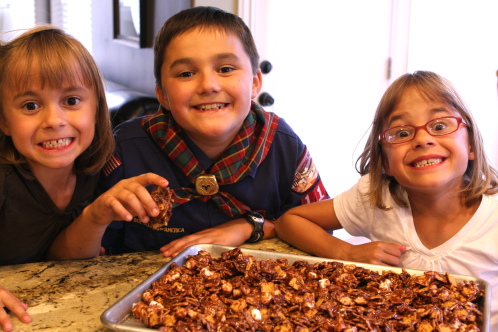 "If your finish your homework quick… you can have some treats!"
Night Owl S'more Treats

9 cups Honey Grahams Cereal (like Golden Grahams)
3/4 cup Light Corn Syrup 3 tablespoons Butter 1- 11.5 ounce package Milk Chocolate Chips 1 teaspoon vanilla 2-3 cups mini marshmallows Grease a cookie sheet with butter.  Measure 9 cups graham cereal into a large mixing bowl.  In a medium saucepan over medium heat, combine corn syrup, butter and milk chocolate chips.  Stir constantly until chocolate chips are melted and ingredients are combined.  Remove from heat and stir in vanilla.  Pour over cereal and stir quickly until cereal is coated with chocolate.  Stir in the marshmallows.  Pour mixture onto cookie sheet and using a slightly damp hand, press into the pan.  Keeps about 2 days… if it ever lasts that long.
Click over to my Tasty Kitchen Recipe Box for the printable recipe.