Posts Tagged 'simple girls summer dress pattern'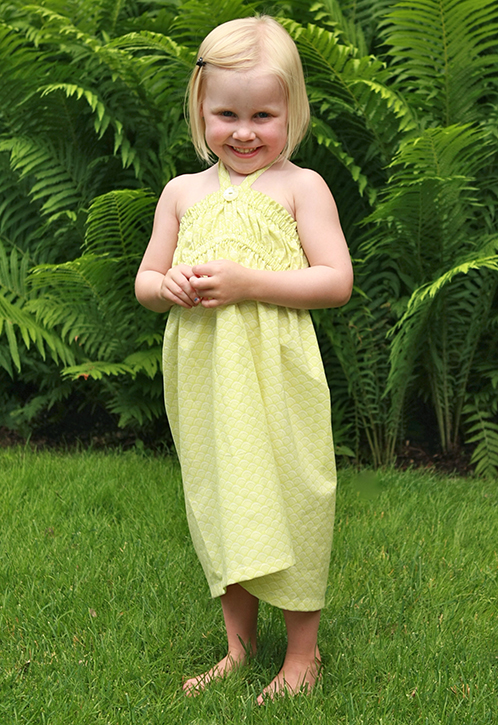 I'm so happy to announce that the Easy Breezy Summer Dress Pattern is ready!
Thank you, thank you for all the great name ideas.  I think I retyped the name at the top of the pattern at least 10 times.  I especially loved the Hawaiian names.  This dress makes me think of Hawaii and South Pacific every time I look at it.
But in the end, it had to be the Easy Breezy Summer Dress because it is such a breeze to make and because the dress is so light and cool.
The idea for the name came from Missy who suggested the EZ Breezy Cover Up  (clever!) and Heather who liked the Summer Breeze Dress.
Thank you Missy and Heather!  I'll be emailing you both a copy of the pattern today.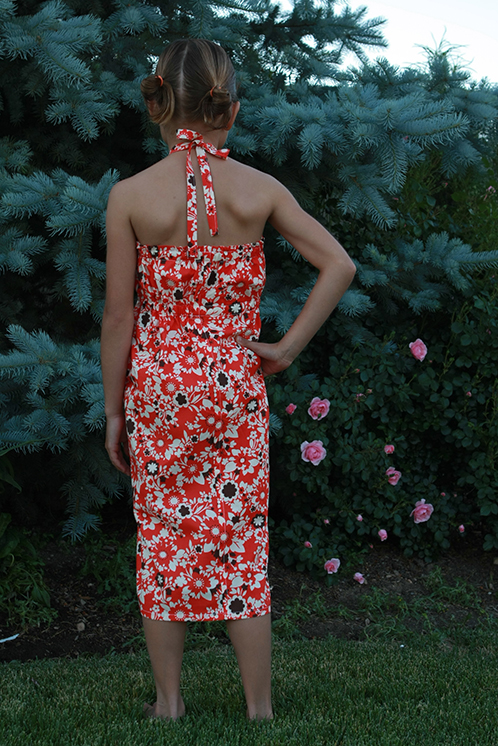 Let me tell you a little bit about the Easy Breezy Summer Dress.  It is a halter style dress pattern in Girls Sizes 4, 6, 8, 10, and 12.  It is easily customizable for a perfect fit in every size in between.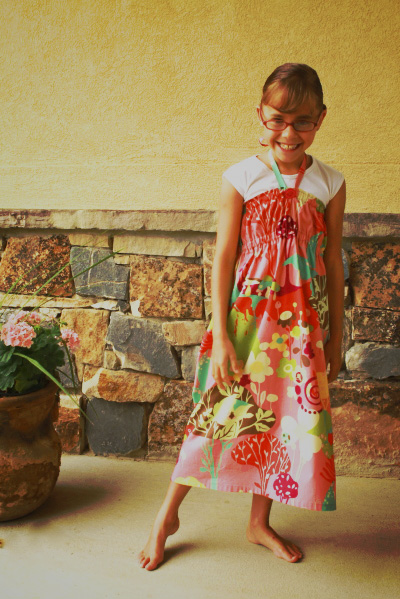 It's just right as a swimsuit cover-up for the pool or the beach.  The fully lined bodice can even be rolled over to make a quick and versatile skirt!  It looks darling with a small close-fitting tee under the dress or with a light summer sweater.
The Easy Breezy Dress Pattern is simple and can be made in a few hours or less.  The dress has no raw seams on the inside (yeah!) (and no, you don't use a serger, just a sewing machine).
It is suitable for a beginning sewer with some experience.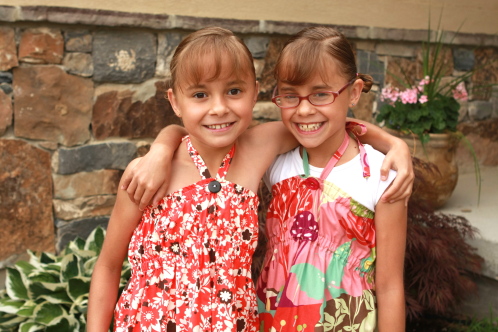 The .pdf pattern is 12 pages of step by step instructions and includes helpful photos, diagrams and tips. Click here to check out a preview of the pattern.
Here is a breakdown of the yardage needed by size:

*For sizes 8, 10, and 12 do not use a directional fabric (such as stripes -unless you don't mind the pattern going horizontally of course).
You will also need:
1 large package (4-1/2 yards) of 1/2 inch wide Elastic
Matching Thread
Large Decorative Button
Washable Fabric Marking Pen or Fabric Marking Pencil
Ruler
The Easy Breezy Summer Dress Pattern is available in the Make it Do Pattern Shop or you can purchase the pattern by clicking the buy now button below.
$8
This pattern is a downloadable PDF.  No hard copy will be mailed to you.  After you make your secure purchase through Paypal, you will receive an email with a link to download your pattern.  If you pay with a credit card or with your Paypal account, it usually only takes a few minutes for your email to arrive. How's that for instant gratification!
Once downloaded, you can store the pattern on your computer for easy reference or print a copy for your own use.
If you have any question I haven't answered, be sure to leave a comment or drop me a line at callimakesdo at gmail dot com.