Posts Tagged 'Peanut Butter'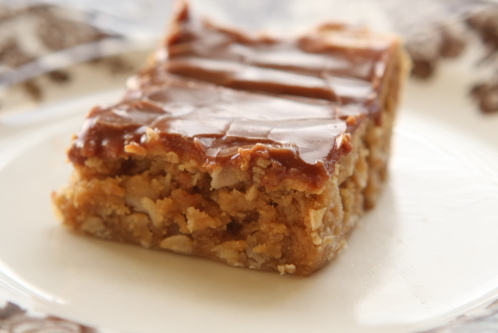 Peanut butter bars are the perfect thing to serve at a party or picnic.  Or if you are like me… just because on a Thursday night.  They are easy to make and a little addicting.
Lip Smackin' Peanut Butter Bars
3/4 cup butter 3/4 cup brown sugar 3/4 cup sugar 3/4 cup peanut butter 2 eggs 1 tsp. vanilla 3/4 tsp. soda 1/2 tsp. salt 1 -1/2 cups flour 1 -1/2 cups oatmeal ————————- FOR THE TOPPING: ¾ cups Peanut Butter 1 cup Granulated Sugar ½ cups Evaporated Milk 5 Tablespoons Butter 1 cup Milk Chocolate Chips Preheat oven to 350 degrees.
In a large mixing bowl, cream together butter, brown sugar, granulated sugar and peanut butter. Add eggs and vanilla. Add soda and salt and mix until well blended. Add flour slowly, making sure it's incorporated, but do not overmix. Stir in oatmeal by hand.
Spray a 15 x 10 jelly roll pan with nonstick cooking spray. Spread mixture in a pan. (I wet my hand slightly and press the mixture evenly.) Cook at 350 degrees for 12 – 15 minutes until golden brown.
Remove from oven and immediately drop peanut butter (from the topping ingredient list) by teaspoonfuls evenly around the top. Allow to melt and spread smooth with a spatula.
Allow to cool thoroughly.
In a small saucepan, bring sugar, evaporated milk, and butter to a full boil for 45 seconds. Remove from the heat and add the milk chocolate chips. Whisk until chocolate sauce is smooth. Pour evenly over bars and allow to set before cutting and serving.
Click over to my Tasty Kitchen Recipe box for the printable recipe.
Here's a step by step: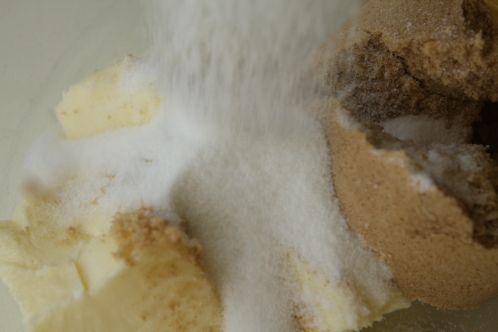 Preheat your oven to 350 degrees.  In a large mixing bowl, add room temperature butter, brown sugar, and granulated sugar.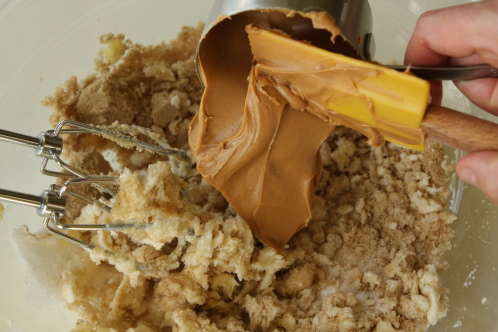 And peanut butter.  Right there is the only thing I don't like about making this recipe.  Measuring and then getting the peanut butter out of the measure cup… it's kinda messy.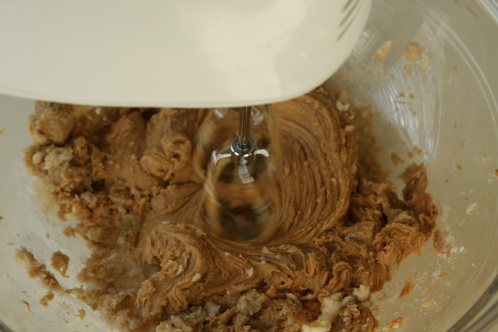 Cream them all together until smooth.
Add the eggs.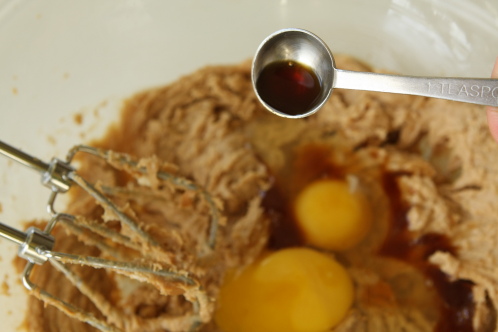 And vanilla.  And thoroughly mix.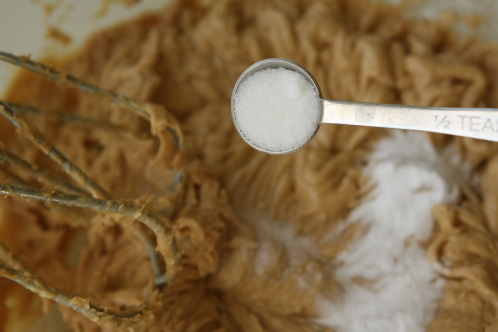 Add the soda and salt and makes sure they are thoroughly blended in.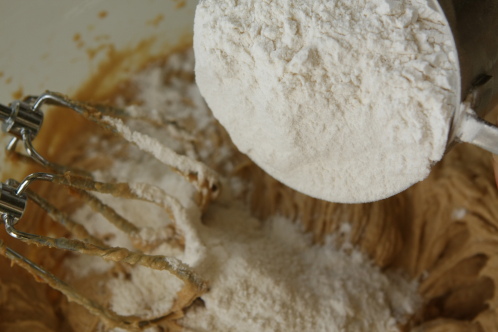 Add the flour in a little at a time, making sure to incorporate the flour each time.  Just be sure not to over mix.  Over mixed flour will make your bars tough.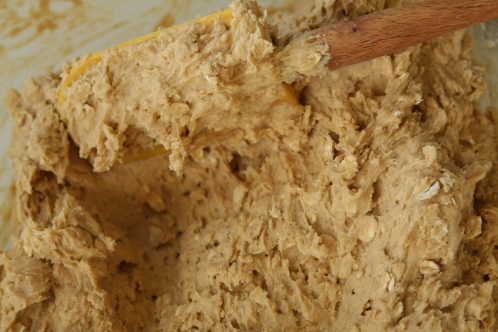 To be double sure I don't over mix, I stir the oatmeal in by hand.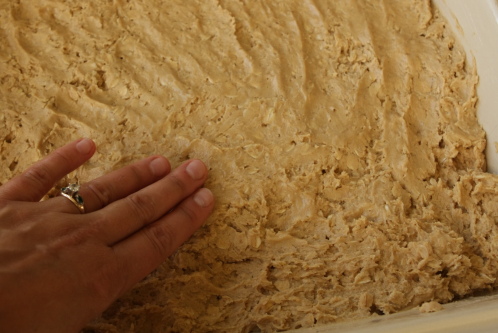 Spray a 15 x 10 inch jelly roll pan with cooking spray.  I wet my hand slightly and press the batter into the pan so it's pretty smooth.  Bake in a 350 degree oven until golden brown, about 12-15 minutes.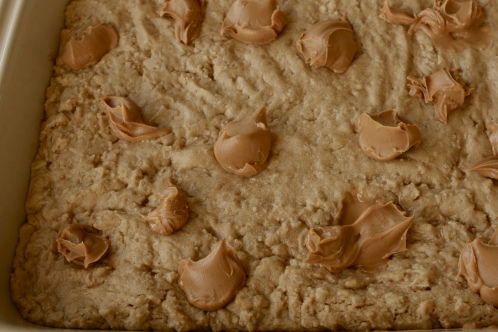 Right out of the oven, dab about 3/4 cup peanut butter evenly on the bars.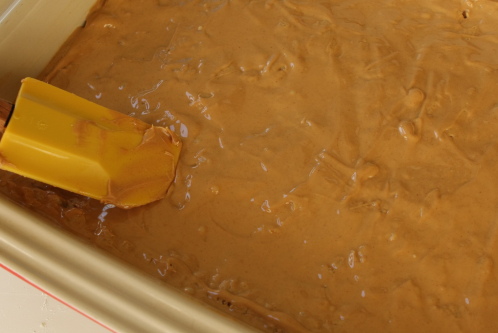 That peanut butter is going to get soft and melted… then you can smooth it out with a spatula.  Set the whole thing aside until it cools thoroughly.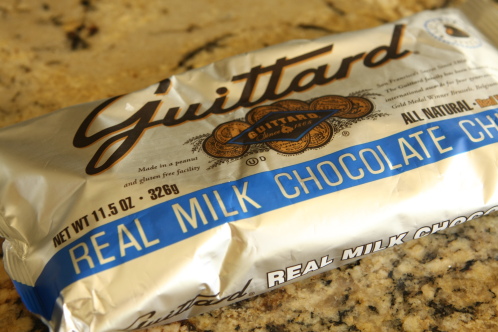 Once it's cool, these babies are going to need some chocolate.  You can use semi sweet if you want… but milk chocolate tastes the very best.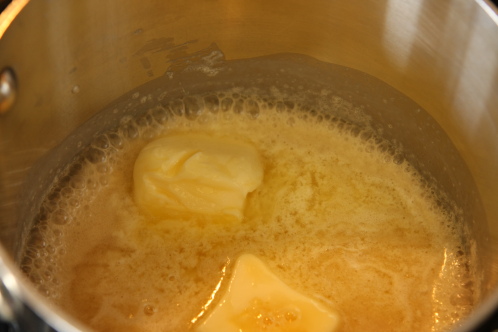 In a small sauce pan, bring the evaporated milk, sugar and butter to a boil.  Keep at a full boil for about 45 seconds.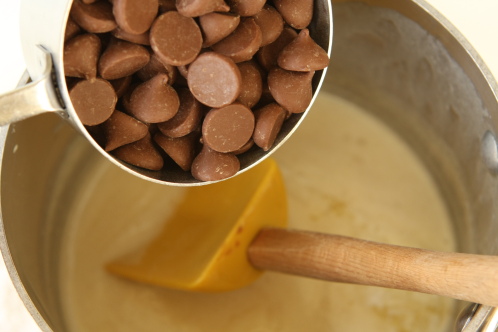 Remove from the heat and immediately add the chocolate chips.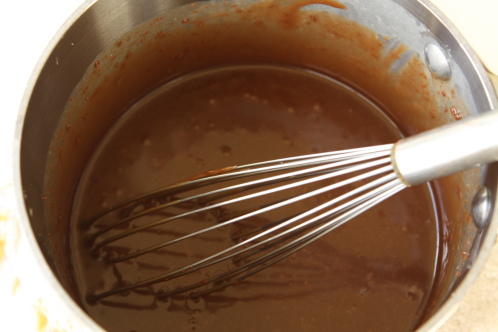 Whisk until smooth.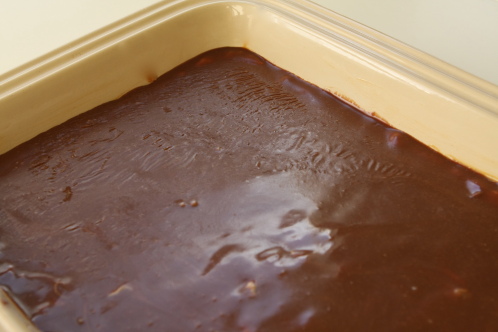 And pour over the top of the bars.
Set aside until set up.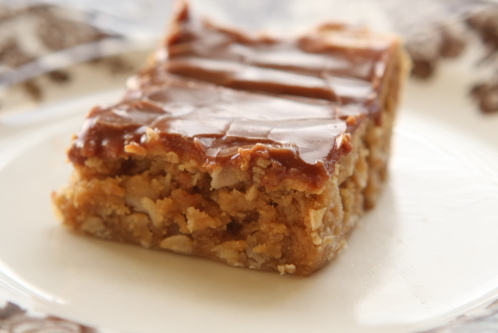 Don't expect them to hang around long.  They disappear just about as fast as you can make them…