Posts Tagged 'homemade gifts'
Making my home smell wonderful is so important to me this time of year.  The smells of the evergreen, cinnamon, orange and spice all mean the Holidays are here.
A stove top potpourri mix is an easy inexpensive way to make your home smell wonderful.  Packaging the mix in a Holiday bag makes a wonderful gift for friends, neighbors, teachers and co-workers.
Here's how I make my concoction:
Holiday Stove Top Potpourri Mix
one whole orange or just the orange peel

1/2 cup cranberries
1 Tbsp. whole cloves
3 sticks of cinnamon or a small handful of small pieces of cinnamon
a bit of grated nutmeg if desired
Quarter the orange.  Put all the ingredients into a saucepan.  Fill pan with water.  Place on the stove on the smallest burner, on the lowest setting.  Refill water as needed.
It's just that easy.
I love to use an orange that is starting to get old… or just use the peel of an orange.
Another important tip is don't allow the water to completely evaporate. I always refill the water when I turn it on.  One mix stays good for weeks.  With heating the mix does turn brown, but continues to smell wonderful, so I usually make only batch in a season.
It's not the Holidays without the delicious scent… it makes me think of cranberry sauce or wassail.  Yum.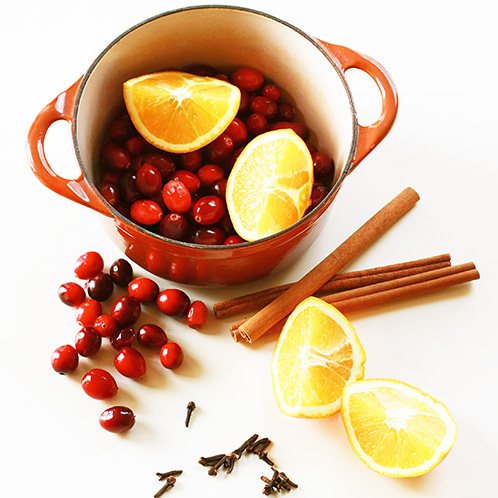 A stove top potpourri mix makes a perfect easy gift this season.  It is inexpensive, homemade and useful.
- – - – - – - – - – - – - – - – - – - – - – - – - – - – - – - – - – - – - – - -
P. S.  If you are interested in a few ways to package stove top potpourri as a gift, I blogged about it here.  I even included a PDF you can download with the instructions for use.
Mother's Day is next Sunday!  Have you decided what you are giving your Mother?  My Mom has everything she needs. What she really loves are gifts from the heart.  When you make a gift you not only can save money, you make it more meaningful.  If you are still undecided as to what to give your Mom… here are a three ideas that might inspire you:
1.  A "Thoughtful" Scrapbook – Make your Mother a scrapbook full of messages written by her family.
That's my Grandpa Morgan and Mom as a little girl on the cover.  I used a Chocolate Linen Album from Making Memories.  Since the scrapbook is the most expensive part of the gift, you can buy it on sale with 40% or 50% off coupon.
On the first page, I found a quote that reminded me of my Mom…
Then we all wrote notes to my mom… our favorite thing about Mom and our favorite memory.  Everyone emailed me their message.  I formatted the messages and printed them on nice paper.
We included pictures of each Grandchild taken with their favorite quilt made by Nan… (my Mom.)  The pictures above are my darling nephews, Will and Malik.
2. Make Picnic Tablecloth that she will love:
My husband's family got together this year to put our hand prints on a tablecloth for my Mother in Law, Kit.  We purchased an inexpensive white tablecloth from Target.  Pre-wash the tablecloth before starting.  Using acrylic paints mixed with an additive that makes it good for fabrics- Golden Acryl Med 8oz Gac-900 Acrylic Heatset
– we painted each hand with the paint using a foam brush.  This works much better than dipping the hand in paint.  Just be sure to be a little generous with the paint when brushing it on the hand.  Also, wear old clothes- because this paint is permanent.  If you are doing kid's prints, hold their wrist.  "Stamp" the hand on the cloth, making sure to press down gently on the hand and each finger to make sure the whole hand prints on the cloth.  Then write the name with a fabric pen.  Part of the charm is that everyone wrote their own name.  I am sewing a darling border around the edge of the cloth.  I know she will love setting her picnic table with this wonderful tablecloth.
3.  Organize her Recipes into a book.  My Mom's recipes used to be a big messy pile of papers.  She knew exactly which scrap of paper that favorite recipe was on… but it took her ten minutes to sort through the pile to find it… until last Mother's Day that is.  That's when my sister-in-law, Marcie and my sister, Brooke intervened.  It took them weeks to organize that big pile.  It was a lifetime of collecting recipes!  They even typed some that were in bad shape.  Every recipe was placed in a plastic sleeve, they used photo sleeves and full size sleeves for both sizes of recipes.  The result is not only practical… it is also darling.  It was an act of love that my Mom is grateful for every time she reaches for a recipe and finds it quickly.
One of my favorite feature's was the "Family Favorites" section:
These are just a few ideas for Mother's Day.  I will share a few more during the rest of the week.  I just love Mother's Day… and not just because my husband makes me breakfast.  I love the chance to tell the wonderful women in my life how much I love them.  I would love to hear your Mother's Day gift from the heart ideas…