Posts Tagged 'christmas stockings'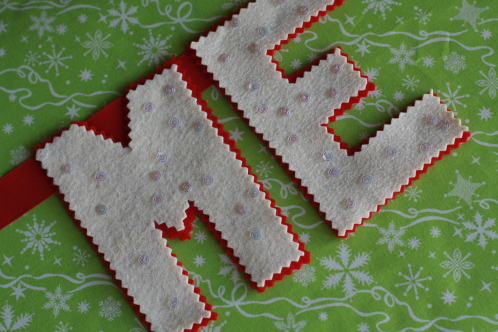 This past weekend I got started on my Christmas Garland.
While I haven't found holiday sequins, I already love making this project. It's so fun to feel like I'm stitching in my grandmother's footsteps.  After playing with lots of fonts in Illustrator, I opted for tracing my grandmother's garland by hand rather than using a new font.  It is perfectly narrow and proportioned for the garland.
Since I love simplicity, I kind of like the very subtle look of the sequin I've got here.  I'm going to sew a few on with beads and see if I am happy with the result.
I will post a downloadable template for the garland as soon as I'm able to scan the letters and make them presentable.
I was able to get my pinking shears with a 40% off coupon from JoAnns bringing them to around $12.  They are Fiskars Pinking Shears
and I am pleased at how well they cut- nice and sharp.
Already the shears are worth their weight in gold as I started another project this weekend with them….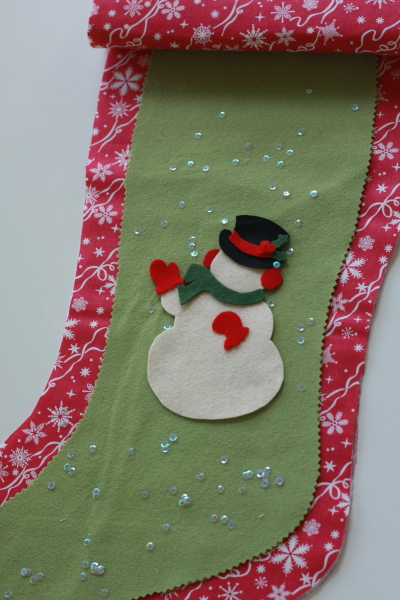 I started making new Christmas stockings.  They are very similar to the garland as they are inspired by the 1950′s style of felt and sequins.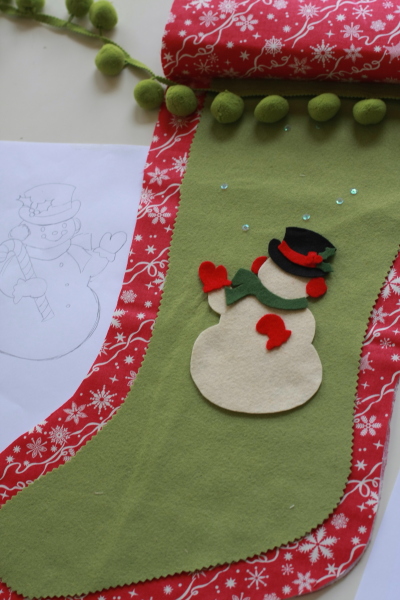 I love all the scope for the imagination with a project like this.  I have felt snowflakes still to cut out and I love the addition of sequins.   I'm still not sure about the pompoms…  I also know this project won't be complete without some embroidery to make the face and buttons and even some additional snowflakes.
I've designed a gingerbread man and candy stocking and an angel with a candle (still in the rough stages of design.)
I ask myself… why didn't I start these projects in July?  Someday when I'm wiser I will, but for now, better late than never.