Posts Tagged 'american girl birthday party'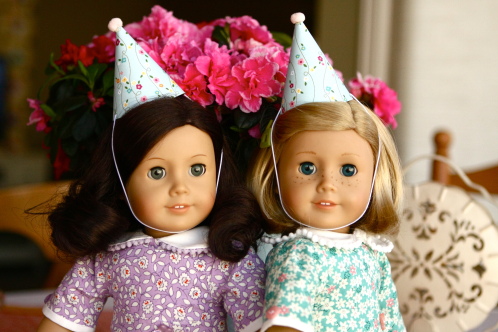 My girls celebrated their 1930′s American Girl party a few days ago.  According to them, it was the best birthday's EVER.
It was one of my all time favorite birthday parties too.  (Do I say that every year?)
Well if I do, I really mean it this year.  I love the 1930′s.  I love American Girls… most especially Kit and Ruthie.
This party was so in keeping with the spirit of the 1930′s… it was Make it Do in every way.  It really hit home the idea that you don't need to spend a lot of money to have a lovely party.
Here are a few of the highlights: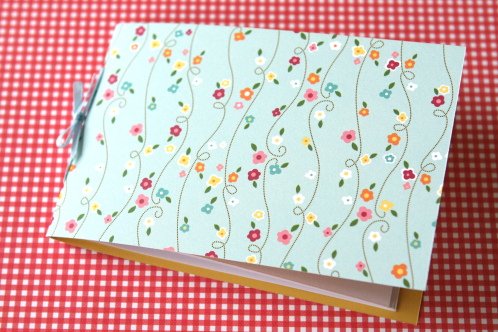 When the girls arrived, we started with the craft.  For this party, I decided that signing autograph books would be a perfect 1930′s activity.  I treasure my grandmother's 1935 autograph book from when she was 10 years old.
There are lots of little notebooks out there to buy that would have worked for the party, but I wanted to make them.  It was an easy activity that required vintage looking cardstock (from the City Park Collection from American Crafts), white printer paper, and matching narrow ribbon.  I used a hole punch, paper cutter and a bone folder for tools.  It took me less than an hour to whip up 10 books, one for each girl.  They couldn't have been less expensive, easier to make… or sweeter when done.
Since signing autographs isn't second nature to girls these days (texting maybe, but not writing autographs),  I printed a variety of quippy autograph sayings… many of which came from my own grandmother's autograph books… to give the girls a few ideas.
I printed the sayings on the wonderful handkerchief templates from Eat Drink Chic that I had used for the invitations….  they are perfect and decorative to hang with petite clothespins on a line… I just love when form meets function, don't you?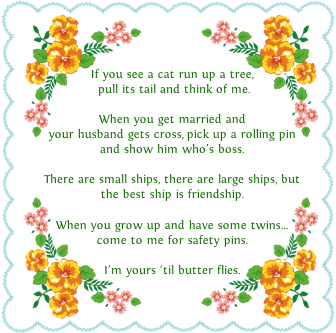 I thought this activity would either be a great success or an utter flop.  Would the girls get it?  Would it be fun? Would they get the sayings?  What are safety pins?  And why the heck would twins need them?  These are the questions that plagued me before the party.
The answer was: the girls LOVED signing the autograph books.  They giggled and laughed over the funny sayings and had a wonderful time choosing different sayings to write to their friends.  I know my girls will keep and treasure their books for a long time.  Of course, I loved that the books made a perfect party favor.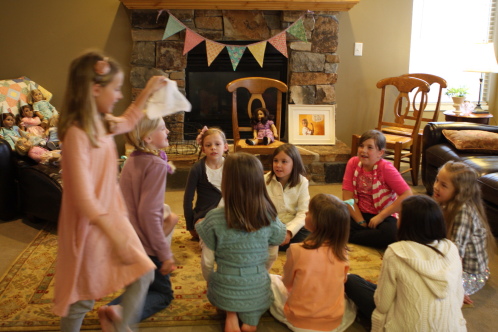 Next up was games.  A quick internet search turned up a list of popular games in the 1930′s:
Pin the Tail on the Donkey
Musical Chairs
Drop the Handkerchief
Button, Button
Clothes Pin Drop
I opted for playing drop the handkerchief.  Do you know how to play?  Here's the saying:
A tisket, a tasket,
A green and yellow basket,
I wrote a letter to my love, But on the way, I dropped it;
A little child picked it up and put it in his pocket.
Once you drop the handkerchief on someone's head they must chase you around the circle and try to catch you before you reach their spot.  It was a riot.  It was also free.  All I needed was a handkerchief.
The one thing for sure, games for a birthday don't have to cost much.  I'm amazed at how much kids love all the old fashioned games.  We also played the Clothes Pin Drop into Mason jars.  Hold the clothespin to your nose, without bending over and try to drop it into the mason jar sitting on the floor.  It's harder than you think and again, very fun.  I had more games planned but we were running short on time, so we moved onto the tea.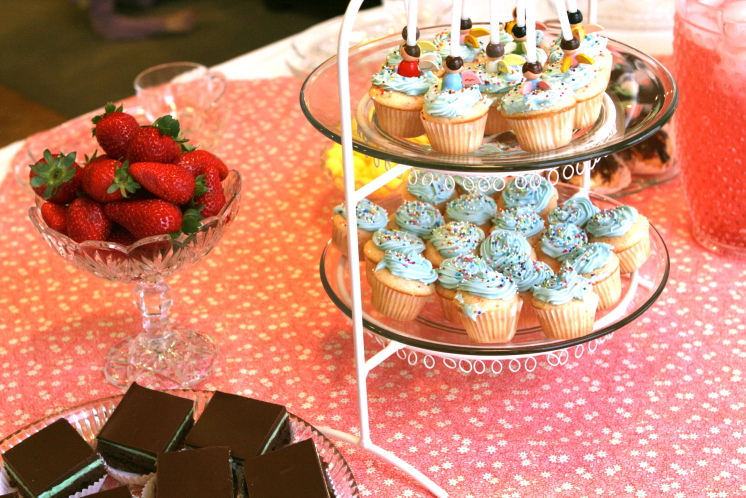 For the tea, I made mini cupcakes, chocolate mint brownies and a raspberry lemonade drink.  We also served my girl's all time favorite treats, Cream Filled Eclairs.  I picked up some sweet and lovely strawberries too…  to assuage my guilt for so thoroughly ruining dinner.
The raspberry lemon drink was a sugar free concoction of 2 liters of Sprite Zero with two On The Go Raspberry Lemonade Crystal Light Packages mixed in.  It was SO yummy.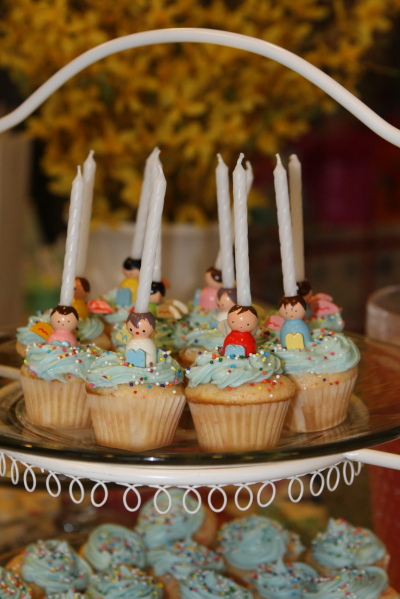 Here's one of my favorite things.  These sweet little wooden angel candle holders came from my mother.  They graced many of my birthday cakes when I was a child.  I love using them at my girl's birthday parties now… both because they are wonderfully sweet and also because of the fond memories they bring back.
In fact many of the items I used for serving and decorating were my grandmother or my husband's grandmothers, such as the handkerchief, and the glass and crystal platters and bowls.  Those items really made the party feel special to me.
The party favor sacks were very simple; white (inexpensive) lunch sacks.  I secured them with embellished clothespins.  I simply punched out a scalloped circle from the left-over paper I used to make the autograph books and glued them on the clothespins.  I used a little gingham pattern paper (also left over from the invitation envelopes) and printed the girls names on with Calamity Jane NF to label the sacks.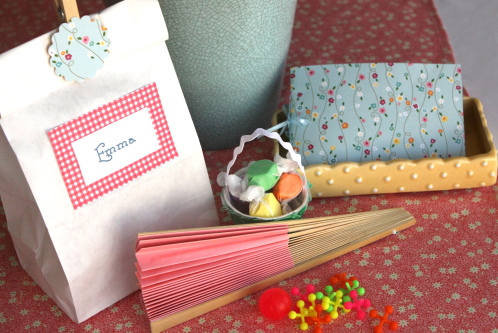 For the party favors the girls took home their autograph books, of course.  We also gave little baskets filled with taffy, a paper fan and some jacks.  The jacks were a rare move for me.  They cost only .22 cents each, but fall into the category of the kind of party favors I usually try to avoid… a cheap, plastic, disposable toys.  But they caught my eye at Zurcher's Party Store.  I LOVE to play jacks.  Plus they seemed like they may last a bit longer than the average cheap party favor, so they made it into the bag.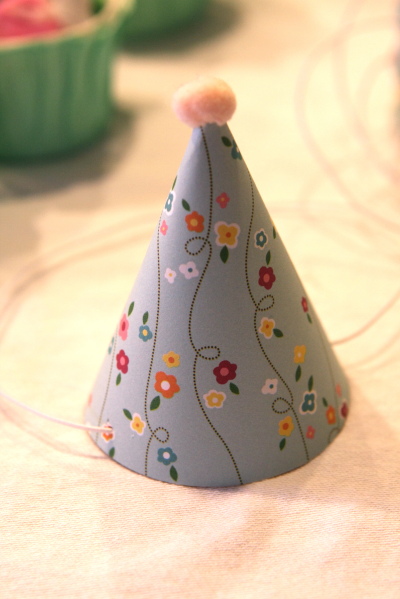 The girls also got to take home little party hats for their dolls.
The details of a party are what I love the most… and this party was no exception.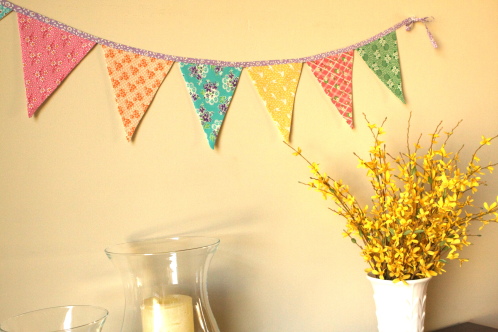 If you would like, I can share more of the party how to… like making the doll's party hats or small candy baskets.  I would also love to share sewing the flag bunting with my girls.  It made a great easy lesson on the sewing machine… and they were so proud that they made it mostly by themselves.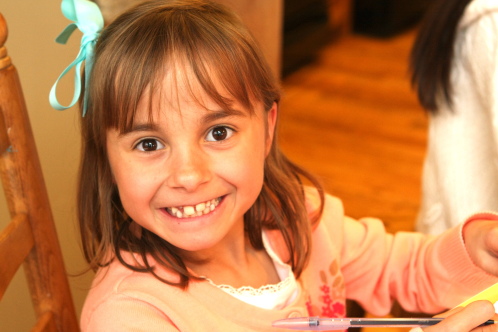 This party was seventh heaven for my girls….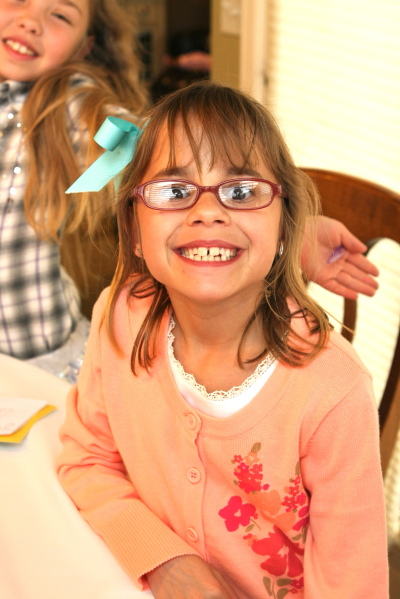 And hopefully something they won't soon forget.