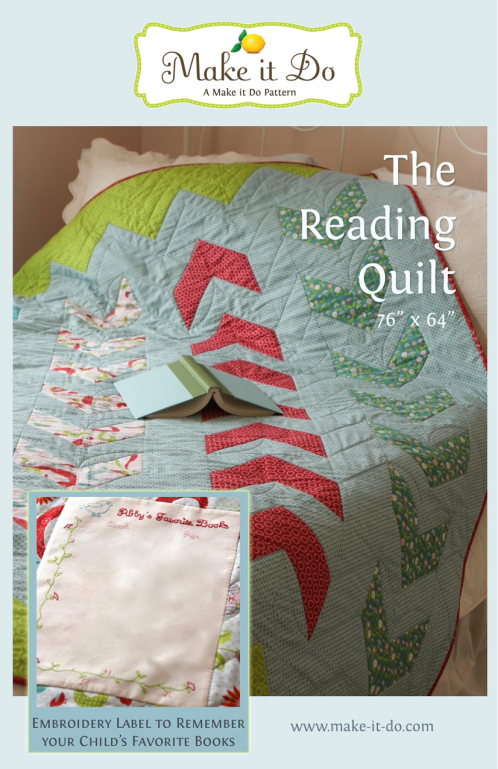 For my son's first birthday, my mom gave him a book along with a cozy tied quilt.  The quilt top was Alexander Henry fabric with scenes of Tom Sawyer and Huck Finn.  On the back was soft flannel and in the corner was an embroidery to keep track of his favorite books.  Whenever  my son had a book he asked for night after night, I would write the book and his age on the back with a sharp brown Pigma pen.
Many a night was spent in the rocking chair under that quilt reading stories.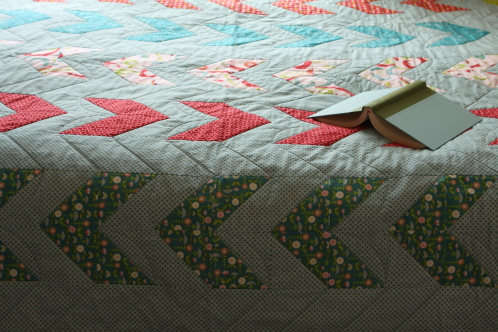 That quilt was the inspiration for this design.  I knew I wanted a block to look like a book.  I played with a stacked coin with embroidery, a book block with a spine in the center, and an appliqued quilt.  In the end I settled on a very simple block that reminded me of an open book.
I love, love, loved designing this quilt.  I also loved making each and every block.  The fabric line is Love Birds from Riley Blake and it made me happy as I stitched along.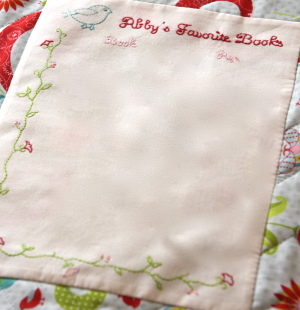 This quilt is for my darling niece Abby.  I can just imagine the treasure it will be in 30 years when Abby's children discover their favorite book just happened to be their mom's favorite too.
The pattern includes a little bird and vine embroidery template for girls and a fun star studded template for boys.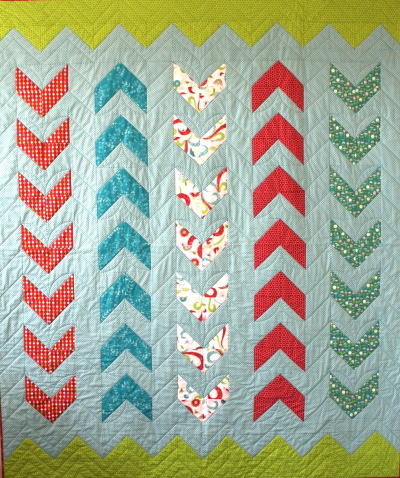 The size of the quilt is 76″ x 64″ which is just right for wrapping up in on a chilly afternoon.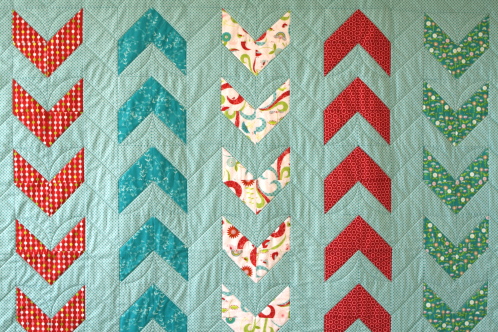 This view shows off the clever way the quilting makes the blocks look like an open book.  Thanks Karen for your wonderful quilting!
Here's the material list:
4 yards fabric for background and borders- directional fabric is not recommended.
1/3 yard fabric for each of the 5 book block columns
2 yards fabric for borders (only 1 yard is needed if you are willing to piece your border strip)
½ yard fabric for binding
4 ¼ yards fabric for backing
82" x 70" piece of batting
12" x 15" piece of muslin for embroidery
Embroidery thread in desired colors
The Reading Quilt Pattern is now available in the pattern shop.
$8
10 Responses to "The Reading Quilt"