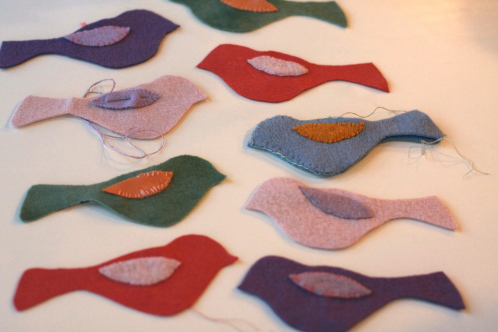 After school yesterday I invited my friend's daughters over to stitch with my girls.
I let the girls pick through scraps of wool to find colors they liked.
We traced the little bird template onto freezer paper, pressed the freezer paper to the wool and cut them out.  The girls were surprised that the paper could be ironed right onto the wool and amazed at how easily it peeled off without a trace after their bird was cut out.  We cut out two birds and two wings for each bird.  The girls used what I call a "primitive" blanket stitch to stitch embroidery floss around the wing (in other words you don't catch the thread to make the "L" thing.)
Once the girls finished both sides of their bird, we layered the front and the back and I taught them to stitch a real blanket stitch to stitch their birds together.
We didn't quite finished with our project yesterday, so I'll invite them over for one more afternoon next week.  I thought it would be nice to put a little stuffing into the birds to give them some dimension before they finished stitching around. I also had a thought that it would be nice to have a ribbon so their bird could hang like an ornament if they wished.
I was so impressed with how well the girls did with their stitching and also how cheerful they were.
This past week has been topsy turvy for the girls.  My friend (their Mama) has been recovering in the hospital from a hard surgery.  The recovery was complicated with a scary infection.  I am so happy that she has turned the corner and now on the road to recovery.
Is it just me, or does the whole world seem a little topsy turvy?
There have been so many struggles and tragedies among my family and friends these past few months… so many calls to ask us to pray.
My heart has been full.  I feel great empathy… and gratitude.
A few days ago I was catching up on reading a couple of my favorite blogs.  I was reading a story on Pioneer Woman about how "all she wanted was a donut."  It was a funny story and I was laughing, then laughing harder and then to my great surprise I was crying.
The only thing I know to do are small things- small acts of kindness and love- with a full heart- and hope it is enough.

8 Responses to "Stitching Birds"