Over the next week I am taking a break to spend time with my family.  While I am unplugged, some very generous blogging friends have kindly assented to help me out.
I will share links to wonderful Autumn and Halloween projects from a few of my favorite blogs and bloggers.
Allison of Cluck Cluck Sew starts off this series by sharing her fabulous applique pillow using tiny scraps.  See, I knew I was saving those little pieces for a good reason.  Allison is as wonderful in person as she is talented.  I loved meeting and spending time with her at Quilt Market.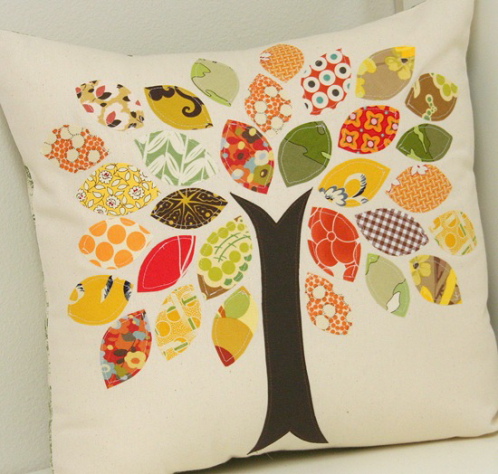 Hi Make It Do Readers….my name is Allison and I blog over at Cluck Cluck Sew.  Calli asked me to share one of my fav fall projects…and this pillow tops my list.  Not only does it cost next to nothing, but it's a great way to use up scraps that may normally end up in the garbage.   I've seen people expand on this idea and make all sorts of beautiful pillows…so don't feel like you have to stick to a tree.  Flowers, clouds, birds, Christmas tree's….anything goes.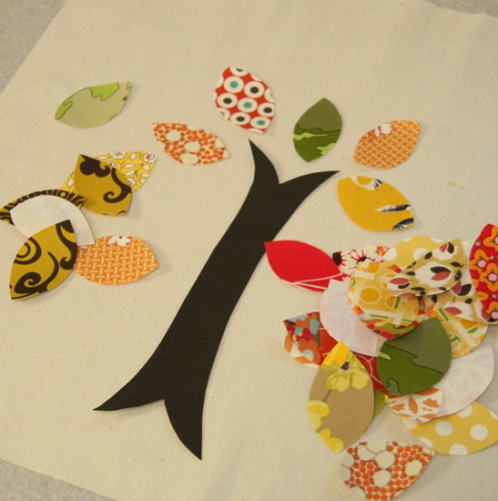 Thanks for letting me visit here today Calli and happy sewing everyone!
And thank you Allison!  To see the full tutorial on how to make Allison's Scrap Buster Fall Pillow on Cluck Cluck Sew click here.

3 Responses to "Scraps for Fall Leaves from Allison of Cluck Cluck Sew"