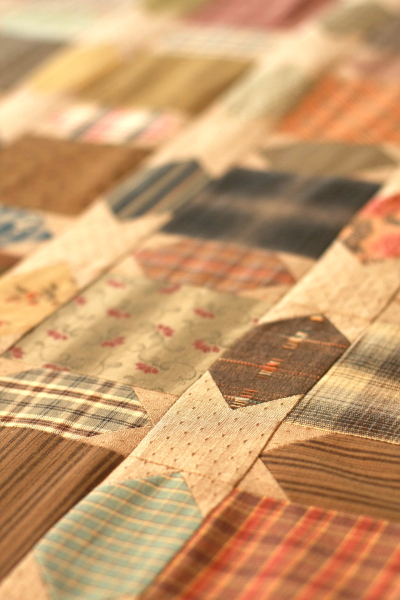 It's a wonderful thing about mothers, sometimes they teach you how to do something… and then they teach something infinitely even more important by their example.
Yesterday I spent the day with my Mom working on a quilt.  We almost finished my quilt and I love sewing and learning from her.
- – - – - – - – - – - – - – - – - – - – - – - – - – - -
When I arrived in the morning, she said she wanted me to see the new quilt she was working on for her bed.  "That new quilt you just started?" I asked.  Yes.
The quilt was draped over her bed.  It is a king sized quilt with many, many little stars.  So many stars, in fact, that she she thinks she will use 5 yards of the lovely textured Japanese fabric to make them all.  For most of the rest of the quilt she is using scraps.
It is taking shape into an absolutely beautiful quilt.
What surprised me however, was how many rows extended down her bed.  It was more than 1/3 finished.
Then I asked my mom how in the world she had finished so much of the quilt in such a short time… despite being really busy.
She said I just take it row by row.  My goal is one row a day.
Last night as I lay in bed, I thought about that.
I thought about how overwhelmed I have felt the last week with some of the things going on in my life.
I realized that to accomplish a large and overwhelming  task, I need to focus on small daily pieces- mini goals.
By her example, my mom taught me just what I needed to hear yesterday.  Take it row by row.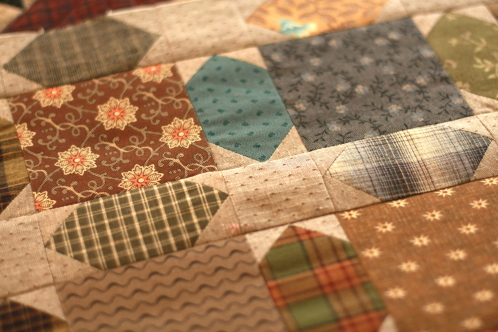 17 Responses to "Row by Row"