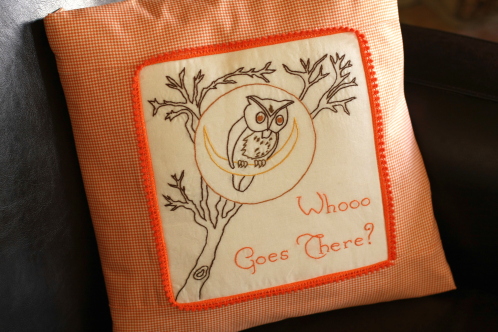 I'm halfway done with my Halloween pillow.  My fabric stash failed me when it came to finding the right piping… or ruffle maybe.  Dang.  I think it needs to be a brown… but not a check, since the orange is a check.  It looks like I need a quick trip to the fabric store.
I was happy I had the pompom trim in my stash, left over from another project.  It was just enough with only 1 inch left over.  Talk about cutting it fine.  I think I may need to tack down the pompoms since they seem to want to curl inward, but I love how they look.
For those of you who asked, you can click here to download my Owl Embroidery Template.  It's not super fancy, just my tracing, but it works.  I still think this would look wonderful as a brown work.
I got a canning Monday today… grape juice and jelly.  I am working on our Halloween costumes in between.  It should be a good day.

6 Responses to "Owl Embroidery Template"