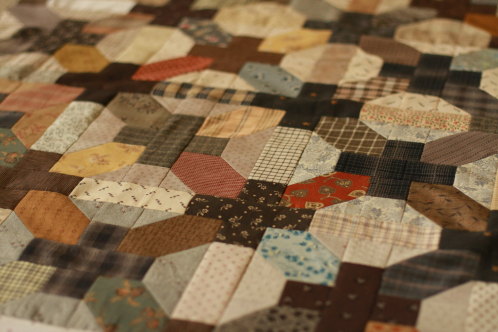 A month or so ago, my mom and I talked about a block for a quilt she was interested in making and possibly teaching at a retreat.
We looked around for a pattern, but couldn't find one.  We drafted out the block and over the phone and talked about all the many possibilities for the sashing and such.
I loved the look of the block so much, I decided to make the quilt along with my mom and to create a pattern if the quilt turned out.
At Sunday dinner, I got to see the progress of her quilt and take a block home so I could copy her pressing directions.  My mom hand quilts almost all her quilts, so she always pays special attention to pressing.
On Sunday night, we watched the Olympics and I made three blocks.  Monday I turned on the Olympics and made some more.
Yesterday my mom and I got together to quilt.  She brought her quilt in progress.
She is making her quilt in beautiful brown and black crosses.  The rest is mostly in Civil War scraps.  I just love texture and rich colors of her version.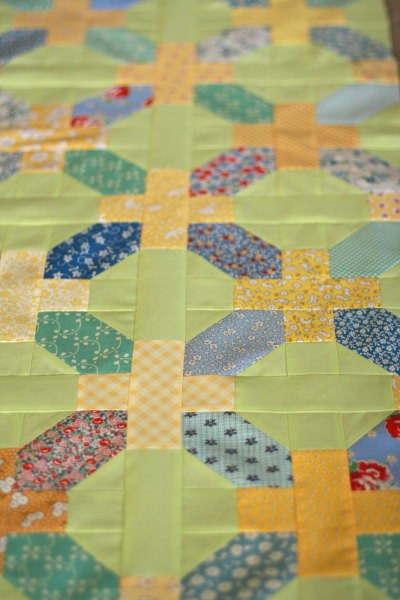 I decided to go mostly 1930′s for my quilt.  I picked up a green Moda solid for my "snowballs" that may or may not be 30′s, but I still like it.  My crosses are all scraps of yellow and the connecting "x" are all shades of blues to blue green from scraps.
Side by side, it's hard to believe the quilts are the same pattern. I love them both and can't wait to see the finished quilts.
****Update:  The Canning Day pattern is now available.  Click here to purchase or to find out more.

11 Responses to "One Quilt Block – Two Ways"