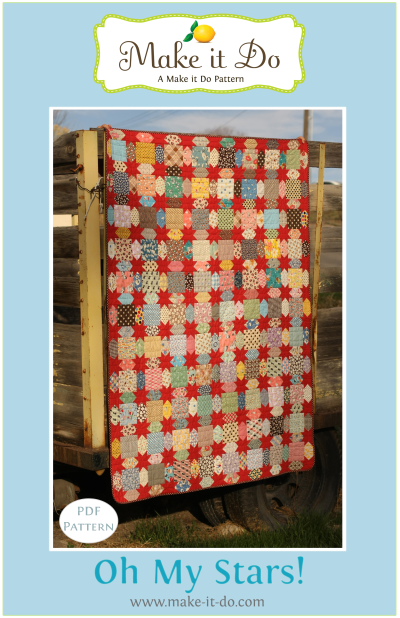 Oh My Stars! Quilt Pattern is now available.
This quilt was created by my mom, Leslie Ison.  The wonderful stars are made with triangles pieced in the sashing.
It may look daunting, but it's actually easy and fun to make.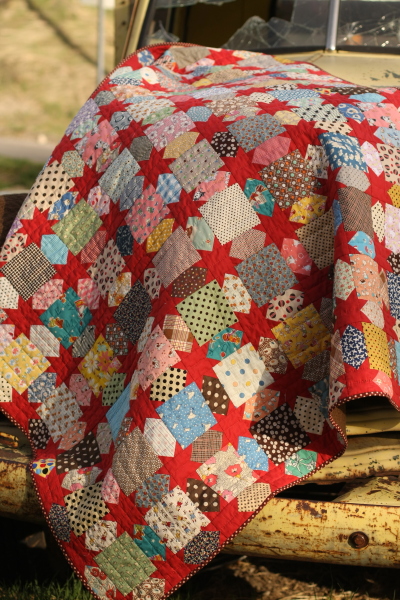 As my mom pieced together her quilt, she kept thinking of her mother's favorite expression,
"Oh My Stars!"
It was the perfect name for this cheerful quilt.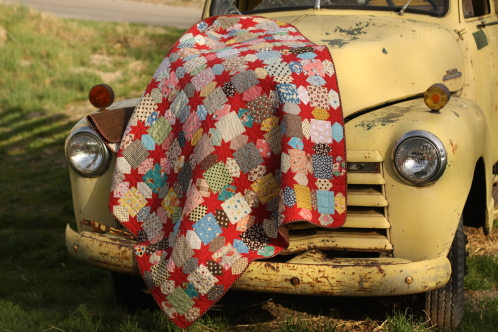 My mom's quilt is made with bright red stars and lots of fun and wacky 1930′s scraps.
But there are so many types of fabrics that look wonderful with this pattern from pastels to brights and even Civil War fabrics.
Since your scraps need to be at least 5 inches, this quilt can be made using charm square packs.
It is the perfect quilt to use up your scraps.
Oh My Stars! Quilt Pattern is for a throw quilt size 50″ x 68″, but you can easily customize the size by adding or subtracting rows.  This pattern is suitable for a beginning quilter with some piecing experience.
Materials List for Throw Quilt – 50" x 68"
•2- 1/2 yards red fabric for the stars
•3 total yards fabric scraps for the rest of the quilt top – 5" x 5" minimum scraps (Yay!  It's charm pack friendly!)
•3 yards for the quilt back
•1/2 yard for the binding
•Quilt batting
Oh My Stars! Quilt Pattern is available in the
Make it Do Pattern Shop
or you can purchase the pattern by clicking the buy now button below.
$9.95
This pattern is a downloadable PDF.  No hard copy will be mailed to you.  After you make your secure purchase through Paypal, you will receive an email with a link to download your pattern, so be sure to provide your active email account address.  If you pay with a credit card or with your Paypal account, it usually only takes a few minutes for your email to arrive.  Hurrah for instant gratification!
Once downloaded, save the pattern to your computer for easy reference or print a copy for your own use.  If you have any questions, drop me a line at callimakesdo at gmail dot com.
13 Responses to "Oh My Stars! Quilt Pattern"