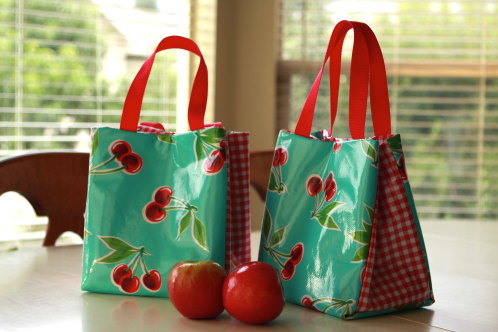 My kids started school yesterday.  I watched them climb the steps of the school bus with a great twist of my heart.  I am not ready for them to go.  They are growing way too fast.
But like it or not our summer is over and my kiddos are another grade older.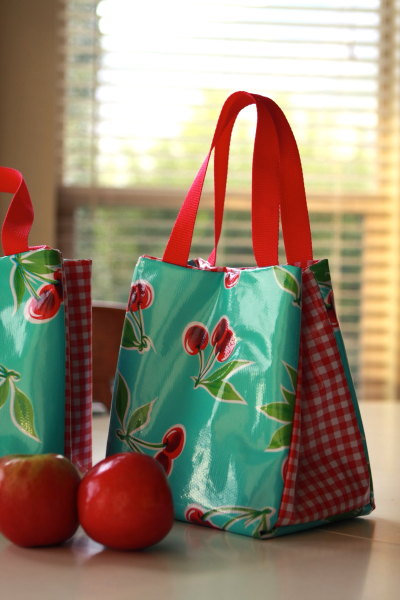 Since my girl's school bags that I made last year are still in great condition, I decided to try my hand at making lunch bags.
I was inspired by the cute and easy oilcloth lunch sack tutorial on Martha Stewart.  But after looking more closely at the sack, I thought the clothes pin closure wasn't ideal for kids.  I also decided we needed lunch bags with insulation to keep things like cheese sticks and yogurt cool.
I found a free simple bag pattern on the Long Thread that fit the bill perfectly.
I made a few small changes to the bag.  Instead of using canvas on the outside, I picked a cheery aqua cherry oilcloth fabric and a red check oilcloth for the sides and inside.
I did do a little reading about oil cloth for lunch sacks.  It isn't recommended for children under 12, but I decided to take my chances.  Oilcloth is made from linseed oil and the real danger would come from your child sucking on the fabric.  I'm pretty sure we are safe in that department.  Plus all my girl's food is in containers.
I also used an insulated batting, which has a Mylar in the center.  It's the perfect batting for keeping a lunch cool.  I also changed the pattern by adding batting to the sides of the bag, in addition to the center.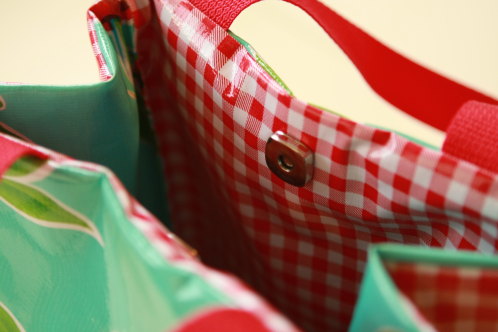 I debated whether to add a flap, but decided the magnet closure called for in the pattern would be enough.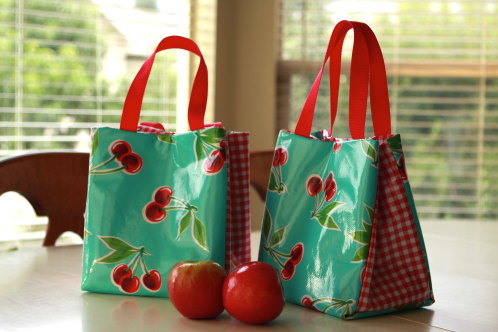 The girls and I love how their bags turned out.  They aren't perfect, the bags are slightly bigger than I thought they would be, which is good and bad.  One other change I'd make is, in retrospect, I would have used canvas for the outside like the pattern calls for.  The oilcloth was a challenge to work with.  It's so stiff and inflexible.  It almost led to swearing when I had to turn the bags right side out. I also think the canvas would dry out easier if there was ever a spill that made into the batting.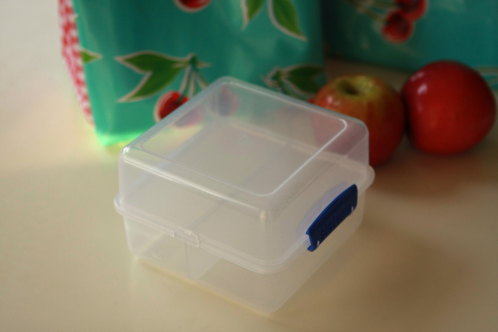 One other quick, fun thing to share is the great reusable Lunch Containers
we found.  They open up to hold a sandwich and two other items all separated.  The containers are BPA free and seem to be well made.  My kids love that they are easy to open.  We bought a few other smaller containers from the same company.  I'm still on the lookout for a small, leak-proof container to hold their dips and dressings.  I thought about baby food containers, but I'm pretty sure sending a glass jar to school is not the smartest idea.  If you have any ideas, I'd love to hear.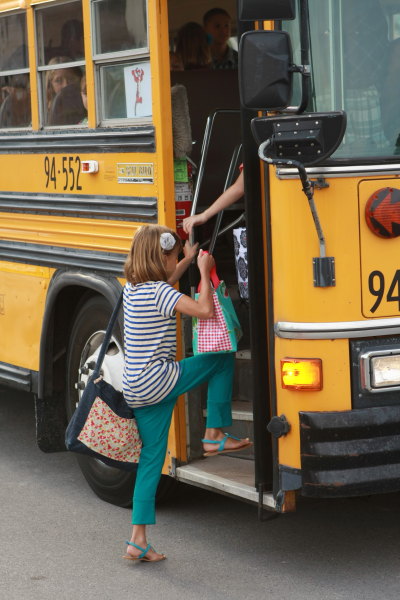 16 Responses to "New School Lunch Boxes"